Countless studies demonstrate the benefits of mindfulness and meditation. These techniques are commonly used to lower stress and manage feelings of anxiety and depression, improve sleep, and boost overall health. The COVID-19 pandemic has increased anxiety and depression for many people, as life as we know it has changed and the future feels unpredictable and out of our control. Identifying, understanding, and managing anxiety through techniques like meditation and mindfulness can help you feel more capable, empowered, and in charge of your health and feelings.
This special webinar and workshop from social worker Kristy Case, LCSW, OSW-C, provides tools and techniques that are easy to use and adaptable for people with all kinds of health issues.
Here, you will learn more about the differences between mindfulness and meditation, the history and benefits of these practices, and how incorporating these practices can help you manage anxiety, especially that which is related to the challenges of living with chronic illness during COVID-19.
Fast Facts from the Webinar
1. Mindfulness refers to maintaining a moment-to-moment awareness
This means being aware of your thoughts, feelings, bodily sensations, and surrounding environment through a gentle nurturing lens in the present moment.
2. Meditation means to "ponder"
When you meditate, you focus inward to increase calmness, concentration, and emotional balance.
Mindfulness and meditation practices have had a history of influence from around the world dating back thousands of years. Both practices have roots in many religious traditions, including Buddhism, Judaism, Christianity, and Hinduism.
In the 1960s meditation was popularized in America by many spiritual leaders, and by the 1970s, many philosophical and intellectual thinkers began shedding light on the benefits of mindfulness and meditation. Both practices have continued to gain popularity and utility as scientific research demonstrates benefits. For example, Jon Kabat-Zinn, the founder of Mindfulness-Based Stress Reduction, a practice that has been integrated into therapeutic settings, has shown how mindfulness can be used to help people cope with stress, anxiety, pain, and illness.
3. The benefits of mindfulness and mediation have been shown in research
There is a lot we know about the benefits of mindfulness and meditation, but there is still a lot we do not know, as more research is still needed. When a person is engaging in either mindfulness or meditation, there is activity in the brain's prefrontal cortex, the part that brings one's awareness to the present moment. When this part of the brain is stimulated, it activates good decision-making abilities (known as executive function).
4. There are different types of mindfulness and mediation that can be used to cope with anxiety
Here are a few examples of mindfulness and meditation tools you can use to ease anxiety. There are many other techniques and tips, some of which are included in the handout below so you can practice these at home.
Using a mantra
This involves using a phrase such as "I am at peace" or "I am safe" or a saying of your choice, which you repeat to bring you into the present moment.
Visualization
You picture something that you find enjoyable, such as the smiles of children or grandchildren or a memorable vacation. Your brain conjures this image in your mind to help you destress.
Guided meditation
Here, a trained instructor provides directions to help clear and calm your mind. This is especially useful if you cannot create an image on your own.
Progressive muscle relaxation
With this tool, you tense parts of your body (such as balling up a fist) from top to bottom and then allow them to release. This creates a restriction and release of blood flow, which promotes oxygenation and in turn can help you feel better.
The above are just a few takeaways from this 45-minute workshop event. Check out the video above, or head over to our YouTube channel to view and share this webinar.
Mindfulness Handout
This packet offers practical tips to help you get started with a mindfulness or meditation practice.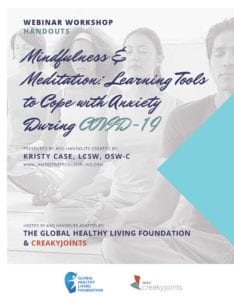 About the Presenter
Kristy Case, LCSW, OSW-C, James Street Counseling in Morristown, New Jersey
Kristy Case is a licensed clinical social worker and certified oncology social worker with nearly 15 years of experience working with people impacted by chronic illness. One of her specialties includes helping people manage health-related anxiety. She is an oncology social worker at her local cancer center, has a private therapy practice in Morristown, New Jersey, where she offers face-to-face and video-based therapy, and teaches at universities to help to build her colleagues' therapeutic skills through continuing education courses.
Get Involved in Arthritis Research
If you are diagnosed with arthritis or another musculoskeletal condition, we encourage you to participate in future studies by joining CreakyJoints' patient research registry, ArthritisPower. ArthritisPower is the first-ever patient-led, patient-centered research registry for joint, bone, and inflammatory skin conditions. Learn more and sign up here.
CreakyJoints website material and content are intended for evidence based informational and educational purposes only. Any material or content on our website is not intended to substitute for medical advice, diagnosis or treatment from a physician or qualified health provider