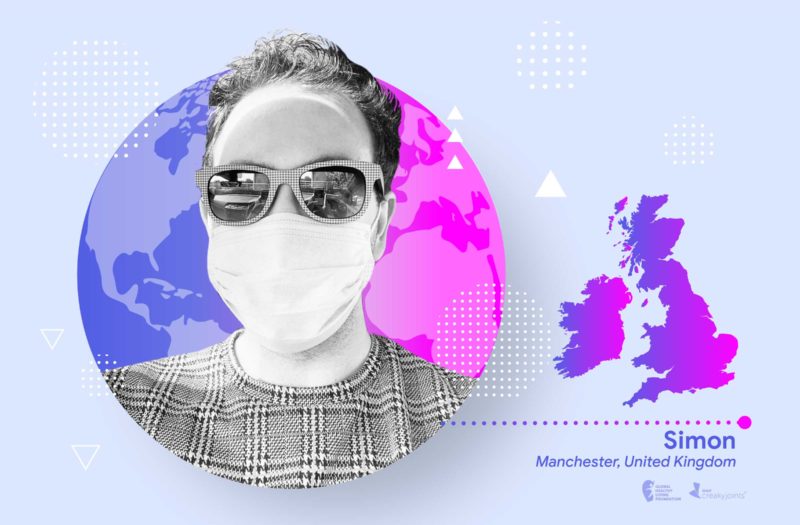 This World Arthritis Day project is presented with CreakyJoints, CreakyJoints Australia, and the Canadian Arthritis Patient Alliance (CAPA).
This COVID-19 Time Capsule is meant to capture a snapshot of what it's been like to live with a chronic illness during the pandemic among people living all over the globe. The questions are an intentional mix of light and serious.
Everyone's responses reflect the many ways having a chronic illness is a shared experience that knows no boundaries. At the same time, you'll find some very distinct differences in how the pandemic has been experienced from place to place.
Respondents answered questions via email and responses may be lightly edited for clarity.
Name: Simon Stones
Location: Manchester, England (United Kingdom)
Age: 27
Primary health condition: Psoriatic juvenile idiopathic arthritis
Daily Living

What were/are your go-to foods during the pandemic?
I have made loads of different homemade soups during the pandemic. Being at home more and wanting nourishing food has been the ideal opportunity to make them, and they're so easy!
How many rolls of toilet paper do you currently have?
I had to go check — we have about 20 rolls. Nothing new for us, though. Having a lot of toilet paper is a given when you live in a household inflicted by inflammatory bowel disease and irritable bowel syndrome. It was an utter nightmare during March though when you could not buy toilet paper anywhere. Don't panic buy.
How do you feel about Zoom and digital meetings/events?
I am all Zoomed out. Although it serves its purpose and is a great way of connecting with others, it's really tiring to be on Zoom for hours at a time, multiple times a day. Particularly during March and April, Zoom meetings were plentiful, as were Zoom quizzes, friends catch-ups, family gatherings, and so on. If anything, I just zoned out from them all, making up excuses not to join for a number of them.
Despite that, my view of digital meetings hasn't really changed. They serve their purpose, but not everything needs to be done as a Zoom meeting (or, indeed, a face-to-face meeting). Some things can be just as quickly resolved by a quick phone call or an email exchange. Cutting down on the number of meetings needed is good for everybody. It frees up our time and stops us from feeling totally drained.
Where do you mainly get your COVID-19 information from?
There are so many pieces of information out there. It can be really difficult to decipher right from wrong. I avoid looking at Facebook for news. I do use Twitter to connect and follow leading academics and clinicians working on COVID-19, and I like to follow evidence-based information, including findings from the latest research. In terms of media outlets, I tend to follow broadsheet newspapers over tabloid newspapers, to get facts rather than sensationalised headlines. I also trust the likes of our national health service and public health authority to share the most accurate, evidence-based information upon which I can then make decisions.
Pop Culture

What TV shows and/or movies got you through lockdown/quarantine?
I revisited some of my all-time, favourite comedy series which are light-hearted and just what you need during lockdown. These included the proper British classics:
The Vicar of Dibley
Keeping up Appearances
Dinnerladies,
The Royle Family
I also worked my way through my Netflix saved list, watching the likes of:
Ratched
The Fall
Away
Safe
The Rain
Motherland
The Stranger
Share five songs from your pandemic playlist.
"Always Remember Us This Way" (Lady Gaga)
"Sunshine" (Gabrielle)
"You Are Not Alone" (Emeli Sandé)
"Ocean Drive" (Lighthouse Family)
"Gravity" (Embrace)
Health

How has your health generally been during the pandemic?
Thankfully I have been fairly well during the pandemic. Both my arthritis and bowel-related conditions have been relatively stable. However, I did start with some new gastro-related symptoms over the summer, which my primary care doctor is currently investigating.
Have you used telehealth? Tell us about your best and/or worst appointment.
The majority of my contact with health care professionals since March 2020 has been over the telephone. I have not had any video consultations, just telephone consultations, and these have only been with primary care doctors. On one occasion, this resulted in me attending the primary care centre in person for an examination. Unfortunately, my regular follow-up appointments within rheumatology and gastroenterology at the hospital have been cancelled indefinitely, with no future date provided. For me, this isn't too much of a problem because I know I can always get hold of them if I think I need to, but it is a concern as to when routine appointments will resume for those of us who aren't seen as urgent cases.
I have mostly found telehealth to be okay. I am well prepared with notes before the call, so I can be sure to describe these fully to the doctor. Unfortunately, you do miss the interactions of face-to-face (or even video) consultations, where you and/or your doctor or nurse can pick up on how you are feeling, instead of just listening to a voice.
What do you wish other people knew about what it's like to have arthritis during a pandemic?
Arthritis (and indeed other chronic conditions) don't miraculously disappear during a pandemic. This has been an overwhelming narrative during the pandemic, with many people feeling as though they have been pushed aside and left behind. Although the situation we find ourselves in with COVID-19 is indeed serious, and requires great attention, this is not to say that those with existing health conditions like arthritis suddenly become disposable.
Lockdown has provided the wider population with a glimpse into the isolation, frustration, and pain felt by millions of people living with arthritis around the world. People generally didn't like being forced to stay indoors and to stop doing the things they love, yet this is what people with arthritis often have to go through all the time, while others carry on like normal. I hope the pandemic has helped more of us learn how challenging it is to live with a condition like arthritis, and that we all have a part to play in being more empathetic and supportive of others.
Pandemic Management
How has your country handled social distancing and mask wearing?
Social distancing guidance was introduced fairly quicky in the UK, once a "2-metre" (or 6-foot) rule was agreed. Businesses like supermarkets have been good at reminding people of the need to keep their distance, aided by announcements, signs, and so on. On the whole, I think people have tried their best to social distance, though there are obviously quite a number who either forget, or blatantly ignore the rules.
I don't think it helped when our government introduced the '1-metre-plus rule' while easing restrictions. It essentially means you must keep at least one metre from others but ideally more. It leaves much to be misinterpreted in my opinion and can leave people confused.
Thinking logically, the further away you are from others, the less likely you are to be exposed to coronavirus, and the less time you spend with others, the less likely you are to be exposed, too. Helping people to understand the risk/benefit balance has been pretty poor in my opinion, and I believe that if people were better informed to understand the importance of making said decisions, then we would experience less problems in the form of non-compliant behaviours.
With regards to mandatory mask wearing, I think this came far too late during the pandemic. Although we are always learning from new evidence, it became clear quite early on in the pandemic that masks provide some value in reducing the spread of the virus. I have followed Professor Trish Greenhalgh on Twitter for some time now; she was strongly advocating for mask use right from the very start — and was often ignored, despite her vast amount of knowledge and rapid evidence generation on this topic.
Since the government finally decided to 'advise' and then 'mandate' about the use of masks (or more broadly, face coverings), the use of them remains mixed. I still see lots of people not wearing a mask inside buildings and closed space environments. More saddening, I have witnessed for myself a number of people falsely claiming that they have a condition which means they don't need to wear a mask, to then say, 'well others are doing it, so I might as well too.' This spoils it for those who genuinely cannot wear a mask for specific reasons. Finally, it also seems that so many people fail to understand how to correctly wear a mask. Under the nose, under the chin, hanging down from their ear, taking it on and off repeatedly. People need to retrain their minds to think about aseptic techniques, for this is going to be one of the only ways we can minimise contamination until we see suitable vaccination candidates.
How do you generally feel about your country's response to the pandemic?
In short, it has been abysmal. A lot of people have lost faith in the British government after their worrying response to the pandemic. Let's start with communication. It has been terrible. What has been missing is clear, transparent, and easy-to-understand-and-interpret information for the public, delivered in a consistent, regular, and timely manner. In my opinion, this should be a given for any administration governing a country. Secondly, inadequate response to the situation has highlighted how woefully unprepared our country has been for dealing with pandemics and natural disasters such as COVID-19. Thirdly, it has shed the light on the crumbling and overstretched health care system. I could go on.
However, what the pandemic has shown is that our country could not cope without key workers: those who have often been seen at the bottom of the ladder, but whom each and every person in our country depends upon. Week after week, the nation would come out of their homes at 8 PM on a Thursday to 'clap for carers' and 'clap for key workers' — a symbol of the nation's gratitude to those who risk their lives to look after us all, and a warning for the government to make sure these people are valued and respected, before we lose them.
Self-Reflection
What has been the most challenging thing about navigating the pandemic for you personally?
Having lost my mum to cancer in November 2019, it was still very early days after her death when we were plunged into lockdown in March 2020. Prior to this, getting out of the house to meet friends and family had been a lifeline and some much-needed time away and distraction from my grief. But when lockdown came, I was essentially locked in, with nowhere to go to vent. And I am one of the lucky ones. At least I have a nice house, a garden, and views of the fields outside of my window, which so, so many people don't have. Imagine how isolating and tough it was for them.
Have you experienced anything positive or any surprising upsides during the pandemic?
The pandemic has, in one sense, enabled me to reset myself, and adjust my way of life. I have learned to slow down and think more about looking after myself. I have made time to self-care. I even made the time to transform my garden, which is something I have been trying to do for a while, but just never had the time. I now have a little oasis to enjoy.
If you could go back to January 2020, what would you tell your future self?
I would have said this regardless of the pandemic, to be fair: You never know what is around the corner. Live for today, take nothing for granted, and remember you have so many things to be thankful for.
Check Out More Patient Perspectives in Our COVID-19 Time Capsule
Get Free Coronavirus Support for Chronic Illness Patients

Join the Global Healthy Living Foundation's free COVID-19 Support Program for chronic illness patients and their families. We will be providing updated information, community support, and other resources tailored specifically to your health and safety. Join now.