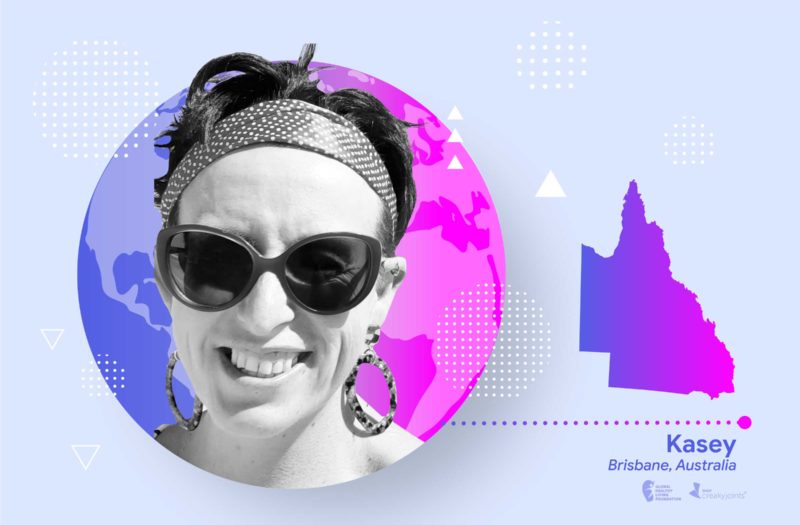 This World Arthritis Day project is presented with CreakyJoints, CreakyJoints Australia, and the Canadian Arthritis Patient Alliance (CAPA).
This COVID-19 Time Capsule is meant to capture a snapshot of what it's been like to live with a chronic illness during the pandemic among people living all over the globe. The questions are an intentional mix of light and serious.
Everyone's responses reflect the many ways having a chronic illness is a shared experience that knows no boundaries. At the same time, you'll find some very distinct differences in how the pandemic has been experienced from place to place.
Respondents answered questions via email and responses may be lightly edited for clarity.
Name: Kasey Gardiner
Age: 37
Location: Brisbane, Australia
Primary health condition: Rheumatoid arthritis
Daily Living
What were/are your go-to foods during the pandemic?
Our biggest change for 2020 was investing more time in the vegetable garden. We're now eating home-grown rocket [arugula], spinach, and tomatoes most days, with more crops expected soon. We stocked up on beans, tinned tomatoes, etc., but it wasn't necessary. We had good access to supplies right through our very brief lockdown. We found things in short supply in specialty stores, such as our local Asian grocer or Greek deli.
How many rolls of toilet paper do you currently have?
Maybe four? In late February, before lockdown really hit, people would gift us toilet paper when they popped over. We passed some on to my dad, who couldn't find any at one stage.
How do you feel about Zoom and digital meetings/events?
Zoom and video chats helped me feel more connected to family and work. But ultimately, I was going a bit mad at home and Zoom just didn't bridge the gap enough for me. I returned to work after a few weeks. Working at my kitchen table was incredibly painful and not having a decent setup to type/work/print was really limiting and increasingly painful. I didn't attend any Zoom events, though the year has been so full I haven't missed them.
Do you have a favorite face mask? If yes tell us about it.
We haven't had to wear masks, apart from when attending hospital appointments from July onward this year. My husband ordered some masks, which took a good two months to arrive. I haven't ventured out in one yet.
Where do you mainly get your COVID-19 information from?
News briefings, staff briefings at work, social media (with a grain of salt). We have been incredibly lucky in Queensland. We have had very few cases and they have been extremely well managed. As of today, Tuesday 6 October, we have had 1,160 cases in Queensland. There are currently seven active COVID-19 patients, all in hospital. Six people, to date, have died.
Pop Culture
What TV shows and/or movies got you through lockdown/quarantine?
I've been delving into period dramas, such as:
The Great
The White Queen
The Spanish Princess
We also revisited The X-Files and some trashy nineties TV.
Lots of kids' TV as well:
Adventures of the Gummi Bears
Inspector Gadget
Bluey
Share a few songs from your pandemic playlist.
We flew to Sydney in February, just before lockdown, and saw my favorite band, Tool. Their latest album has been featuring heavily, along with a lot of nineties alternative rock and metal. And a lot of sleep playlists and playlists to try and meditate.
Health
How has your health generally been during the pandemic?
Great. I've been in remission for the 2020. I spent most of the year pregnant (conceived in January), so lots of medical appointments but for great reasons.
Have you used telehealth? Tell us about your best and/or worst appointment.
I have found telehealth pretty disappointing overall. I had a bad cough earlier in the year. The COVID test was negative and I was 20 weeks pregnant so I knew I couldn't take anything over the counter to help ease my symptoms. I was lectured by both the GP [general practitioner] and pharmacist for attending the GP for treatment, despite being negative for COVID, yet I needed to be physically examined to see if I needed antibiotics, etc. My pregnancy was considered high-risk so I physically attended most appointments. The few telehealth appointments I had were very hit and miss. I was given a three-hour window to expect calls within, and they routinely came after that, which was tricky to manage while also working or caring for my older child.
I had one telehealth call with my rheumatologist to discuss my options during the pandemic, if I should be working from home, and what I could do to protect myself. He said that with a then 3-year-old in daycare, there was very little I could do to protect myself and I should just be prepared to get COVID.
What do you wish other people knew about what it's like to have arthritis during a pandemic?
I wish other people realised that with my being immunocompromised, pregnant, and having a previous history of lung scarring, COVID could kill me. When people dismiss the disease as a hoax or nothing serious, they write my life off as expendable.
I had a nine-day stint in ICU in 2015 with a lot of similar symptoms to COVID, particularly the lung involvement. So I have a pretty good idea of what having COVID is like, and it's not great. Relying on machines to breathe for you, being in the ICU, being totally dependent on others making decisions that literally mean life and death for you. It's surreal, particularly in your early thirties. That said, I don't think I understood the gravity of how ill I was at the time, and I didn't understand how close I came to dying. I only found out later that I had a 50/50 chance of surviving that infection.
Pandemic Management
How has your country handled social distancing and mask wearing?
Masks became mandatory in public hospitals recently. They aren't mandated in public spaces and very few people wear them. That said, we only have seven cases currently in a state the size of half of Europe — and all our cases are in hospital quarantine. Social distancing is enforced and public spaces monitored. People follow it fairly loosely, however. In most places, you'll see large groups of people gathered together in parks or shopping.
How has your country handled unemployment or disability/illness caused by COVID-19?
Unemployment has been more of an issue than sickness. My husband works in the entertainment industry and he's receiving a government paid wage subsidy. It's reduced his income by around 50 percent, more now the rate has dropped. Supports for disabled people have been virtually non-existent and a few people have died because of gaps in their care. I think our citizens will be dealing with mental health issues as a result of isolation and financial stress for years, if not decades, to come. Our government doesn't seem to have had much of a plan for people in aged care facilities, and that's proved disastrous in Victoria. I also think the bushfires here in Australia at the beginning of the year left a lot of policy professionals reeling. We were dealing with fires and public health threats as a result of smoke inhalation, then went straight into a pandemic that's stopped the globe. I think a lot of people are tired — and that has not aided decision making at the highest levels.
How do you generally feel about your country's response to the pandemic?
There are absolutely things I would have done differently. Locked down international borders earlier. Put more money behind industries that were and are significantly affected (universities, entertainment, arts, tourism). Offer free education and training opportunities to people looking to upskill during this downtime. All of this would allow us to bounce back smarter and more qualified as a nation. I would also have loved to have seen significantly more investment made in services and supports to families feeling financial pressure.
But compared to what's been happening overseas, we are so, so lucky.
Self-Reflection
What has been the most challenging thing about navigating the pandemic for you personally?
Recognising that I could die from this disease and what that would mean for my husband, daughter, and newborn son. Waiting for COVID test results before I could go and see my terminally ill mother in hospital. That our society has even less regard for the elderly than I thought and how rampant ageism really is. Realising how little understanding there is about disability in the community and how far we have to go to raise awareness of invisible disabilities. That our society should be judged on how we treat our weakest members. Recognising that our economy is kept afloat by a lot of jobs that don't actually matter in times of crisis. Realising how useless I felt sitting at home: unable to help or work efficiently, feeling trapped, and forced to sit still and wait for the situation to evolve.
Have you experienced anything positive or any surprising upsides during the pandemic?
My family is much stronger. The entertainment industry has been hard hit, which means my husband has been working part-time. Having him home and present and engaged with family life has strengthened our family. He's spending time gardening and growing food for us, playing with our daughter more, and is much happier. In some ways, I'm dreading the return of gigs.
If you could go back to January 2020, what would you tell your future self?
Buckle up! Get travel insurance and get ready to postpone your trip to Nepal because you're going to conceive your son. Enjoy your trip to Bali. Apply sunscreen to your legs before snorkeling in the Blue Lagoon. Climbing the volcano will be worth it. Wear more comfortable shoes when you see the only live concert you'll see this year. Drink more ginger tea and spend time holding your growing bump. Be proud of the body making your baby. Spend more time being present with your daughter: She doesn't understand why you're tired and worried if your baby will be ok.
Spend more time with your mum — you'll lose her in August and it'll make you regret all the times you didn't visit in what turned out to be her last few months because you didn't want to risk her getting COVID.
Treasure those you love and make your moments matter. Hide your car keys in the pantry because someone will break in and steal your new car. The cat will come back and, yes, she missed you.
Give your husband more love and understanding. His sense of self primarily came through his job and with that paused by COVID, he's struggling to find himself. Give him time and support and thank him for all the things he does for your family.
Count your blessings every day that you live in a country where COVID will be an inconvenience, not a death sentence.
Check Out More Patient Perspectives in Our COVID-19 Time Capsule
Get Free Coronavirus Support for Chronic Illness Patients

Join the Global Healthy Living Foundation's free COVID-19 Support Program for chronic illness patients and their families. We will be providing updated information, community support, and other resources tailored specifically to your health and safety. Join now.