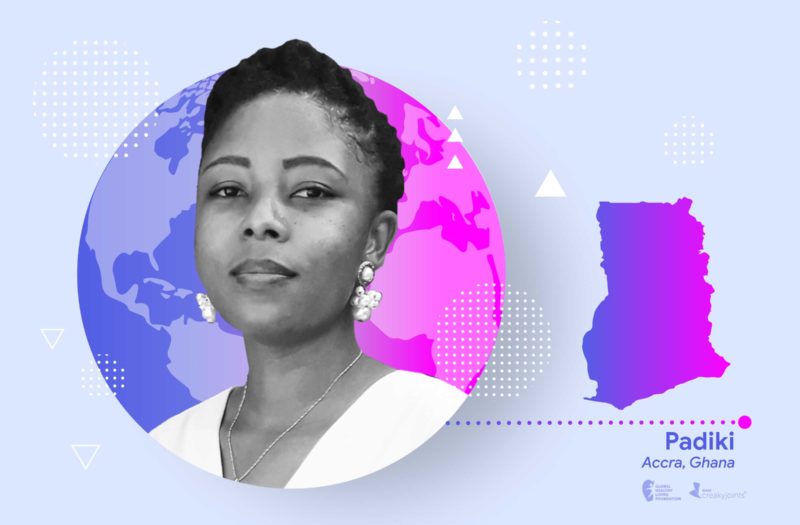 This World Arthritis Day project is presented with CreakyJoints, CreakyJoints Australia, and the Canadian Arthritis Patient Alliance (CAPA).
This COVID-19 Time Capsule is meant to capture a snapshot of what it's been like to live with a chronic illness during the pandemic among people living all over the globe. The questions are an intentional mix of light and serious.
Everyone's responses reflect the many ways having a chronic illness is a shared experience that knows no boundaries. At the same time, you'll find some very distinct differences in how the pandemic has been experienced from place to place.
Respondents answered questions via email and responses may be lightly edited for clarity.
Name: Padiki Narh
Location: Accra, Ghana
Age: 31
Primary health condition: Lupus
Daily Living
What were/are your go-to foods during the pandemic?
Spinach stew and boiled green plantain. I also craved for chocolate bars and chocolate cookies.
How many rolls of toilet paper do you currently have?
Even though toilet paper shortage hasn't been an issue in Ghana, especially during the lockdown, I currently have about 50 rolls because I buy them in bulk.
How do you feel about Zoom and digital meetings/events?
I would prefer virtual meetings/events any time because they're convenient, timesaving, and decreases physical contact, which makes me feel safe.
Do you have a favorite face mask? If yes tell us about it.
My favourite face mask is a customized one from the Global Lupus Outstanding Warriors (GLOW), a sub-group of The Rheumatology Initiative. [The Rheumatology Initiative is a non-profit organization dedicated to providing education, advocacy, and research into the autoimmune rheumatic conditions in Ghana and Africa.] It has patterns of beautiful colours, including purple, with the inscription "G.L.O.W. Warrior." It was made to celebrate World Lupus Day, which happened to fall on Mother's Day this year.
Where do you mainly get your COVID-19 information from?
My support group, The Rheumatology Initiative
Television (Citi TV, Joy News Prime)
Radio (Citi FM, Joy FM)
Ghana Health Service's COVID-19 site
Pop Culture
What TV shows and/or movies got you through lockdown/quarantine?
My go-to movies were animations (such as Onward and The Little Prince) and sitcoms (such as Breadwinners, The Neighborhood, and Fresh Off the Boat).
Share a few songs from your pandemic playlist.
"Hide Me" (Joe Mettle ft. Jonathan Nelson)
"The Blessing" (Kari Jobe and Cody Carnes)
"Memories" (Maroon 5)
Health
How has your health generally been during the pandemic?
I have experienced only mild flares, maybe because I have been resting more. The positive side of the pandemic.
Have you used telehealth? Tell us about your best and/or worst appointment.
I have used telehealth and all my appointments have been great. I feel safe and it's made me realise not all physical appointments are really necessary. I hope it is here to stay.
What do you wish other people knew about what it's like to have arthritis during a pandemic?
Persons with chronic conditions constantly live in fear/anxiety of the unknown. The outbreak of a pandemic of this kind makes everything worse.
Pandemic Management
How has your country handled social distancing and mask wearing?
A few days after the first two cases of the virus was confirmed, the President of Ghana implemented social restrictions, banning all public gatherings and closing down all schools and universities. There was a partial lockdown of some of the major cities in the country.
Even though currently the lockdown measures have been eased and the ban on social gathering has been lifted, facilities are to operate under enhanced social distancing procedures. Social gathering activities cannot exceed 25 percent attendance. 
Wearing of face masks has been made mandatory in public places where it may be difficult to maintain social distancing. A new executive instrument has been put in place to punish people who fail to wear one in public.
How has your country handled unemployment or disability/illness caused by COVID-19?
The government of Ghana introduced several measures to mitigate the social and economic impacts of COVID-19. It launched the COVID-19 Alleviation Fund to raise funds for the response, including supporting businesses and other social interventions. The government covered water and electricity bills for the population (100 percent for the very poor and 50 percent for all others, including businesses), provided food assistance, and supported small and medium-scale enterprises.
 All testing and treatment for COVID-19 is fully covered by the government.
 The government also approved the construction of additional ICU bed facilities in the Greater Accra region and new treatment center in the Ashanti region of Ghana.
How do you generally feel about your country's response to the pandemic?
I feel the government's response to the pandemic has been good. There could be an improvement in the distribution of resources and information for vulnerable populations.
Self-Reflection
What has been the most challenging thing about navigating the pandemic for you personally?
Fortunately for me, I have an understanding boss who permitted me to work from home, which eliminated my fear of coming into contact with infected persons at my work place or commuting to and from work. 
Self-quarantining hasn't been an easy task for me, though. I am constantly worried when family members have to get groceries for the house. Even though they wear their face mask and practice good hand hygiene, social distancing is a bit difficult in our marketplaces.
I also miss the hugs and the in-person meetings especially support group meetings and church activities.
Have you experienced anything positive or any surprising upsides during the pandemic?
The surge in prices of goods and services especially medications such as hydroxychloroquine left much to be desired, but we rallied as a group and made a lot of noise about it, which made the pharmaceutical society put in measures to stop sales to people without prescriptions and some actually saved their stock for us.
The pandemic has given me the chance to pursue other hobbies like gardening and cooking.
If you could go back to January 2020, what would you tell your future self?
Breathe. I'd also tell myself that life is unpredictable, but you are strong, enjoy every moment.
On a more practical note: Make sure you have enough medications at all times. Do your human best to stay safe, don't be scared of the rising number of cases, find interesting activities to keep you occupied, keep in touch with friends, and don't be shy to talk to someone when you get depressed.
Check Out More Patient Perspectives in Our COVID-19 Time Capsule
Get Free Coronavirus Support for Chronic Illness Patients

Join the Global Healthy Living Foundation's free COVID-19 Support Program for chronic illness patients and their families. We will be providing updated information, community support, and other resources tailored specifically to your health and safety. Join now.