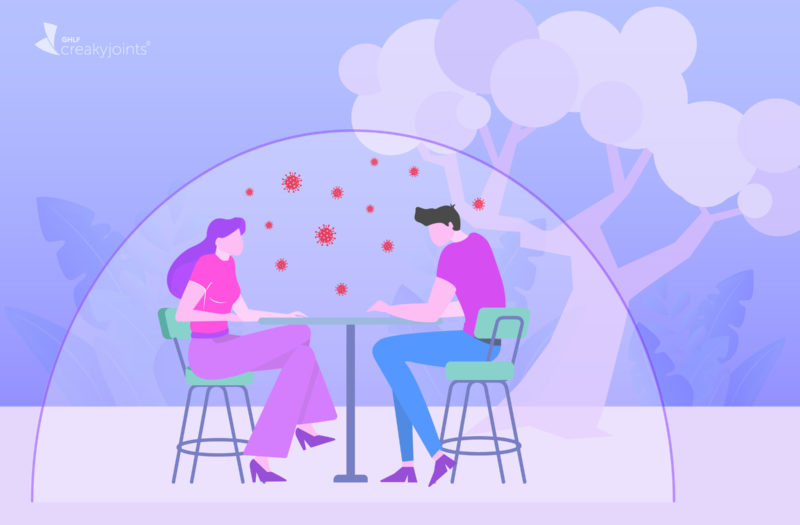 During the summer and early fall, outdoor dining was touted as a way to more safely eat out during COVID-19. Diners typically ordered their food and ate in the open air, with some establishments installing plexiglass between tables to separate groups of diners.
However, as temperatures dropped, these outdoor dining experiences started to look more like pop-up eateries. Some restaurants, in an effort to keep patrons warm, have surrounded outdoor diners with tents, bubbles, or walls with heaters.
Sometimes, this type of setup dispels many of the benefits associated with outdoor dining — and you may need to be extra cautious, especially if you're high-risk for COVID-19 or its complications.
"Under that tent, there may be crowding, poorer air flow, and groups of people eating and talking without face coverings on," says David Aronoff, MD, Director of the Division of Infectious Diseases at Vanderbilt University School of Medicine in Nashville, Tennessee. "If the atmosphere is loud at all, people may need to talk louder or lean toward each other to hear, and it's not ideal."
The U.S. Centers for Disease Control and Prevention (CDC) outlines the following thresholds of risk when considering dining out:
Lowest Risk: Food service limited to drive-through, delivery, takeout, and curbside pickup.
More Risk: Drive-through, delivery, takeout, and curbside pickup emphasized, with on-site dining limited to outdoor seating. Capacity is reduced to allow tables to be spaced at least six feet apart.
Higher Risk: On-site dining with indoor seating capacity reduced to allow tables to be spaced at least six feet apart. This risk threshold also includes on-site dining with outdoor seating, but tables not spaced at least six feet apart.
Highest Risk: On-site dining with indoor seating. Seating capacity not reduced and tables not spaced at least six feet apart.
 Should Outdoor Dining Enclosures Actually Be Considered Indoor Spaces?
When outdoor restaurant enclosures mimic indoor conditions, they should be considered indoor dining in terms of COVID-19 risk.
"An outdoor space that is surrounded from all four sides and with poor ventilation is an indoor space," says Aditya Shah, MD, an infectious disease consultant at the Mayo Clinic.
To truly be the same as an outdoor space, it should have proper ventilation and plenty of social distancing, says Dr. Aronoff.
"The best way to share a meal [during COVID-19] is really outdoors with really good ventilation, which could still be underneath a cover for some time, but with really low density of people," says Dr. Aronoff. "Increasingly some restaurants are building 'outdoor seating areas' that basically look like small outbuildings, and they are more indoor than outdoor. I am not a fan of that solution."
Keep in mind that simply counting the number of walls in an outdoor enclosure isn't a surefire way to guarantee that it's safe.
"Rather than thinking of the outdoor enclosure as having one, two, three, or four walls, we have to think of it in terms of how much ventilation there is," says Dr. Shah. "The more ventilation, the lesser the risk. So if there is one wall but it's a well-ventilated, wide-open space, that is still acceptable."
Even if you dine in a truly "outdoor" environment, it's best to look for a quiet area and keep your visit to the restaurant relatively short to limit your potential exposure to the virus that causes COVID-19. It's also important to limit who is at your table eating with you. Ideally, you're eating with people in your household or a very limited circle of family or friends.
The Risks with Some Outdoor Enclosures
Experts still have much to learn about the ventilation in these new outdoor enclosures, which can vary widely in form — from tents to bubbles.
"I would argue that the ventilation in these enclosures likely varies, because what you're doing is basically transforming an outdoor area into a pseudo-indoor area," says Elana Oberstein, MD, an internist with a subspecialty in arthritis and autoimmune disease at The Lennar Foundation Medical Center in Coral Gables, Florida. "And we know there are risks with indoor dining."
There is evidence that people with COVID-19 can infect others who are more than six feet away when infectious particles become airborne in poorly ventilated environments, per the CDC. Although it's a less common way for the virus to spread than is close contact with an infected person, it does appear to occur under certain conditions.
Restaurants have also been found to carry a higher-than-average risk for COVID-19 spread. In a November 2020 report in the journal Nature, researchers used anonymized data from 98 million Americans living in New York City, Chicago, and Washington, D.C., plus seven other metro areas. In those regions, they traced visits to more than 550,000 cafes, hotels, and other points of interest, and found that certain venues — including full-service restaurants — disproportionately contributed to COVID-19 infections.
"Reopening full-service restaurants was associated with a particularly high risk: In the Chicago metro area, we predicted an additional 595,805 infections by the end of May, more than triple that of the point of interest category with the next highest risk," note the researchers.
Another thing to consider is how many other groups you're sharing an outdoor dining enclosure with, and how closely they're following measures to prevent the spread of germs.
"If there's just one family that lives together in a said enclosure, and the table is cleaned before another family comes and sits in it, that's a lower risk than an enclosure with two or three different families in one space," says Dr. Shah. "You can only control your behavior — you can't control someone else's."
It may be worth asking the restaurant if the tables are cleaned before each new set of patrons arrives, and if masks are required for all staff and patrons when not eating or drinking.
"If someone before you used that table and they coughed or sneezed on it, the droplets that carry infectious materials can linger," says Dr. Shah. "If you touch that table and then touch your eyes, nose, or mouth, there is a chance you can get inoculated with the virus."
"Everything is on a spectrum of risk," he adds. "The more cleaning of surfaces, the fewer people, the more ventilation, the more masking, and the more hand hygiene — the lower the risk."
If you opt for dining in an outdoor enclosure, look for the following characteristics:
There's plenty of ventilation (air can move freely in and out)
Patrons are wearing masks when not eating or drinking
All staff members are wearing masks
Seating capacity is limited to allow for social distancing (all customer parties should remain at least six feet apart)
Crowded waiting areas are discouraged
However, if you're living with an underlying condition that may put you at risk for serious outcomes from COVID-19, it may be best to limit your exposure to higher-risk places as much as possible. That means staying home as much as possible and avoiding places where groups of people gather without wearing masks — restaurants being a prime example.
"Regardless of whether it's indoor or outdoor, any outing for any reason will increase your COVID-19 exposure, especially if it's a seating situation that is densely populated," says Dr. Oberstein. "I recommend tapping into other options that diversify your meal experience but don't put you at risk."
Alternative Options to Outdoor Dining in an Enclosure
You can still support your favorite local businesses, even if you don't dine on-site. Of course, there's the option to pick up food or order delivery, but you can also see if any local businesses offer virtual cooking classes or sell their own recipe books.
"If you're interested in trying food from a restaurant, you always have the great option of takeout dining," says Dr. Oberstein. "You can also try new recipes at home, take a cooking class virtually, or do a virtual meal with other family members."
"The advice I give my patients is to get creative with other options that don't necessarily require exposure that might be looming in more population-dense restaurants, whether it's indoor or outdoor," she adds.
Get Free Coronavirus Support for Chronic Illness Patients

Join the Global Healthy Living Foundation's free COVID-19 Support Program for chronic illness patients and their families. We will be providing updated information, community support, and other resources tailored specifically to your health and safety. Join now.
Chang S, et al. Mobility network models of COVID-19 explain inequities and inform reopening. Nature. November 10, 2020. doi: https://doi.org/10.1038/s41586-020-2923-3.
Considerations for Restaurant and Bar Operators. Coronavirus Disease 2019 (COVID-19). U.S. Centers for Disease Control and Prevention. November 18, 2020. https://www.cdc.gov/coronavirus/2019-ncov/community/organizations/business-employers/bars-restaurants.html.
Interview with Aditya Shah, MD, an infectious disease consultant at the Mayo Clinic
Interview with Elana Oberstein, MD, an internist with a subspecialty in arthritis and autoimmune disease at The Lennar Foundation Medical Center in Coral Gables, Florida
Interview with David Aronoff, MD, Director of the Division of Infectious Diseases at Vanderbilt University School of Medicine in Nashville, Tennessee