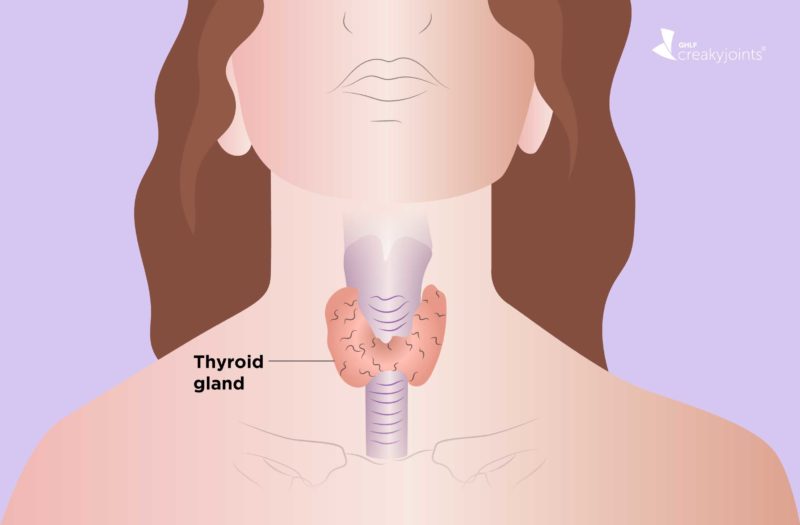 Your thyroid is a butterfly-shaped gland located in your neck, just under your Adam's apple. Its job: to produce and store hormones that help regulate your metabolism (or the rate at which cells perform their duties). Thyroid hormone helps control how fast your heart beats, how quickly you burn calories, and your body temperature. It also helps keep your brain, muscles, and other organs working as they should. Too little hormone production (called hypothyroidism) slows your body down; too much (or hyperthyroidism) sends it into overdrive.
What does a joint condition like arthritis have to do with this tiny gland? Research has shown people with rheumatoid arthritis (RA) are more likely to develop a thyroid condition such as hypothyroidism. "Estimates suggest between 15 percent and 25 percent of patients with RA will develop thyroid disease sometime during their lifetime," says Eric Matteson, MD, rheumatologist and professor of medicine at Mayo Clinic in Rochester, Minnesota. In comparison, about 10 percent to 12 percent of adults in the general population develop thyroid disease.
The connection appears to go both ways: People living with autoimmune thyroid disease are also at higher risk for developing rheumatoid arthritis. One study published in the American Journal of Medicine found that about 14 percent of people with Hashimoto's thyroiditis — a condition in which your immune system attacks your thyroid and often leads to hypothyroidism — had another autoimmune disorder, most commonly RA.
What Exactly Is Hypothyroidism?
This condition occurs when your thyroid gland is underactive, which means that it can't make enough thyroid hormone to keep your body running normally. You have hypothyroidism if you have little thyroid hormone in your blood. When cells can't get enough of this hormone, the body's processes slow down.
"Thyroid hormone is a necessary hormone, thus a dysregulation for thyroid hormone changes the whole body," says Alexa Simon Meara, MD, assistant professor in the division of immunology and rheumatology at The Ohio State University Wexner Medical Center. Signs of hypothyroidism vary, depending on the severity of the hormone deficiency. Symptoms tend to develop slowly, often over several years, and may include:
Fatigue
Increased sensitivity or intolerance to cold
Weight gain
Dry skin and hair
Constipation
Puffy face
Muscle aches
Forgetfulness
Depression
Enlarged thyroid gland (goiter)
What Causes Hypothyroidism?
The most common cause of hypothyroidism is the autoimmune disease Hashimoto's thyroiditis. In this disorder, the immune system mistakenly targets and damages the thyroid, causing inflammation and leading to an underactive thyroid.
Other causes of hypothyroidism include thyroid surgery, radiation therapy to treat certain cancers, thyroiditis (or inflammation of the thyroid gland), and certain medications.
Why Do Rheumatoid Arthritis and Hypothyroidism Often Coexist?
While the link between the two conditions isn't fully understood, experts do know that having one autoimmune disease raises your risk of developing another. "Patients with rheumatoid arthritis are more likely to develop any number of other autoimmune conditions, including autoimmune thyroid dysfunction," says Dr. Matteson. "The link relates to the systemic abnormal response of the immune system leading to involvement of other organ systems."
Another potential connection: There may be shared genetic predispositions to both RA and autoimmune thyroid disease, adds Dr. Matteson.
Does Hypothyroidism Cause Joint Pain?
It can, according to the Mayo Clinic. Hypothyroidism may lead to joint pain and stiffness, as well as muscle aches and tenderness particularly in the shoulders and hips. In RA, however, swelling occurs in affected joints, while hypothyroidism can cause swelling of the soft tissue in the hands, arms, legs and feet, and even puffiness in the face in some people, explains Dr. Matteson.
Both RA and hypothyroidism can also cause carpel tunnel syndrome, a condition that causes numbness, tingling, and other symptoms in the hand and arm.
Increased Cardiovascular Risk for Rheumatoid Arthritis and Hypothyroidism
Just having RA means your heart attack risk is as much as 68 percent higher than it is for someone without RA. An underactive thyroid can further contribute to heart disease risk because it may cause a slow heart rate, a rise in cholesterol, an increase in fluid around the heart, and heart failure.
Research suggests having the two conditions together may drive up cardiovascular risk. According to Dutch research, women with inflammatory arthritis and hypothyroidism had more than three times the risk for cardiovascular disease, compared to people who didn't have either condition.
How Is Hypothyroidism Diagnosed?
With well-controlled RA, your doctor may suspect thyroid disease if you have unusual swelling in your hands, arms, legs and feet, or even unusual fatigue and weight gain, says Dr. Matteson. "Thyroid tests will help to sort this out," he says.
Hypothyroidism is diagnosed with a physical exam for symptoms and results from a blood test that measures the levels of thyroid-stimulating hormone (TSH). An abnormally high TSH means hypothyroidism. It indicates the thyroid gland is being asked to make more of the hormone thyroxine (T4) because there isn't enough T4 in the blood.
Sometimes doctors may run another blood test to measure T4 levels, if needed.
How Is Hypothyroidism Treated if You Have RA?
Hypothyroidism is treated the same whether or not you have RA, explains Dr. Meara. The goal is to get thyroid hormone back to normal levels. It's also important to continue to manage your RA and keep it under good control to help manage symptoms and for your overall health.
Hypothyroidism can't be cured, but in most cases, it can be completely controlled. Standard treatment involves a daily dose of the synthetic thyroid hormone levothyroxine (Levo-T, Synthroid). It comes in pill form, works just like your own body's thyroid hormone, and helps bring hormones back to normal levels, thus reversing hypothyroid symptoms.
"Medications used to replace thyroid hormone do not interfere with RA medications," adds Dr. Matteson. Your doctor will determine the best dose initially and over time.
Not Sure What's Causing Your Pain?
Check out PainSpot, our pain locator tool. Answer a few simple questions about what hurts and discover possible conditions that could be causing it. Start your PainSpot quiz.
Keep Reading
Boelaert K, et al. Prevalence and relative risk of other autoimmune diseases in subjects with autoimmune thyroid disease. The American Journal of Medicine. February 2010. doi: http://dx.doi.org/10.1016/j.amjmed.2009.06.030.
Elattar EA, et al. Hypothyroidism in Patients with Rheumatoid Arthritis and Its Relation to Disease Activity. Annals of the Rheumatic Diseases. June 2014. http://dx.doi.org/10.1136/annrheumdis-2014-eular.4521.
Emamifar A, et al. Thyroid disorders in patients with newly diagnosed rheumatoid arthritis is associated with poor initial treatment response evaluated by disease activity score in 28 joints-C-reactive protein (DAS28-CRP). Medicine. October 2017. doi: http://dx.doi.org/10.1097/MD.0000000000008357.
Hashimoto's disease. Mayo Clinic. https://www.mayoclinic.org/diseases-conditions/hashimotos-disease/symptoms-causes/syc-20351855.
Hashimoto's Thyroiditis. American Thyroid Association. https://www.thyroid.org/hashimotos-thyroiditis.
Hypothyroidism: Does it cause joint pain? Mayo Clinic. https://www.mayoclinic.org/diseases-conditions/hypothyroidism/expert-answers/hypothyroidism/faq-20057789.
Hypothyroidism in Arthritis Patients Drives Up Cardiovascular Risk. MDEdge Rheumatology. https://www.mdedge.com/rheumatology/article/35243/rheumatology/hypothyroidism-arthritis-patients-drives-cardiovascular-risk.
Hypothyroidism FAQs. American Thyroid Association. https://www.thyroid.org/hypothyroidism.
Hypothyroidism (underactive thyroid). Mayo Clinic. https://www.mayoclinic.org/diseases-conditions/hypothyroidism/symptoms-causes/syc-20350284.
Interview with Alexa Simon Meara, MD, assistant professor in the division of immunology and rheumatology at The Ohio State University Wexner Medical Center
Interview with Eric Matteson, MD, rheumatologist and professor of medicine at the Mayo Clinic in Rochester, Minnesota
Mahagna H, et al. Rheumatoid arthritis and thyroid dysfunction: A cross-sectional study and a review of the literature. Best Practice & Research Clinical Rheumatology. October 2018. doi: https://doi.org/10.1016/j.berh.2019.01.021.
Overview of the Thyroid Gland. Merck Manuals Consumer Version. https://www.merckmanuals.com/home/hormonal-and-metabolic-disorders/thyroid-gland-disorders/overview-of-the-thyroid-gland.
Roldán JC, et al. Autoimmune Thyroid Disease in Rheumatoid Arthritis: A Global Perspective. Arthritis. October 2012. doi: http://dx.doi.org/10.1155/2012/864907.
Somers EC, et al. Are Individuals with an Autoimmune Disease at Higher Risk of a Second Autoimmune Disorder? American Journal of Epidemiology. March 2009. doi: https://doi.org/10.1093/aje/kwn408.
Thyroid disorders and heart conditions: What's the connection? Harvard Health Publishing. https://www.health.harvard.edu/thyroid-diseases/thyroid-disorders-and-heart-conditions-whats-the-connection.
Udovcic M, et al. Hypothyroidism and the Heart. Methodist DeBakey Cardiovascular Journal. April-June 2017. https://www.ncbi.nlm.nih.gov/pmc/articles/PMC5512679.