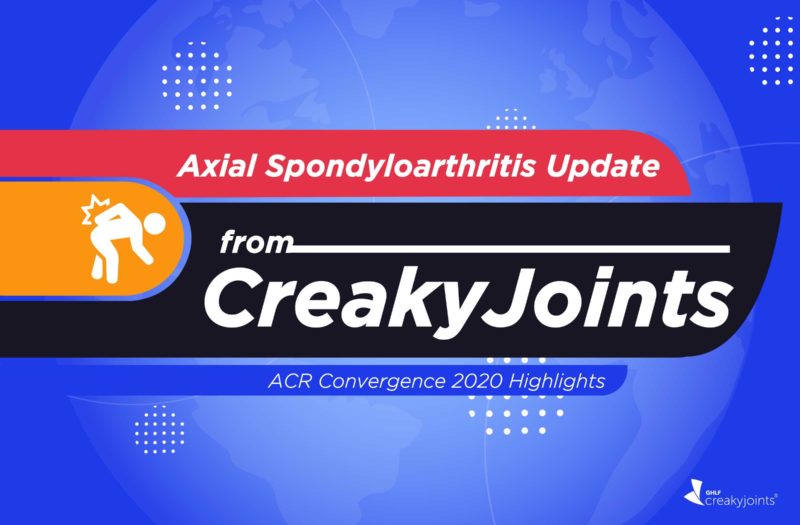 The COVID-19 pandemic may have changed the format of this year's annual medical meeting of the American College of Rheumatology — it was held completely virtually — but it did not disrupt the sharing of important research that directly impacts people living with axial spondyloarthritis (axSpA).
Note: Axial spondyloarthritis is an umbrella term for a type of inflammatory arthritis that predominantly causes symptoms in the spine and pelvis. It includes two conditions: ankylosing spondylitis (in which there is joint damage that you can see on X-rays) and non-radiographic axial spondyloarthritis, which has similar symptoms but no damage is visible on X-rays. We will be using all three terms throughout this article.
The CreakyJoints team combed through hundreds of studies, attended sessions from top axial spondyloarthritis experts, and asked our team of patient and physician advisors to share the updates they deemed most important.
We curated this guide to axial spondyloarthritis research and trends from ACR that you should be aware of.
For more research breakthroughs from ACR Convergence 2020, check out our main guide: ACR 2020: 100+ Arthritis and Rheumatic Disease Updates Patients Must Know About.
1. The benefits of using 'treat to target' in axial spondyloarthritis remain to be seen
The concept of "treat to target" has become a mainstay of therapy in rheumatoid arthritis and is a hot-button topic in other rheumatic conditions. It means picking a target, like low disease activity or remission, and adjusting a medication and treatment until the target is met and sustained. The idea is that this approach will improve patients' symptoms and long-term outcomes. But does it work for axial spondyloarthritis?
At ACR this year, the results of an important clinical trial from Europe showed that there was no difference in disease activity scores for people treated with a treat-to-target approach compared with those who received usual care — but experts believe this is not the final word.
In the study, 160 patients from different centers around Europe who were not doing well on non-steroidal ant-inflammatory drugs (NSAIDs — like ibuprofen) and not yet started biologic drugs were randomized to receive either "tight control" or "usual care" and followed for a year. The researchers were looking to see how many patients could achieve a 30 percent improvement in a disease activity measure called the ASAS Health Index.
Patients in the tight control group were treated according to a strategy pre-specified based on current axSpA recommendations, reported Healio Rheumatology, which included seeing the doctor every four weeks. People in the usual care group visited the doctor every 12 weeks and treatment decisions were made at the rheumatologist's discretion.
Ultimately, the results showed that while more people in the tight control group experienced an improvement in disease activity compared to those in the usual care group, the difference was not statistically significant.
However, the jury is still out on what this study means for using a treat-to-target approach in axSpA. For one thing, it's possible that the "usual care" group performed better than expected because they were actually getting "above-usual" care.
They were seen every three months in this study, which "may not be possible for many axSpA patients and their rheumatologists in the U.S.," says Boston University rheumatologist Jean Liew, MD.
"I don't think [this study] changes the recommendation that we don't have enough evidence to treat to target yet in axial spondyloarthritis, but hopefully this will generate more research to optimize the outcomes in these patients," said rheumatologist Lianne Gensler, MD, Director of the Ankylosing Spondylitis Clinic at the University of California, San Francisco, in a RheumNow video.
2. Ankylosing spondylitis patients had a good response to the JAK inhibitor tofacitinib
Already FDA-approved for rheumatoid arthritis, psoriatic arthritis, and other inflammatory conditions, the JAK inhibitor tofacitinib (Xeljanz) is currently being studied as a treatment for axial spondyloarthritis. A JAK inhibitor is an oral pill that works on targeted immune system pathways to reduce inflammation.
In a phase 3 study presented at ACR, "patients with ankylosing spondylitis demonstrated rapid clinical response to tofacitinib, which produced significantly greater efficacy than placebo, but with more adverse events," according to the study's lead investigator, Atul Deodhar, MD,  Professor of Medicine at Oregon Health & Science University in Portland, reported Healio Rheumatology.
More than 56 percent of people achieved a 20 percent improvement in disease activity on tofacitinib after 16 weeks, compared with 29 percent of people taking a placebo. And using more stringent criteria — a 40 percent improvement in symptoms — 41 percent of people taking tofacitinib achieved this, compared with 13 percent of people in the placebo group.
What's more, the improvement in disease activity started to occur quickly, noted Dr. Deodhar. He said that significant improvements began to be seen by week two.
While adverse events, including liver issues and herpes zoster (shingles) were more common in the treatment group, the safety profile of the drug was consistent with its known safety profile for people with rheumatoid arthritis and psoriatic arthritis. "No new potential safety risks were identified in patients with ankylosing spondylitis," said Dr. Deodhar.
It's not entirely clear how JAK inhibitors work for axial spondyloarthritis; Dr. Deodhar said, noting that it may have "downstream effects" on several inflammatory molecules that are important in axSpA, but there's a lot experts don't yet know.
3. It's important for patients broach axSpA treatment with their providers if they aren't doing well on their current regimen
In a study of patients in our own ArthritisPower research registry, researchers learned that many patients are proactive about discussing changes in their axSpA treatment plan. Those seeking a treatment change were experiencing painful symptoms on their current treatment, particularly pain in the back or buttocks (63 percent), pain in other joints (55 percent), and fatigue (54 percent).
Overall, 57 percent of patients in the study (274 total) said they discussed a treatment change with their doctor. Of those, almost half reported that they initiated the conversation themselves, and 80 percent of patients who discussed a treatment change had done research about treatments for axSpA before their appointment. Of the patients who discussed a treatment change with their doctor (156 people), 85 percent (133 people) agreed to make that change.
"Patients seem to want more from their axSpA treatment and the symptoms that lead them to seek a change in treatment are ones that seem to matter most to axSpA patients," says study coauthor W. Benjamin Nowell, PhD, Director of Patient-Centered Research at CreakyJoints and Principal Investigator of ArthritisPower. "Fatigue may not always be considered as an important symptom to doctors, but this study seems to tell us that after joint pain, patients are seeking better relief for this symptom." Read more here about the research.
4. What is the burden of 'extra-articular' and co-occurring conditions in axial spondyloarthritis? A new study sheds more light
 It's known that axSpA comes with a lot of co-occurring (comorbid) and "extra-articular" (other than joint-related) conditions, but a lot of this research comes from observational studies of groups at a single point in time, not from following patients diagnosed with axSpA over a longer period. In data presented at ACR, a team of Canadian researchers from Toronto, did just that by studying data on group of axSpA patients from 2003 onward. (Patients were seen every six months, with comprehensive documentation of demographics, clinical, laboratory, and radiographic data.)
The most frequent extra-articular condition that occurred over time was uveitis, a type of eye inflammation. The most frequent comorbidity to develop over time was high blood pressure, followed by depression and high cholesterol. The prevalence of heart disease, however, was low. Higher disease activity was linked to an increased risk of developing depression and fibromyalgia.
Importantly, the use of non-steroidal anti-inflammatory medications (NSAIDs), which are commonly prescribed to axSpA patients, was associated with an increased risk of high blood pressure. High blood pressure is a known side effect of NSAIDs, so it's important to be aware of this and ask your doctor about it.
5. Could eye and gastrointestinal specialists identify more undiagnosed axial spondyloarthritis?
At this year's ACR, multiple studies looked at what happens when specialists, such as eye doctors and gastroenterologists, screen people for inflammatory back pain, noted Dr. Liew. Because issues like uveitis (eye inflammation) and inflammatory bowel disease (Crohn's and ulcerative colitis) are common in axSpA, could such health care providers help identify undiagnosed axSpA patients if they asked them certain questions about their symptoms, such as the nature of their back pain?
Some of the results seem promising. In one study, Dutch researchers provided ophthalmology clinics with a short instructional course about axial spondyloarthritis symptoms. Eye doctors referred patients with uveitis and back pain to a rheumatologist for further evaluation. Eventually, 23 percent of them were diagnosed with definite axSpA; 41 percent were diagnosed with possible axSpA and flagged for follow-up. The researchers concluded that this kind of screening "should consistently be promoted among ophthalmologists and rheumatologists."
In a different study on Crohn's disease patients in Germany, gastroenterologists worked with rheumatologists to screen patients for spondyoarthritis symptoms. They also got MRIs of their sacroiliac joints and spine. Spondyloarthritis was diagnosed in 21 percent of Crohn's patients; about half had axial (spine) symptoms and half had symptoms in peripheral joints (like feet, knees, hips, etc.) People with worse Crohn's symptoms and who were positive for the genetic variant HLA-B27 were more likely to have spondyloarthritis.
Although such studies suggest that screening patients with extra-articular spondyloarthritis symptoms is a good way to identify more spondyloarthritis, Dr. Liew is cautious about how this data might relate to the U.S. health care system.
"We have to consider the fact that the subspecialty clinics from which these referrals came may have been at academic/tertiary centers," she says. Medical care in these settings is typically more standardized. Dr. Liew noted that none of these studies were done in the U.S. and it's harder to draw conclusions about how much referrals would work in more fractured community settings.
6. There's increasing evidence of sex differences in axSpA symptoms
 Although axial spondyloarthritis is often thought of as a disease that affects more men than women, more recent studies show that the disease likely affects men and women more equally — but women are underdiagnosed. Part of this is because axSpA symptoms may present differently in women than in men — and more studies are demonstrating where these differences occur.
In one analysis of more than 1,000 ankylosing spondylitis patients presented at ACR, there was a higher prevalence of peripheral musculoskeletal symptoms in women than in men. Women had more Achilles tendinitis, plantar fasciitis, and joint swelling, for example — as well as worse disease activity scores.
A different study sought to analyze differences in axial spondyloarthritis symptoms and personal characteristics between men and women before they started the biologic ixekizumab (Taltz).
It found: Women were older at the age at which they were diagnosed and had a longer duration of symptoms than men, which suggest that delays in diagnosis are more common in women. This research also found that women had more peripheral joint symptoms than men and a lower prevalence of the genetic variation HLA-B27, which is often used to identify patients.
Women had higher disease activity scores on five out of six measures, indicating that they reported more fatigue, spinal pain, peripheral joint symptoms, discomfort and tenderness, and morning stiffness.
It's important to keep studying and identifying how differences in symptoms manifest between men and women with axSpA so the condition can be diagnosed more quickly and confidently and also so treatments can be optimized and personalized for patients' disease burdens.
7. Body weight directly affects disease activity in axSpA
Of course, maintaining a normal body weight is important for many aspects of overall health, but what is the impact of being overweight or obese when you have axial spondyloarthritis? When researchers, led by Dr. Liew, analyzed data on a group of 183 ankylosing spondylitis patients, they found that a higher body mass index (BMI) was associated with higher disease activity over time. Exercise played a small role in affecting disease activity (more exercise is linked to lower disease activity), but overall, being overweight or obese accounted for most of the impact on disease activity. In other words, it's important to exercise no matter what — and this can help lower disease activity — but it's really important maintain a healthy body weight.
"Interventions targeting obesity may improve both disease activity and cardiovascular risk in this population," the authors concluded.
8. Central sensitization is common in people with axSpA
Previous research has shown that up to 40 percent of people with axSpA have persistently high pain scores even if they show some response to biologic therapy. This suggests that something other than inflammation is driving ongoing pain. At ACR, a team of Dutch researchers looked at whether central sensitization — in which there are changes to how the nervous system processes pain, making people more sensitive to pain — could be impacting high disease activity in axSpA patients.
Researchers had a group of 182 patients complete questionnaires designed to assess whether they have central sensitization and how they perceive their pain and illness. They also analyzed other data on disease activity and patient characteristics (such as gender, symptom duration, BMI, smoking status, HLA-B27 status, etc.) They found that 45 percent of patients scored high on the questionnaire about central sensitization, which was also associated with having worse disease activity.
These kinds of insights are important to help patients and providers figure out the right treatment plan for a given patient. Increasing the dosage of pain medication or adjusting disease-modifying drugs may not effectively manage pain in someone with central sensitization. More research is needed on how to best treat such patients with a multipronged approach that could include other types of medication (such as those used in fibromyalgia) as well as mental health- and lifestyle-focused interventions.
9. Sleep disorders are common in axial spondyloarthritis
It's no secret to many axSpA patients that poor sleep is a big issue — in fact, back pain in the middle of the night that disrupts sleep is one of the telltale symptoms of inflammatory back pain. But it's important nonetheless to study and quantify just how much of a problem sleep disorders are. European researchers shared data at ACR on 2,846 axSpA patients from 18 different countries who filled out a survey about their sleep issues and other personal and health data.
They found that 39 percent of respondents reported some kind of sleep disorder. Having a sleep disorder was more common in those who were female, overweight/obese, had worse disease activity scores, higher fatigue, and worse morning stiffness. Sleep disorders were more prevalent in people with anxiety and depression and in those who were temporarily or permanently on sick leave from work.
All of these associations point to the fact that treating an issue like poor sleep in someone with axSpA requires consideration of different influences and types of treatment. For instance, managing anxiety and depression could help improve sleep and vice versa.
The researchers concluded that "the strong association between sleep disorders with both anxiety and depression should encourage rheumatologists to screen their patients with sleep disturbance in case they require additional specialist support."
10. More work is needed to get non-radiographic axial spondyloarthritis patients diagnosed sooner
Delays in getting diagnosed with non-radiographic axial spondyloarthritis (nr-axSpA) are thought to be more common than getting diagnosed with the radiographic form of the condition (ankylosing spondylitis). However, people with both kinds of axSpA report similar symptoms, disease burden, and negative impact on quality of life. It's important to increase our understanding of what prevents people with nr-axSpA from getting diagnosed in order to prevent this from happening, so a group decided to study this by surveying patients about their experience as well as conducting more in-depth interviews to explore their patient journeys in more detail.
Survey data on a group of 125 non-radiographic axial spondyloarthritis patients shared at ACR revealed that half had seen four or more different health care providers before seeing a rheumatologist. Most common were primary care doctors, physical therapists and chiropractors, orthopedists, and pain specialists.
Interestingly, half saw two or more rheumatologists before getting their nr-axSpA diagnosis.
In-depth interviews from 25 patients showed that people often perceived their symptoms as a typical consequence of activity or their age. When they did seek medical care, they felt that providers frequently minimized, overlooked, or misinterpreted signs and symptoms of inflammatory disease, particularly in young and female patients.
The authors suggest a need for more education about inflammatory back pain symptoms for everyone, but especially for younger patients, other specialists who see people with back pain, and rheumatologists who aren't as knowledgeable about nr-axSpA.
"While rheumatologists play a critical role in diagnosis, disease recognition by clinicians in other specialties is key for early referral," they noted. "Education on the cardinal features, epidemiology, burden, and benefits of timely diagnosis of nr-axSpA is warranted for providers who commonly manage back pain."
You Can Participate in Axial Spondyloarthritis Research Too
If you are diagnosed with axial spondyloarthritis or another musculoskeletal condition, we encourage you to participate in future studies by joining CreakyJoints' patient research registry, ArthritisPower. ArthritisPower is the first-ever patient-led, patient-centered research registry for joint, bone, and inflammatory skin conditions. Learn more and sign up here.
Deodhar A, et al. Tofacitinib for the Treatment of Adult Patients with Ankylosing Spondylitis: Primary Analysis of a Phase 3, Randomized, Double-blind, Placebo-controlled Study [abstract]. Arthritis & Rheumatology. November 2020. https://acrabstracts.org/abstract/tofacitinib-for-the-treatment-of-adult-patients-with-ankylosing-spondylitis-primary-analysis-of-a-phase-3-randomized-double-blind-placebo-controlled-study.
Fitzgerald G, et al. Time-dependent Analysis of Incident Extra-articular Manifestations and Comorbidities in Axial Spondyloarthritis [abstract]. https://acrabstracts.org/abstract/time-dependent-analysis-of-incident-extra-articular-manifestations-and-comorbidities-in-axial-spondyloarthritis.
Garrido-Cumbrera M, et al. Prevalence and Associated Factors of Sleep Disorders in Patients with Axial Spondyloarthritis. Results from the European Map of Axial Spondyloarthritis (EMAS) [abstract]. Arthritis & Rheumatology. November 2020. https://acrabstracts.org/abstract/prevalence-and-associated-factors-of-sleep-disorders-in-patients-with-axial-spondyloarthritis-results-from-the-european-map-of-axial-spondyloarthritis-emas.
Interview with Jean Liew, MD, Assistant Professor of Rheumatology at Boston University Medical Center
Kieskamp S, et al. Central Sensitization, Disease Perception and Obesity Should Be Taken into Account When Interpreting Disease Activity in Patients with Axial Spondyloarthritis [abstract]. Arthritis & Rheumatology. November 2020. https://acrabstracts.org/abstract/central-sensitization-disease-perception-and-obesity-should-be-taken-into-account-when-interpreting-disease-activity-in-patients-with-axial-spondyloarthritis.
Kiwalkar S, et al. "Rheum to Diagnosis": Uncovering Impediments to Accurate Diagnosis of Non-radiographic Axial Spondylarthritis (nr-axSpA) [abstract]. Arthritis & Rheumatology. November 2020. https://acrabstracts.org/abstract/rheum-to-diagnosis-uncovering-impediments-to-accurate-diagnosis-of-non-radiographic-axial-spondylarthritis-nr-axspa.
Laday J. Tofacitinib brings rapid clinical response in ankylosing spondylitis. Healio Rheumatology. November 12, 2020. https://www.healio.com/news/rheumatology/20201112/tofacitinib-brings-rapid-clinical-response-in-ankylosing-spondylitis.
Laday J. Tight control, treat-to-target not superior to usual care for ASAS-HI score in axial SpA. Healio Rheumatology. https://www.healio.com/news/rheumatology/20201111/tight-control-treattotarget-not-superior-to-usual-care-for-asashi-score-in-axial-spa.
Liew J, et al. Exercise Partially Explains the Impact of Body Mass Index on Disease Activity in Ankylosing Spondylitis. [abstract]. Arthritis & Rheumatology. November 2020. https://acrabstracts.org/abstract/exercise-partially-explains-the-impact-of-body-mass-index-on-disease-activity-in-ankylosing-spondylitis.
Magrey M, et al. Gender Differences in Baseline Clinical Characteristics Among Patients with Ankylosing Spondylitis and Non-radiographic Axial Spondyloarthritis: Data from 3 Randomized Ixekizumab Controlled Trials [abstract]. Arthritis & Rheumatology. November 2020. https://acrabstracts.org/abstract/gender-differences-in-baseline-clinical-characteristics-among-patients-with-ankylosing-spondylitis-and-non-radiographic-axial-spondyloarthritis-data-from-3-randomized-ixekizumab-controlled-trials.
Molto A, et al. Cluster-randomized Pragmatic Clinical Trial Evaluating the Potential Benefit of a Tight-control and Treat-to-target Strategy in Axial Spondyloarthritis: The Results of the TICOSPA Trial [abstract]. Arthritis & Rheumatology. November 2020. https://acrabstracts.org/abstract/cluster-randomized-pragmatic-clinical-trial-evaluating-the-potential-benefit-of-a-tight-control-and-treat-to-target-strategy-in-axial-spondyloarthritis-the-results-of-the-ticospa-trial.
Missing the Mark: AxSpa Treat to Target (TICOSPA Trial): Dr. Lianne Gensler. RheumNow. November 9, 2020. https://rheumnow.com/video/missing-mark-axspa-treat-target-ticospa-trial-dr-lianne-gensler.
Naovarat B, et al. Relative Associations of Sociodemographic, Clinical and HLA-B Alleles with Enthesitis and Peripheral Arthritis in Patients with Ankylosing Spondylitis [abstract]. Arthritis & Rheumatology. November 2020. https://acrabstracts.org/abstract/relative-associations-of-sociodemographic-clinical-and-hla-b-alleles-with-enthesitis-and-peripheral-arthritis-in-patients-with-ankylosing-spondylitis.
Nowell W, et al. Treatment Decision Making Among Axial Spondyloarthritis Patients: Real-World Data from the ArthritisPower Registry [abstract]. Arthritis & Rheumatology. November 2020. https://acrabstracts.org/abstract/treatment-decision-making-among-axial-spondyloarthritis-patients-real-world-data-from-the-arthritispower-registry.
Rios Rodriguez V, et al. The Presence of Spondyloarthritis Is Associated with Higher Clinical Disease Activity in Patients with Early Crohn's Disease: Results of a Prospective Cohort Study [abstract]. Arthritis & Rheumatology. November 2020. https://acrabstracts.org/abstract/the-presence-of-spondyloarthritis-is-associated-with-higher-clinical-disease-activity-in-patients-with-early-crohns-disease-results-of-a-prospective-cohort-study.
Van Bentum R, et al. High Prevalence of Previously Undiagnosed Axial Spondyloarthritis in Patients Referred with Anterior Uveitis and Chronic Back Pain [abstract]. Arthritis & Rheumatology. November 2020. https://acrabstracts.org/abstract/high-prevalence-of-previously-undiagnosed-axial-spondyloarthritis-in-patients-referred-with-anterior-uveitis-and-chronic-back-pain.
Walsh N. Another Option for Ankylosing Spondylitis? MedPage Today. November 10, 2020. https://www.medpagetoday.com/meetingcoverage/acr/89588.