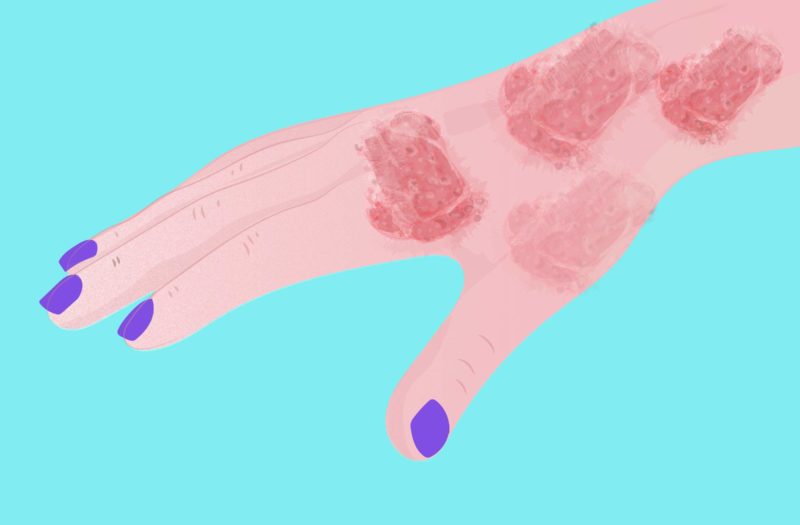 People with moderate to severe plaque psoriasis — an autoimmune disease that starts under the skin and results in thick, red scaly patches — have gained relief from the biologic drug secukinumab (Cosentyx). The drug inhibits the immune system protein interleukin-17a (IL-17a), a molecule involved in the inflammatory response that can lead to an overgrowth of skin cells.
Other studies have shown that it can work better on psoriasis than biologic medications that target different immune system proteins, such as the tumor necrosis factor (TNF) inhibitor adalimumab (Humira).
While secukinumab is well-regarded among dermatologists, however, it hasn't been as clear whether it is any better than anti-TNF biologics at treating both the skin and musculoskeletal symptoms of psoriatic arthritis (PsA), a form of inflammatory arthritis accompanied by psoriasis.
The usual starting treatments for PsA are non-steroidal anti-inflammatory drugs and disease-modifying anti-rheumatic drugs (DMARDs) such as methotrexate. If those don't work, however, which biologic medication to try as the next step hasn't been clear.
"There are limited data to support physicians in deciding which treatment to use in people who've had an inadequate response or intolerance to conventional synthetic DMARDs.
We have head-to-head trials that have shown that IL-17a inhibitors [such as secukinumab] have higher efficacy than TNF inhibitors [such as adalimumab] in moderate to severe psoriasis and the skin manifestations in people with PsA," said Iain McInnes, MD, PhD, director of the institute of infection, immunity, and inflammation at the University of Glasgow, and lead author of one study presented at the European E-Congress of Rheumatology 2020, held virtually by the European League Against Rheumatism (EULAR).
The EXCEED study was designed primarily to compare the outcomes of Cosentyx with Humira in treating joint symptoms in psoriatic arthritis, but the impact on skin was also assessed. In EXCEED, 853 patients (average age 49) with psoriatic arthritis who did not respond to methotrexate or other DMARDs were randomly chosen to receive either secukinumab (300 mg injected under the skin once a week for a month and then every month) or adalimumab (400 mg every two weeks). None had previously used a biologic medication.
After a year, 67 percent of patients on secukinumab and 62 percent of patients on adalimumab had achieved at least a 20 percent improvement in their arthritis symptoms. Although the percentage was higher in SEC, the results were not statistically significant and didn't prove that Cosentyx was superior to Humira, the principle question asked by the study.
In a separate but related presentation at EULAR, researchers at the Icahn School of Medicine at Mount Sinai, New York, analyzed the skin changes in 417 EXCEED participants who began the study with psoriasis over at least 3 percent of their body surface. At one year, 46 percent of those receiving secukinumab and 30 percent of those receiving adalimumab had achieved completely clear skin. (Much higher percentages in each group showed dramatic improvements that stopped short of complete clearance.)
The EXCEED researchers concluded that secukinumab (Cosentyx) was at least as effective as adalimumab(Humira) on musculoskeletal symptoms, while providing better responses on skin symptoms. In addition, a higher percentage of patients who received secukinumab stayed with the study the entire 52 weeks (86 percent for secukinumab vs. 76 percent for adalimumab).
Rheumatologists commenting on the research suspect that studies like this may start to change which biologics psoriatic arthritis patients receive after they move on from first-line treatment. "Certainly it seems [IL-17 drugs] are better for skin and now we have research that shows they are very good for the musculoskeletal domains," rheumatologist Arthur Kavanaugh, MD, professor of medicine at University of California, San Diego, said in a RheumNow podcast.
Found This Study Interesting? Get Involved
If you are diagnosed with arthritis or another musculoskeletal condition, we encourage you to participate in future studies by joining CreakyJoints' patient research registry, ArthritisPower. ArthritisPower is the first-ever patient-led, patient-centered research registry for joint, bone, and inflammatory skin conditions. Learn more and sign up here.
Abbvie Inc., which manufactures adalimumab (Humira), and Novartis Pharmaceuticals, which manufactures secukinumab (Cosentyx), are corporate sponsors of the Global Healthy Living Foundation.
Gottlieb AB, et al. Comparison of Secukinumab Versus Adalimumab Efficacy on Skin Outcomes in Psoriatic Arthritis: 52 Week Results from the Exceed Study. Annals of the Rheumatic Diseases. Volume 79, Supplement 1. 2020. doi: http://dx.doi.org/10.1136/annrheumdis-2020-eular.4736.
McInnes I, et al. Secukinumab Versus Adalimumab Head-to-Head Comparison in Biologic-Naïve Patients with Active Psoriatic Arthritis Through 52-Weeks (Exceed): A Randomised, Double-Blind, Phase-3B Study. Annals of the Rheumatic Diseases. Volume 79, Supplement 1. 2020. doi: http://dx.doi.org/10.1136/annrheumdis-2020-eular.4129.