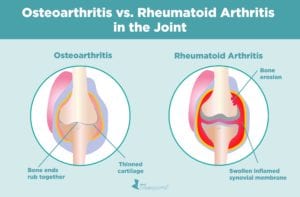 Because of the systemic inflammation it causes, rheumatoid arthritis (RA) directly affects more organs than osteoarthritis (OA), but a new study using a national databank suggests that the total-body health impact might be more extensive for those with OA.
"It is possible that the advancement of medications for RA has aided in lessening the burden of disease or other co-morbidities when compared with OA," write researchers at FORWARD, the National Databank for Rheumatic Diseases, in Wichita, Kansas. The findings were reported at the 2019 American College of Rheumatology/Association of Rheumatology Professionals annual meeting in Atlanta.
The investigators compared 9,463 patients with osteoarthritis to a sex- and age-matched group of 18,926 patients with rheumatoid arthritis. All participants (average age 67 years, 17 percent male) completed comprehensive questionnaires of their health twice a year, and the most recent were used in the study.
On average, patients with RA rated themselves as slightly more disabled on the Health Assessment Questionnaire and, not surprisingly, they were more likely to have used methotrexate, disease-modifying anti-rheumatic drugs (DMARDs), biologics, and prednisone, while OA patients were more likely to have used non-steroidal anti-inflammatory drugs (NSAIDs). Those with RA were also more likely to report lung disease and liver disorders than those with OA.
While fatigue is a hallmark of RA, patients with OA and RA reported exactly the same amount of fatigue on the visual analog scales used by the registry.
On other items, patients with osteoarthritis seemed to have more health issues, including more pain. The prevalence of many health problems in patients with OA was significantly higher than in those with RA, including:
Allergies
Asthma
Cancer
Depression
Diabetes
Hormone disorders
Broken bones
Digestive disorders
Gall bladder disease
Heart disease
High blood pressure
Neurological disease
Psychiatric disorders
Kidney disease
While patients with RA might be expected to have more overlapping autoimmune diseases, the percentage of patients reporting them was higher among those with OA (8.4 percent vs. 3.1 percent).
"Our data suggest that the burden of having OA in terms of overlapping symptoms and other problems is not negligible in comparison [with RA]," the researchers write.
The researchers acknowledge that OA patients in the registry may be more severely affected than OA patients overall, since patients in the registry were primarily recruited through rheumatology clinics and OA patients with fewer symptoms may be less likely to seek care from a rheumatologist.
Not Sure What's Causing Your Pain?
Check out PainSpot, our pain locator tool. Answer a few simple questions about what hurts and discover possible conditions that could be causing it. Start your PainSpot quiz.
Keep Reading