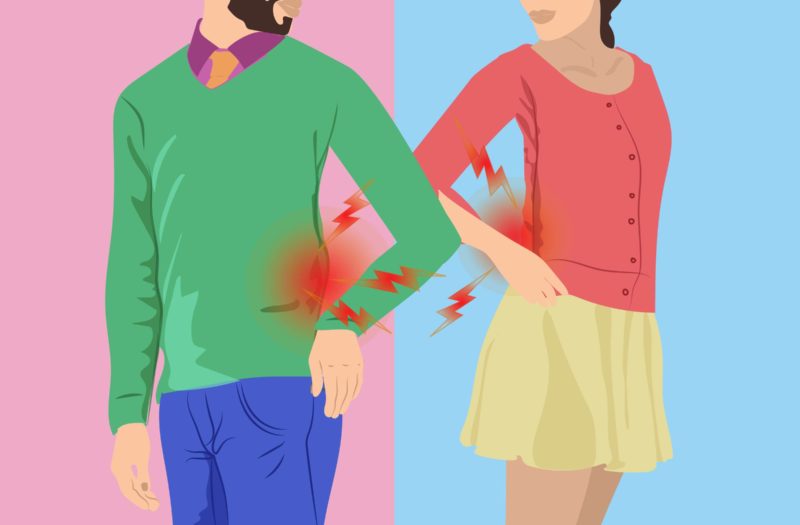 When it comes to inflammatory and autoimmune diseases, including inflammatory arthritis, women are generally at greater risk than men — with a few exceptions. For many years, experts believed that ankylosing spondylitis (AS) was far more prevalent in men than in women. AS is a form of axial spondyloarthritis (axSpA), a type of arthritis that mainly impacts joints in the lower spine and pelvis. Many people with axSpA eventually end up with AS, which is characterized by a partial fusing of bones in the lower spine. For years experts believed that young men were most apt to experience this problem, but that may not be the case.
A new study, published in the journal Arthritis Care & Research, upends the preexisting theories on this subject, finding that incidence of ankylosing spondylitis is about the same in women as it is in men.
To conduct this study, researchers from Stanford University analyzed data on 700,000 members of the U.S. military who had seen a doctor for chronic back pain between March 2014 and June 2017. They found that the incidence rate of ankylosing spondylitis was actually slightly lower for men than for women: 26.53 per 100,000 versus 31.36 per 100,000. (The difference, however, was not deemed significant enough to say women have a higher risk than men for developing AS.)
"Our results challenge the widely held conventional wisdom of a male predominance for AS risk in the U.S. population," the authors wrote. "In contrast to the Olmsted study [a large study that looked at AS incidence in America between 1980 and 2009], which suggested that males were three times more likely to have incident disease than females, we found incident AS to be comparable for the sexes."
The researchers suggested this new study might better reflect the overall makeup of the U.S. population. They also noted that the older Olmstead study used different criteria for the diagnosis of AS: The Olmstead study required "observable radiographic damage on plain X-ray," whereas the new study allowed for X-rays or MRIs (which might show damage not visible on a more basic X-ray).
The authors of this new research also pointed that their study was not a random sample of the U.S. population, and that "in an all-volunteer military, individuals who select themselves for military service may be more likely to be physically fit and more willing to accept physical challenges," adding that they "encourage additional investigations utilizing other populations."
Be Part of Research with ArthritisPower
Join CreakyJoints' patient-centered research registry and participate in voluntary studies about managing arthritis. Sign up.