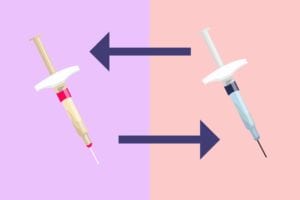 People who take Enbrel (etanercept) for inflammatory arthritis know that it can be incredibly expensive. But in recent years, some "biosimilar" options — which are considered comparable to the original medication yet have the potential to be far less expensive — have been created. In the U.S., the Enbrel biosimilar is called Erelzi. It was FDA-approved in 2016 but has not yet hit the market due to a legal dispute. In Europe, the Enbrel biosimilar is called Benepali (SB4) and it's already widely available.
Biosimilar drugs are akin to generic medications, but there's an important distinction: A generic drug must contain exactly the same active ingredients as those found in the original medication; biosimilars need to be "highly similar to the reference product." According to the FDA, "biosimilar manufacturers must also demonstrate that there are no clinically meaningful differences… in terms of safety and efficacy." (Biosimilar drugs cannot be exactly identical as the reference drug on which they are based because of inherent variability in the way these complex molecules are manufactured.)
In 2016, Denmark issued a mandate that everyone who was taking Enbrel for inflammatory arthritis switch to the biosimilar Benepali, which is almost 50 percent cheaper there. But does this less-expensive Enbrel biosimilar really work just as well in a real-life setting?
To find out, European researchers tracked 2,061 patients with rheumatoid arthritis (RA), psoriatic arthritis (PsA), or axial spondyloarthritis (AxSpA) who are part of the DANBIO registry. The wanted to determine how many patients actually made the mandated switch to Benepali (Enbrel remained on the market) as well as how many would stay on the biosimilar version.
The researchers, led by Bente Glintborg, MD, PhD, of Gentofte and Herlev University Hospital in Denmark, found that both drugs worked equally well for managing inflammatory arthritis: Disease activity scores three months before the switch and three months afterward were almost identical. C-reactive protein levels, which indicate inflammation, also remained stable. The study was published in the journal Annals of the Rheumatic Diseases.
While these findings sound very positive — and they largely are — some patients did not switch to Benepali. Despite the mandate, 21 percent stayed on Enbrel. Of the majority (79 percent) who switched, about 18 percent were no longer taking Benepali about a year later (median follow-up was 401 days); some of those who had stopped using it went back to Enbrel, while others started on a different treatment.
People who made the initial switch were more likely to also be taking methotrexate and had been taking Enbrel for a longer period. They were more apt to have lower disease activity scores as well.
Those who switched to Benepali but then discontinued it (either going back to Enbrel or another drug) said they stopped because they said it wasn't effective. Subjective patient reports showed that their pain and/or mobility had worsened on it, but "objective measures such as swollen joint counts and CRP levels remained close to zero," MedPage Today reported.
The authors concluded that "switch outcomes in routine care are affected by patient-related factors and non-specific drug effects," and that there is no objective proof that the biosimilar drug is less effective.
Keep Reading