Insurance Commissioner
What does an insurance commissioner do?
A state-level position within the state's finance department, an insurance commissioner is either elected or appointed, depending on the state. Insurance commissioners act as advocates for consumer protection, regulators of insurance, and educators who are able to provide consumers with information that pertains to the insurance system within a particular state. While insurance commissioners' duties may vary across states, their roles are generally the same: act as intermediary figures between individual consumers and insurance companies within the state.
Why would I contact the office of the insurance commissioner?
I'd like to file a complaint.

It's a non-health related issue.
It's a health insurance related issue.
I need more information on health coverage programs in my state.

I want to purchase health insurance coverage – how do I do it and how do I protect myself?
I have questions about adopted health care reforms in light of the Affordable Care Act.
I was denied coverage/reimbursement under my health insurance plan.
…and lots more! Check out your state insurance department website for more information on what your insurance commissioner can do for you.
What role does the office of the insurance commissioner play in health insurance?
As a resident of your state, you are entitled to the below services from the office of your state's insurance commissioner:
Handles complaints filed with state insurance agencies
Enforces the insurance laws of their particular state
Responds to consumer inquiries
Provides educational and informational resources to their constituents
Answers more specific questions about consumers' health coverage plans and policies as well as their rights and protections as individual consumers
Regulates and licenses health insurance companies
Ensures that insurance rules and laws are executed
The office of the insurance commissioner needs to be aware of any problems that you have with your insurance company. The best way to ensure this is to file a formal complaint with your state's insurance commissioner. To do this, click on your state above and go to your state's insurance commissioner's website.
How do I contact my state insurance commissioner's office?
You can contact your state insurance commissioner by phone, fax, email, snail mail, or by visiting the office in person. General contact information can be found by clicking on your state below. You can also visit your state's official financial services and insurance department website for phone numbers and email addresses by department.
Explore the map below to find your insurance commissioner. Note that you can zoom in and out, and move the map to better help you find your state commissioner.
Example of Filing Complaint to Insurance Commissioner
Filing a complaint is easy and very similar from state to state. We can look at New York as an example: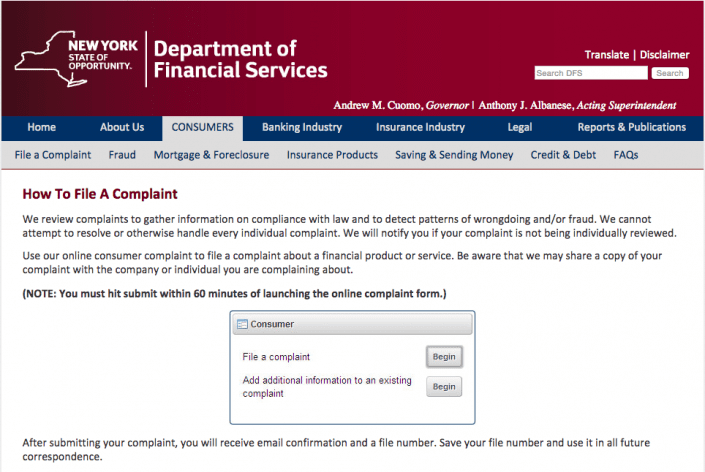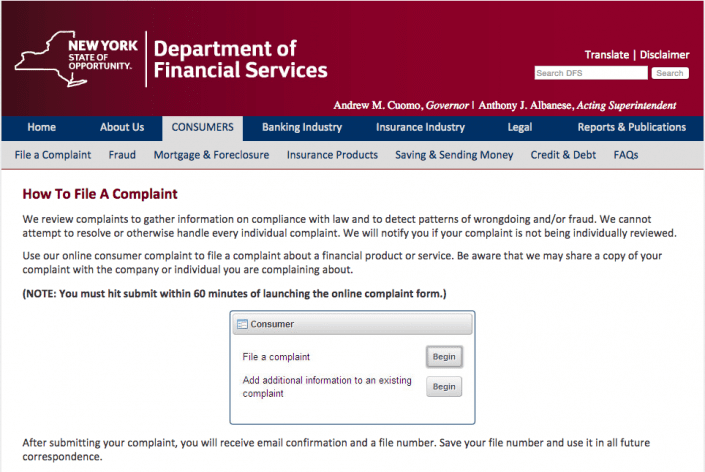 While on the Department of Financial Services website, click CONSUMERS. Then, click FILE A COMPLAINT. Click the "Begin" button to start filing your complaint.