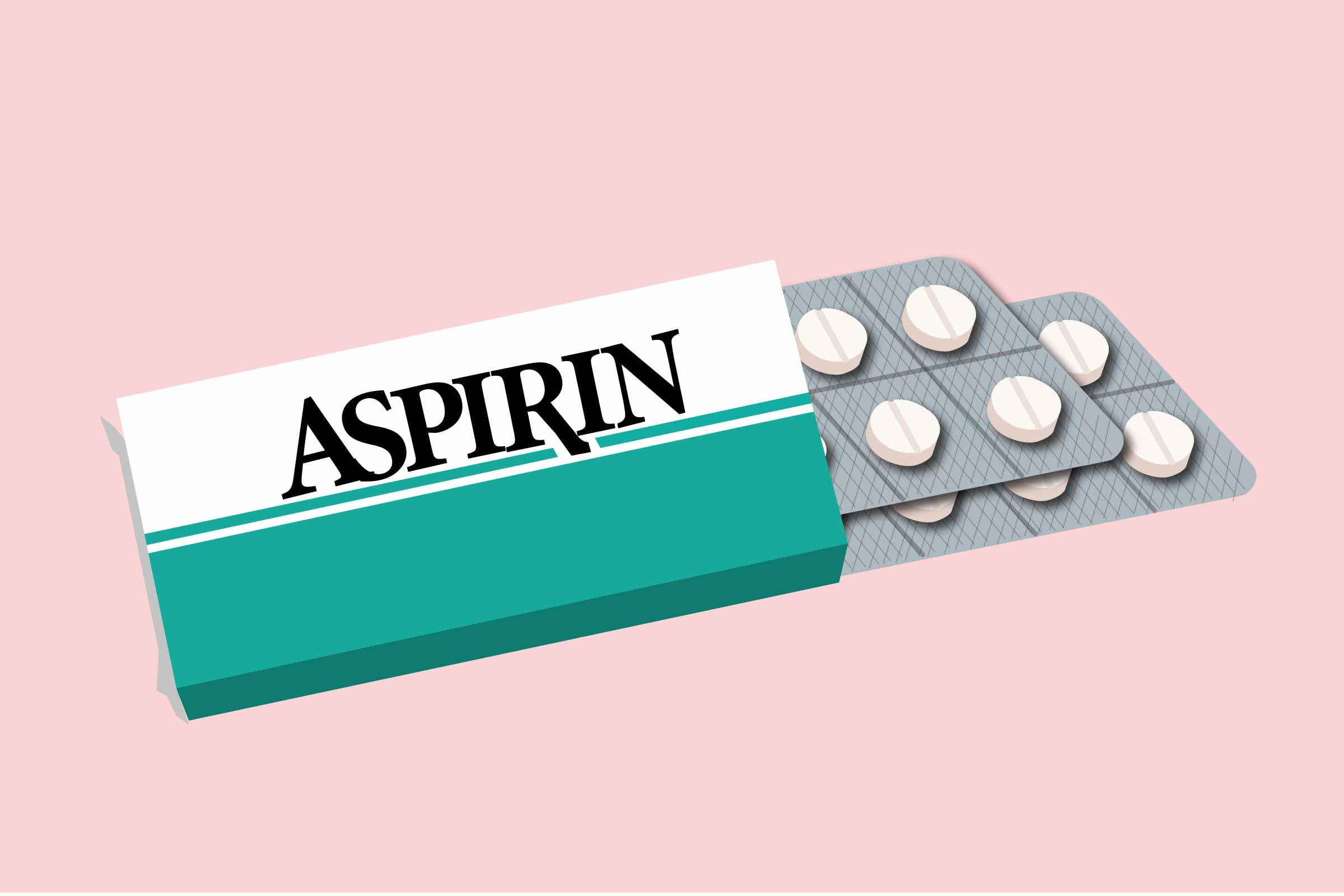 If you've had a heart attack or a stroke, or if you have diabetes or other heart disease risk factors, chances are pretty good that your doctor has prescribed a low (100 milligram) daily dose of aspirin to lower your risk of having a second heart attack. That's as long as you're neither allergic to the over-the-counter drug nor at high risk of internal bleeding, a known aspirin risk.
What's less known: whether taking aspirin daily helps people who have a moderate heart attack risk — say, due to factors like smoking or high blood pressure or cholesterol — but who have no prior history of heart attack or stroke. This is something doctors call primary prevention.
A new study, published in the medical journal the Lancet and led by preventive cardiologist John Michael Gaziano, MD, of Brigham and Women's Hospital and Harvard Medical School, sheds some light on whether preventive aspirin actually helps reduce the risk of cardiac events.
In their research, Dr. Gaziano and colleagues randomized about 12,500 patients to take either aspirin or a placebo pill. Male patients were eligible at 55 years or older and with at least two heart disease risk factors; females had to be at least 60 and have at least three risk factors. (Those considered at high risk of heart disease or who had diabetes were excluded from the trial.) Researchers followed the included patients for an average of five years between 2007 and 2016.
[Find out how rheumatoid arthritis affects your heart disease risk here.]
They found that taking daily aspirin didn't seem to benefit those with moderate heart attack risk; about 4 percent of the placebo and the aspirin group had some kind of heart problem over the course of the study period. What was different, however, was the side effect of bleeding. The aspirin group had about twice the rate of stomach and intestinal bleeding (which was largely mild) as the placebo group. People taking aspirin also had more nose bleeds, indigestion, reflux, and stomach pain.
Taking daily aspirin didn't seem to benefit those with moderate heart attack risk.
"Other medicines [patients] were taking to lower blood pressure and cholesterol may have cut their heart risk so much that aspirin had little chance of helping more," reported the Associated Press, which published a broad story that also addressed past aspirin studies, which found the drug carries risks for those with diabetes and doesn't prevent cancer.
Cardiologist John G.F. Cleland, of Imperial College London, is an outspoken critic of trying to prevent heart disease with aspirin. "Once you've dealt with the lipids, and once you've dealt with the hypertension, I'm really not sure what's left for aspirin," Dr. Cleland said in an interview with Medscape.
Further complicating the issue, a separate study published in the Lancet last month found that aspirin's effectiveness also has to do with a patient's body weight. Low doses (75-100 mg per day) were not effective at reducing cardiac events for people who weighed more than 154 pounds, but higher doses reduced cardiovascular events only among patients with greater body size. The study authors note that a one-size-fits-all approach to dosing is likely overtreating or undertreating patients, depending on their weight and dose.
What the Study Findings Mean for You
Whether or not taking aspirin preventively is right for you still depends on a personalized conversation with your doctor.
"Our view on aspirin comes from studies done in the mid-1980s," Satjit Bhusri, MD, assistant professor of cardiology at the Zucker School of Medicine at Hofstra/Northwell Health, told CreakyJoints over email. "They showed that indeed aspirin did reduce long term incidence of heart disease. This new study suggests that this may not be the case. Having said that, in certain patients we are still advocates of the overall benefit of aspirin therapy."
However, patients who are at high risk of bleeding need to discuss overall aspirin risks and benefits with their doctor, Dr. Bhusri noted.
For patients with inflammatory diseases (such as different kinds of arthritis), a personal discussion with your doctor is especially important.
Heart disease is itself an inflammatory process and people who already have other kinds of inflammatory disease have a greater heart disease risk. For these patients, it may be beneficial to take daily aspirin to prevent a heart attack, but there's no across-the-board guideline for every patient. The decision needs to be tailored to your own risk factors.
"Aspirin therapy also has anti-inflammatory effects," says Dr. Bhusri. "But taking aspirin with other anti-inflammatory agents can increase the risk of bleeding from your gastrointestinal tract and so it needs to be an active discussion with the patient and their physician."
"Based on this trial, which is in line with other studies, there may be a swing toward being more careful in prescribing aspirin and to begin tailoring it on an individual basis,"  cardiologist Rachel Bond, MD, associate director of Women's Heart Health at Lenox Hill Hospital in New York City, told CreakyJoints in an email.  "If we do this, perhaps the data will be more positive about the use of aspirin for primary prevention."
Taking Aspirin to Prevent Heart Attacks: A Personal Choice
"People who are currently taking aspirin should not stop taking it without talking to their physician," Ryan Guinness, MD, an internal medicine physician, wrote for ABC News. "The new findings highlight the need for shared-decision making between patients and physicians on this topic."
Dr. Guinness added that the study authors admit that aspirin may have had a benefit that was overshadowed by other medications that patients were taking. "While the jury may still be out on the net benefit of aspirin, these studies signal the need to take a more holistic look at this medication before deciding whether aspirin is the right medication for you," he concluded.
"My message to people who are deemed low-moderate risk for cardiovascular disease would be to focus on the treatment of high blood pressure, abnormal cholesterol, and high blood sugar levels from the very beginning, along with healthy lifestyle changes, such as no smoking, no excess drinking, weight management, and aerobic exercise," says Dr. Bond. Then, she says, it's appropriate to talk to your doctor about whether it still makes sense to take aspirin for primary prevention.
"Heart disease is a multi-factorial problem and therefore needs to be addressed as such," says Dr. Bhusri. "The patients' individual profile and risk factors need to play a major role in whether or not aspirin is right for them. Aspirin is not a panacea."