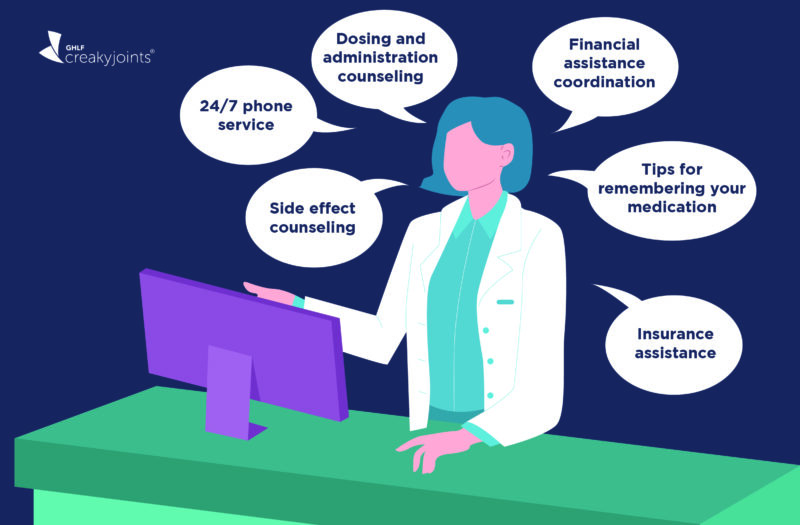 If your doctor has prescribed a medication for your psoriasis that's available only from a specialty pharmacy, you might feel a little uneasy about it. For starters, it may be the first time you've ever even heard of a specialty pharmacy — specialty medications currently represent less than 2 percent of total prescriptions, says John Godar, RPh, Director of Clinical Programs, Optum Specialty Pharmacy. For another, it means you can't just drive a few blocks to your regular drugstore to pick it up. Then there's all the red tape — things like prior authorization, coordinating with the insurance company, calls to your doctor's office, etc. Sounds like a headache, and you haven't even started. 
Before you get ahead of yourself, stop, take a deep breath, and r-e-l-a-x, because here's what you didn't count on: Your specialty pharmacy isn't just a medicine dispensary; it's a partner committed to making the whole process as easy as possible — and helping you feel your very best with psoriasis. "Our teams are trained in their disease, trained in their medications that treat these specialty conditions, and they understand how to help their patients even more so than a typical retail pharmacy," says Godar. 
As for the "specialty" med your doctor has prescribed, consider that breakthroughs in the treatment of psoriasis and psoriatic arthritis are helping more and more people achieve remission. Plus, when your medication gets more specialized, your care does too.
Here are ways that a full-service, specialty pharmacy can provide care for those living with psoriasis:
1. Prior Authorization Assistance
Because specialty drugs are costly, insurance companies will typically want to make sure your prescription is really the best therapy for you. To determine that, they'll need forms submitted that detail information such as all the previous medications you've tried and failed.  
Ordinarily, the process is a hassle — with various calls, faxes, and emails going back and forth between the doctor, the pharmacy, and the patient. But when a specialty pharmacy is involved, it will usually oversee the process from start to finish, letting you off the hook.  
"We do a lot of work behind the scenes," says Godar. "Our teams are very good at knowing the requirements, so if your physician didn't provide the right data for the insurance company, they'll get it." And if your medication is denied, the specialty pharmacy can even take care of the appeals process for you, provided you sign a release form giving it the power to do so on your behalf. 
2. A Hand with Co-Pays
Even if insurance authorizes your specialty drug, you'll still be responsible for a co-pay — and that can be hefty. Enter another service provided by your specialty pharmacy: help with lowering that co-pay.  
That could include any or all of the following: 
Helping you enroll in a co-pay assistant program from the pharmaceutical company that may cover most or all of your share

 

Setting up an affordable payment plan

Looking into private foundations that have money set aside to help people with co-pays (see

fundfinder.panfoundation.org

,

which lists such organizations)

Finding out whether you could benefit from a cheaper medication, like a generic version or a

biosimilar drug

 

 
3. Virtual Consultations
Specialty pharmacies have teams that specialize in talking to patients about their disease and educating them on how to use their medication properly, and it's important to take advantage of the consultations.  
"We will ship the drug to the patient, but then they'll have to know what to do with it," says Godar. "How do they use it? Does it have to be refrigerated? Should they take the medicine out before they inject it so it hurts less? Does it need a cartridge or a needle? How can they alleviate any side effects?" All these questions and more are answered during phone consultations. You may also get emails with links to video series and have access to live virtual visits. 
4. Questions Answered 24/7
Taking a new medication — especially one that may involve a process you're not used to — can come with all kinds of questions and concerns. Fortunately, most specialty pharmacies offer round-the-clock access to nurses or pharmacists. "We make sure to tell our patients that we have 24-hour pharmacist support," says Renee Baiano, Clinical Program Manager at Walgreens Specialty Pharmacy.  
CreakyJoints member Diane T., who lives with psoriasis and psoriatic arthritis, says the service has put her mind at ease: "When I call in, they have tons of information. If you have any kind of questions, they are there. I think they're the best." 
5. Regular Check-Ins
Your specialty pharmacy will be checking in on you from time to time, usually with a phone call, to see how you're doing. They may ask a few questions like:
Is your new therapy working?

Are you taking it correctly?

Do you have any concerns or trouble with side effects?

Have you been embarrassed because of your skin?

Has your skin affected your social plans, or wardrobe choices? 

 
Your answers can help them figure out how well the treatment is working and make necessary recommendations, including adjusting dosages or switching to a different medication. 
6. Easy Refills
Specialty pharmacies usually have reminder systems — they'll call or text you about a week before your prescription is due to be refilled. Or you might be able to order the medication yourself on the pharmacy website. If your medication has been working for you, make sure you refill it.  
Ironically, Godar finds that patients with psoriasis often pose the biggest challenge precisely because their specialty medication works. "After three months or six months, their skin clears up, they feel better, they start wearing their bathing suits…and they stop taking their medication."  
If you're ever tempted to do the same, remember Godar's words: "Stay on the med. It's what caused the remission. It's what caused you to clear up. Anytime you hit that remission level and go back off it, to get it back under control, it's more difficult." 
Get tips for "How to Make Your Specialty Pharmacist a Partner in Your Care."
Powerful Podcasts to Help You Live Better with Psoriasis
The Global Health Living Foundation/CreakyJoints is embracing audio storytelling as part of our mission to reach the chronic disease patient community where they are. Click here to listen to one of our many podcasts, including Getting Clear on Psoriasis, The Psoriatic Arthritis Club, Breaking Down Biosimilars, The Health Advocates, Talking Head Pain, MatterofVax, Gut Culture, and more.
This article is part of

Psoriasis: An Inside Out Disease

 and was made possible with support from Amgen.
Interview with Renee Baiano, Clinical Program Manager at Walgreens Specialty Pharmacy.  
Interview with John Godar, RPh, Director of Clinical Programs, Optum Specialty Pharmacy.