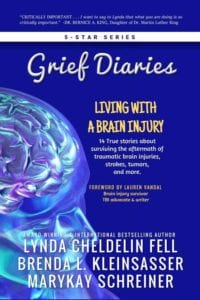 Brenda Kleinsasser, a rheumatoid arthritis patient and CJ contributor, is also a brain injury survivor. After a craniotomy at age 48 for a meningioma — typically a benign brain tumor — she now lives with frontal lobe syndrome, a disorder that can cause impairment to behavior, speech and personality. Brenda, however, experienced a side effect that is not necessarily associated with this condition: she started writing and, as she describes it, became more creative.
In the latest installment of "Grief Diaries," a series of books that allows people to tell personal stories related to loss and trauma, Brenda contributed an essay about her own journey. "Grief Diaries: Living With Brain Injury" features 14 intimate narratives that give voice to patients and provides invaluable information for family members, caregivers, doctors and healthcare providers.
According to Brenda, the book also serves another, equally important purpose: it provides support and a sense of community for other survivors. "There are a lot of people out there who live with traumatic brain injury — stroke, tumors, acquired brain injury — and they feel so alone. They read this book… this book is so powerful," she said. "These stories are heartbreaking but they also have a lot of hope. There is actually a chapter called 'Our Silver Lining.' These people have been to hell and back."
The "Grief Diaries" project was created by the author Lynda Cheldelin Fell. There are currently 16 books in the series, and another one, on living with rheumatoid arthritis, is in the works and slated for publication in the spring of 2017.