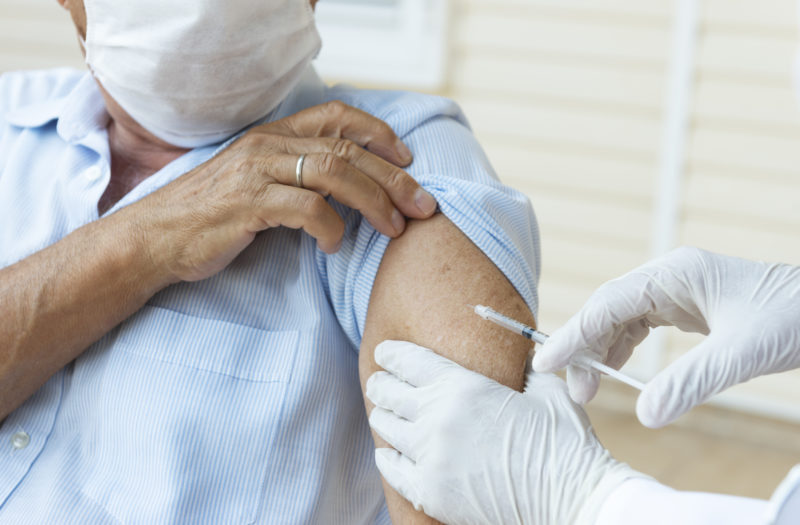 Key Takeaways
There are more pharmacies than physician offices in low-income communities.
For hourly workers, it's easier to get immunized at a pharmacy because there are more of them and they tend to be open longer hours.
Passing laws that expand pharmacists' ability to vaccinate similar to their physician colleagues would likely translate to people getting important immunizations.
Knowledge is only part of the equation when it comes to getting as many people as possible immunized against diseases like flu, COVID, and shingles. Even if someone decides to get a vaccine, they have to make arrangements to make it happen — which has traditionally entailed making an appointment to see your primary care physician.
The problem, says Robert Popovian, PharmD, Chief Science Policy Offer at the Global Healthy Living Foundation (GHLF), is that many low-income people don't have a primary care doctor. Even those who do often have trouble snagging an appointment at a convenient time.
"Many people in low-income communities can't get vaccinated during normal business hours. A day laborer or an hourly shift worker can't take off in the middle of the day to see their physician. If they don't come to work, they don't get paid," says Dr. Popovian.
Pharmacies, on the other hand, generally provide much greater flexibility, a notion that a new study from GHLF confirms. The study, which was published in the Journal of the American Pharmacists Association, used U.S. Census data to identify zip codes where at least 30 percent of the households were classified as low-income. They then compared the number of pharmacies to the number of primary care practices in those areas.
The findings revealed that there were 15 percent more pharmacies than physician practices in these zip codes. And, once the researchers adjusted for typical hours of operation, the pharmacies offered nearly 86 percent more operating hours.
The researchers, led by Dr. Popovian, also determined that there were 203 percent more pharmacy locations with Medicare Part D billing capability, meaning that the location could bill for certain vaccines through this part of Medicare for reimbursement. That suggests they're more apt to carry vaccines that are important for seniors, such as those that protect against shingles and pneumonia.
Most pharmacists nowadays are trained and certified in vaccine administration, and in recent years, more patients have become comfortable with the idea of getting a shot from their local pharmacist. The problem, says Dr. Popovian, is that state laws restrict which vaccines pharmacists are allowed to administer.
All 50 states currently allow pharmacists to give some vaccines, but there's a lot of variability in terms of which types of vaccines they're permitted provide. Sometimes there are other restrictions involved; for instance, you might need to bring a prescription for a vaccine from a doctor to a pharmacist before that pharmacist is allowed to administer it.
"The only reason you can easily get the COVID vaccine at most pharmacies right now is because of the PREP Act," a temporary, pandemic-related order that will soon expire, says Dr. Popovian. You can't just walk into most pharmacies and get any CDC-recommended or FDA-approved or authorized vaccine. Dr. Popovian would like to change that.
"It's about choice," he says, adding that this is an equity issue for low-income people, many of whom happen to be minorities. Other studies have shown that there's a strong correlation between having a higher income level and getting the flu vaccine, but that may be in part because people with higher incomes have easier access to doctors.
"If you want to get a vaccine from your physician, you should be able to that," says Dr. Popovian. "But I want to make sure every patient has the ability to get immunized, and if a pharmacy is the easiest place for them to go to, then they should be able to do that. The more choices you have the better, and the better we will be as a society."
Want to Get More Involved with Patient Advocacy?
The 50-State Network is the grassroots advocacy arm of CreakyJoints and the Global Healthy Living Foundation, comprised of patients with chronic illness who are trained as health care activists to proactively connect with local, state, and federal health policy stakeholders to share their perspectives and influence change. If you want to effect change and make health care more affordable and accessible to patients with chronic illness, learn more here.