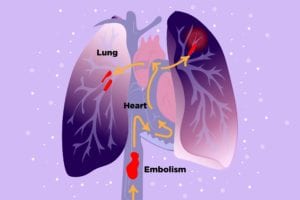 Earlier this year, the FDA issued an alert warning that people with rheumatoid arthritis who take 10 mg of tofacitinib (Xeljanz or Xeljanz XR) twice a day face a higher risk of pulmonary embolism, a blood clot in the lungs that can be fatal. That warning stemmed from the results of a post-marketing safety trial on patients with rheumatoid arthritis (RA) that was conducted by the drug's manufacturer, Pfizer.
Tofacitinib, a type of Janus kinase (JAK) inhibitor, is FDA-approved to treat RA, psoriatic arthritis (PsA), and ulcerative colitis, but at different doses. The approved dose for RA and PsA patients is 5 mg twice a day; 10 mg was believed to be appropriate only for ulcerative colitis patients. While the initial takeaway seemed to be that ulcerative colitis patients could safely continue with the higher dose, new warnings from the FDA imply that even patients with ulcerative colitis should be extremely cautious about using high doses of Xeljanz.
On July 26, the FDA added a "boxed warning" (sometimes called a "black box warning") — the strictest kind of warning the agency can issue for a drug that's still on the market — to tofacitinib. The FDA reiterated that the 10 mg dose is approved only for ulcerative colitis (not RA or PsA), but warned that similar adverse effects could occur in anyone taking it: "While the increased risk of blood clots and of death were seen in patients taking this dose for RA, these risks may also apply to those taking tofacitinib for ulcerative colitis," the agency wrote.
Meanwhile, the FDA now says that tofacitinib should not be considered a first-line treatment option for ulcerative colitis. According to the agency, "the approved use of tofacitinib for ulcerative colitis will be limited to certain patients who are not treated effectively or experience severe side effects with other medicines called tumor necrosis factor (TNF) blockers."
If you currently use tofacitinib, you should not stop taking it without first consulting your doctor or you may risk going into a disease flare. If you decide to continue with the drug, the FDA advises seeking medical attention right away if you develop symptoms that could indicate a blood clot. Swelling in your leg, often coupled with pain or tenderness that's not due to exercise or injury, might be a warning sign of deep vein thrombosis (DVT), a dangerous type of blood clot. The swollen area might also look red or feel warm to the touch.
If a clot breaks off and travels to your lungs (pulmonary embolism), you might suddenly become short of breath or experience chest pain that gets worse when you breathe deeply; some people also cough up blood or feel like their heart is racing. A pulmonary embolism is a medical emergency and swift treatment is key, so when in doubt call 911.
Track Your Medications with ArthritisPower
Join CreakyJoints' patient-centered research registry and log your medications to track side effects and impact on disease activity. Learn more and sign up here.
Keep Reading