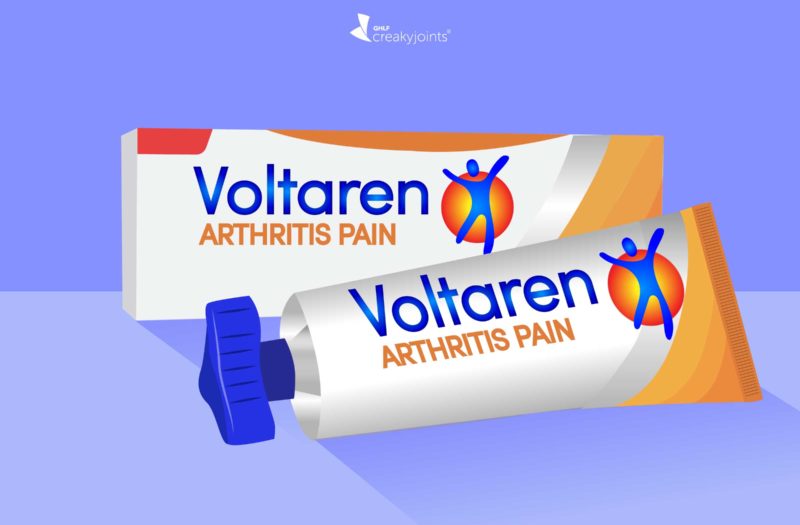 Move over Aspercreme and Icy Hot. A new topical pain reliever is headed to drugstore shelves, and this one contains a non-steroidal anti-inflammatory drug (NSAID) that is similar to ibuprofen. Voltaren Arthritis Pain (diclofenac sodium topical gel, 1%), was just granted over the counter (OTC) status by the FDA. It was previously available by prescription only.
Here are some FAQs about this drug and what the change to an OTC availability means for arthritis patients and CreakyJoints members.
What is Voltaren and what does it treat?
Like other NSAIDs, Voltaren (diclofenac) works by reducing inflammation in the body. When taken in oral form, it's used to treat pain related to such forms of arthritis as osteoarthrtis, rheumatoid arthritis, and ankylosing spondylitis. The oral version of this drug is still available only by prescription.
Voltaren gel, which is the form that is applied topically (to the skin), is most useful for osteoarthritis of the knees and hands. It has been available by prescription since 2007, but the FDA just gave the manufacturer the green light to sell it (under the name Voltaren Arthritis Pain) over the counter.
Why is Voltaren available over the counter all of a sudden?
This change in Voltaten's status comes thanks to the FDA's Rx-to-OTC Switch Process, which occurs when the agency decides that a prescription-only drug is safe and easy enough for consumers to use on their own. Many other drugs that used to be prescription-only — from nicotine patches for smoking cessation to allergy meds like loratadine (Claritin) — have made a similar transition over the years.
According to the FDA, "for a drug to switch to nonprescription status, the data provided must demonstrate that the drug is safe and effective for use in self-medication as directed in proposed labeling. The manufacturer must show that consumers can understand how to use the drug safely and effectively without the supervision of a health care professional."
Is there any difference between the prescription version of Voltaren and the OTC version?
No. The new OTC version of Voltaren gel will contain 1% of the active ingredient, diclofenac, which is the same strength that previously required a prescription.
How is the topical form different than taking an NSAID pill, like ibuprofen?
When you swallow a pill, it must travel through your digestive tract and through your bloodstream before it can reach the intended target, such as a painful joint. A topical treatment, such as Voltaren gel, is applied to the skin near the area that's causing arthritis symptoms like pain and stiffness.
"Voltaren gel works locally, as opposed to systemically, which helps reduce the sometimes problematic side effects associated with oral NSAIDs, including gastrointestinal and/or kidney problems," says Rachel Frank, MD, an orthopedic sports medicine physician with UCHealth and director of the Joint Preservation Program at the University of Colorado Anschutz Medical Campus.
Does it really work?
Voltaren gel is as good if not better than other OTC topical arthritis pain products, says Jonathan M. Greer, MD, president of Arthritis and Rheumatology Associates of Palm Beach and affiliate clinical professor of biomedical sciences at Florida Atlantic University. "There are good clinical studies with this product that demonstrate effectiveness," he says. However, he notes that it's a "mild agent" and that it is "not as potent as oral NSAIDs."
Who might benefit from Voltaren gel?
Anyone with osteoarthritis, especially in joints that aren't covered by a lot of muscle, might potentially benefit from Voltaren gel. These include the hands wrists, elbows, knees, ankles, or feet.
"It can be used in conjunction with other treatments, including physical therapy, activity modification, bracing, icing, etc.," says Dr. Frank. "It can also be very helpful for patients who cannot otherwise tolerate oral NSAIDs due to side effects, particularly gastrointestinal side effects, as the gel is applied topically and not systemically" so less of it will impact other body systems.
Is it safe?
Voltaren should be safe for most people. That said, it's always smart to check with your physician, especially if you have any heart, gastrointestinal, or kidney problems or if your doctor has previously advised you to avoid NSAIDs for any reason.
"The side effect profile of Voltaren gel is relatively low, especially compared to oral NSAIDs, but there are some potential side effects," says Dr. Frank. "If the medicine is absorbed, it can cause the same side effects of other NSAIDs, including cardiovascular, gastrointestinal and/or renal problems. In addition there have been some reports of skin irritation at the site of application."
You should also check with your doctor before using Voltaren gel at the same time as any oral NSAID, since combining them could raise the chance of experiencing side effects.
Always ask your doctor about adding any over the counter medication or supplement to your regimen to make sure it is safe for you and that there won't be negative interactions with your other medications.
How should I use Voltaren gel?
Voltaren gel is usually applied four times a day. You might get some relief quickly (within half an hour), but if often takes a few days of use for the full benefits to kick in. Make sure you wash your hands before and after using the product, says Dr. Frank. You should also keep the impacted area out of direct sunlight or you might develop a skin reaction, she adds.
Will over-the-counter Voltaren gel be more or less expensive for me now?
This is a tricky one, as it really comes down to your specific health insurance coverage. You'll save time and money on doctor's visits, since you'll no longer need to see a provider to get a prescription. But if your insurance was allowing you to get Voltaren for free or for a minimal co-pay, you might end up shelling out more for the OTC product.
"Patients who relied on this medicine and received it as part of a pharmacy benefit through their insurance will likely lose that benefit and will be forced to pay out-of-pocket for it," says Seth Ginsberg, president and co-founder of CreakyJoints. "For patients currently using insurance to access this product we recommend consulting with their insurance benefit manager for use of tools such as health savings accounts, flexible spending accounts, and/or to seek coupons or discount offers from pharmacies and manufacturers."
Not Sure What's Causing Your Pain?
Check out PainSpot, our pain locator tool. Answer a few simple questions about what hurts and discover possible conditions that could be causing it. Start your PainSpot quiz.
Keep Reading