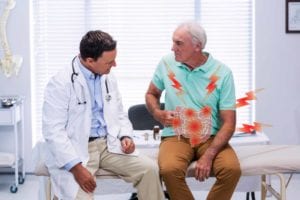 When the anti-tumor necrosis factor (TNF) drug infliximab (Remicade) hit the market 20 years ago, it was considered revolutionary for patients with Crohn's disease and ulcerative colitis, two forms of inflammatory bowel disease (IBD). A handful of other anti-TNF drugs, including adalimumab (Humira) and etanercept (Enbrel) soon followed, and though they've made a huge difference for many IBD patients they also carry a risk of such side effects as serious infections.
Yet many doctors have been reluctant to switch to vedolizumab (Entyvio), a different type of biologic drug that was FDA approved in 2014.
"We're approaching a quarter century of experience with TNF antagonists. TNF antagonists, you could argue, are yesterday's drugs," said Brian G. Feagan, MD, of Western University in London, Ontario, at the annual Advances in Inflammatory Bowel Diseases meeting. So why are so many doctors sticking with them? "Unfortunately, gastroenterologists don't change quickly. We're subjects of habit and there have to be compelling reasons for us to change," Healio reported Dr. Feagan as saying during his presentation.
Vedolizumab is an integrin receptor antagonist. Because it only targets the gut, it's believed to be safer than the other drug in this class (natalizumab, which can cause a rare but potentially deadly infection).
Vedolizumab is currently FDA-approved for adults with moderate-to-severe IBD who haven't responded well to other older medications, including anti-TNF drugs. But there is evidence to suggest that it might work just as well in patients who have never tried anti-TNF medications.
Vedolizumab is "highly effective" for Crohn's and ulcerative colitis patients, and it "has an unprecedented safety record," said Dr. Feagan.
One catch is that some patience is required, as it takes longer to start working. Research has shown that after 6 weeks of treatment, 15 percent of patients are in remission; after a year, that number jumps to 45 percent for patients who get an infusion every four weeks. If you're willing to wait, that's slightly better than anti-TNF drugs; according to Dr. Feagan, TNF-blocking drugs are 30 to 40 percent effective.
Keep Reading