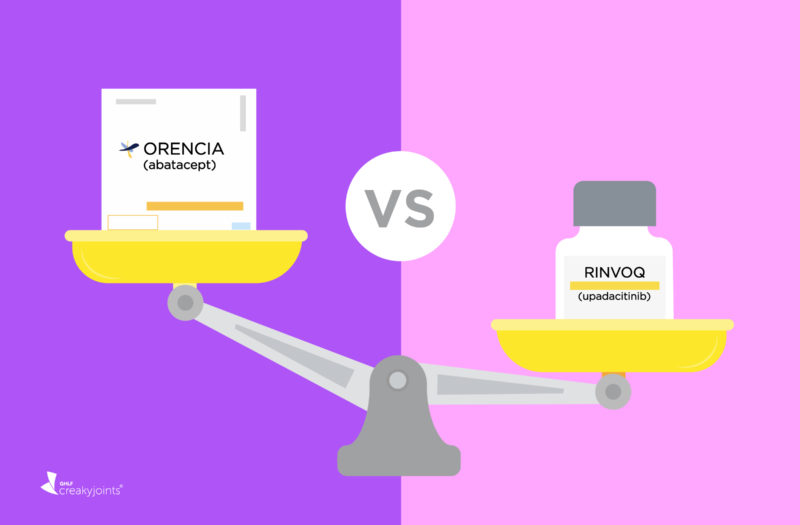 Most rheumatoid arthritis (RA) patients who require a biologic drug start with something called a TNF-blocker, such as adalimumab (Humira), etanercept (Enbrel), or infliximab (Remicade), but some people don't respond well enough to these medications. Their RA disease activity and symptoms like pain and fatigue remain too high. When that happens, doctors often suggest an alternative treatment like abatacept (Orencia) or upadacitinib (Rinvoq).
Both of these medications work on the immune system overactivity that is driving RA inflammation in different ways, and differently from that of TNF blockers.
Unlike TNF inhibitors, which work by blocking an inflammatory protein called tumor necrosis factor, these drugs have different mechanisms of action. Abatacept is a selective co-stimulation modulator, which is designed to prevent the immune system from overreacting. Upadacitinib is a Janus kinase (JAK) inhibitor, a newer class of medication that prevents the formation of enzymes that cause inflammation and RA symptoms.
In a recent study, published in the New England Journal of Medicine, researchers directly pitted these two drugs against each other in an effort to determine which is safest and most effective in patients whose rheumatoid arthritis is considered refractory, which means difficult to treat.
According to their findings, there's no clear winner. Upadacitinib was more likely to help patients achieve remission, but abatacept was less likely to cause serious adverse events.
The study was a randomized phase 3 clinical trial of more than 600 people with RA who had previously tried a TNF inhibitor but did not respond well to it. Participants were randomly assigned to receive either upadacitinib or abatacept for at least 12 weeks.
By week 12, 30 percent of those who were taking upadacitinib had reached remission, as did 13 percent of those who were using abatacept.
The catch, however, is that patients in the upadacitinib group were more likely to experience serious side effects than those in the abatacept group. Two patients in that group had dangerous blood clots, one had a non-fatal stroke, and one person died. People getting upadacitinib were also more likely to have high levels of liver enzymes in their blood (which indicates damage to liver cells).
"Additional data from longer and larger trials are needed to better understand long-term outcomes and safety of upadacitinib as compared with other drugs for the treatment of rheumatoid arthritis," the researchers concluded.
Which treatment to pick "depends on what you want," explained Jack Cush, MD, in a RheumNow video about the findings. If you're concerned about getting symptoms under control quickly, "you might be swayed by the efficacy data for upadacitinib, but if you're very concerned about side effects, you might consider abatacept."
AbbVie, which manufactures upadacitinib (Rinvoq), and Bristol-Myers Squibb, which manufactures abatacept (Orencia) are corporate sponsors of the Global Healthy Living Foundation.
Track Your Medications with ArthritisPower
Join CreakyJoints' patient-centered research registry and log your medications to track side effects and impact on disease activity. Learn more and sign up here.