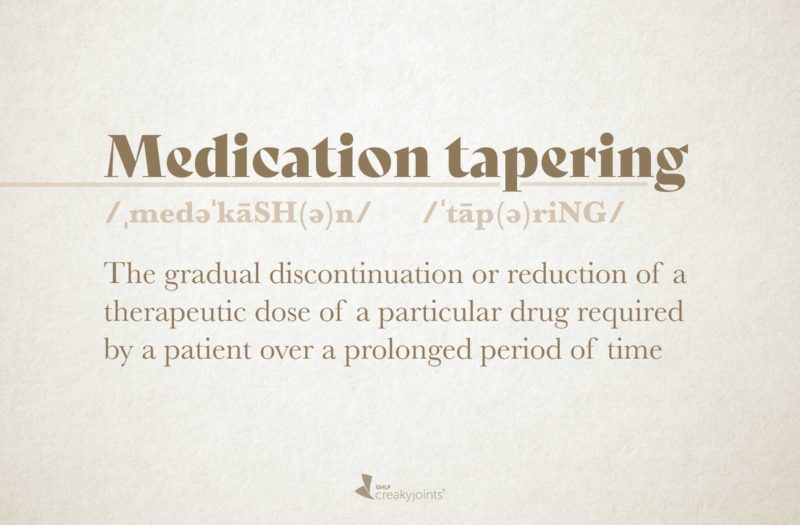 Many people with rheumatoid arthritis (RA) are able to reach remission thanks to using TNF inhibitors like etanercept (Enbrel) or certolizumab pegol (Cimzia). If you're among them, you may wonder whether you really need to stick with these drugs once your disease is no longer active. While it's always wise to talk to your rheumatologist about the specifics of your case, a new study suggests that you're probably better off continuing with your current treatment regimen.
The study, presented at the European E-Congress of Rheumatology 2020, held virtually by the European League Against Rheumatism (EULAR), was a randomized trial in which RA patients who had been using TNF inhibitors and were in remission for at least a year were assigned to either continue their medication or slowly taper off of it until they were no longer using it.
Researchers tracked participants for the next 12 months and found that 63 percent of those who had tapered off TNF inhibitors experienced a flare, compared to only 5 percent of those who kept using these drugs.
Fortunately, those who had stopped the medication and then had a flare generally responded well to reinstating the medication.
"The study indicates that in RA patients in sustained remission on TNF inhibitors, continued treatment should be the preferred choice," said lead author Siri Lilligraven, MD, MPH, PhD, of Diakonhjemmet Hospital in Oslo, Norway, in a presentation at the conference.
Found This Study Interesting? Get Involved
If you are diagnosed with arthritis or another musculoskeletal condition, we encourage you to participate in future studies by joining CreakyJoints' patient research registry, ArthritisPower. ArthritisPower is the first-ever patient-led, patient-centered research registry for joint, bone, and inflammatory skin conditions. Learn more and sign up here.
Lillegraven S, et al. Stable Versus Tapered and Withdrawn Treatment with Tumor Necrosis Factor Inhibitor in Rheumatoid Arthritis Remission (ARCTIC REWIND): A Randomised, Open-Label, Phase 4, Non-Inferiority Trial.Annals of the Rheumatic Diseases. Volume 79, Supplement 1. 2020. https://ard.bmj.com/content/79/Suppl_1/14.