This has been reviewed and updated as of November 3, 2020.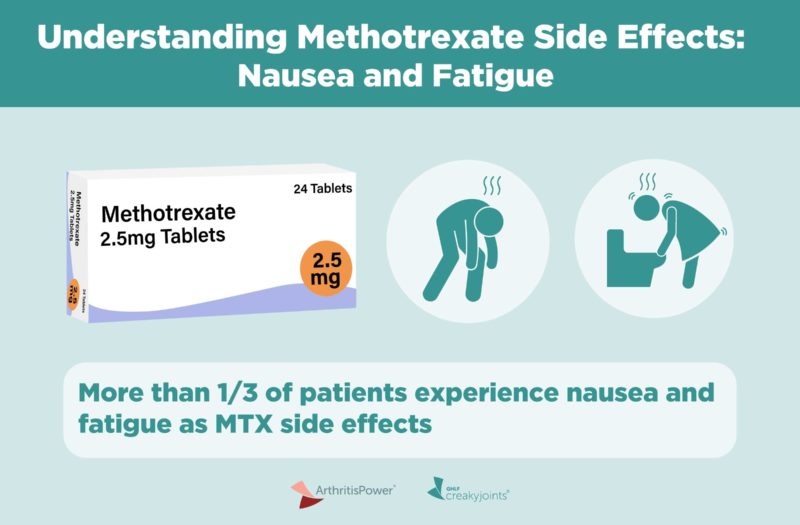 As a first-line treatment for rheumatoid arthritis and also commonly used in psoriatic arthritis, methotrexate (MTX) is well-known among inflammatory arthritis patients. While methotrexate is effective for a great number of patients and helps many achieve low disease activity or even remission, the medication sometimes gets a negative reputation for potential side effects, including fatigue, nausea, hair loss, mouth sores, and others.
The Global Health Living Foundation (GHLF) and CreakyJoints studied patients' experience with MTX side effects and presented research last year that found that 58 percent of current methotrexate users and 79 percent of people who had taken methotrexate but stopped experienced at least one or more side effects.
Nausea and fatigue were among the most commonly reported side effects, so our research team decided to study these further.
While nausea and fatigue can be bothersome enough to make a medication intolerable for some patients, understanding how these side effects occur in relation to timing of when methotrexate is taken is important. For arthritis patients, the medication is typically given once a week (either as pills or an injection). Are side effects worse right after taking the MTX dose? Do they improve afterward?
In research presented during ACR Convergence 2020, the annual meeting of the American College of Rheumatology, researchers looked at data from 91 patients who had either rheumatoid arthritis or psoriatic arthritis and were currently taking oral methotrexate for it. (This research was also presented earlier this year at the European E-Congress of Rheumatology 2020, held virtually by the European League Against Rheumatism [EULAR]).
Patients in the study filled out surveys about nausea, fatigue, and overall health right after they took their MTX dose (within 6 to 36 hours) and then took those surveys again four to six days later — outside of the acute exposure window of the weekly dose — to see whether there was a change in side effects related to the dosage timing.
Here is what we learned.
Nausea and Fatigue Are Common
Of the patients surveyed, one-third said that they experience nausea as a methotrexate side effect, generally speaking. As for fatigue, nearly 43 percent of those surveyed said that they experience fatigue as a methotrexate side effect.
Timing Matters
When researchers analyzed the data on patients for whom they had "within-week" survey responses (meaning, they took the surveys after MTX and then again before their next dose within the same week), they found that there was an uptick in nausea and fatigue symptoms after the MTX dose that then subsided over time before the next dose.
Among these patients, 40 percent of patients had a notable change in nausea symptoms after taking MTX and nearly 61 percent of patients had a notable change in fatigue symptoms after taking MTX.
What This Means for Patients on Methotrexate
"Patients tell us all the time that nausea and fatigue are part of their experience taking methotrexate. This study adds to the body of literature that shows that these side effects are clinically meaningful for patients," says Louis Tharp, executive director of GHLF. "Data like this can help support patients' reports that these are not just 'inconvenient' side effects and need to be part of the provider-patient conversation."
It may also be reassuring to patients on methotrexate that these side effects are what researchers called "temporal" — that they are related to timing. You may feel more nausea and fatigue immediately after taking methotrexate, but it is important for patients to know that these symptoms typically subside over time and won't necessarily last all week long.
"This data may help doctors and patients have a better discussion about what to expect when starting methotrexate for inflammatory arthritis," says W. Benjamin Nowell, PhD, director of Patient-Centered Research at GHLF. "Patients can be more prepared for side effects they may encounter and how to better manage or offset them."
You and your doctor may discuss taking some of the following steps to reduce the side effects from taking methotrexate:
Take a folic acid supplement. Folic acid is a type of B vitamin that you need for your cells to divide and grow normally. Folic acid is also essential in the production of red blood cells. Methotrexate blocks some of the actions of folic acid, which can lead to side effects such as mouth sores, abdominal pain, liver problems, hair loss, and anemia. Taking folic acid supplements can help offset MTX side effects.
Take methotrexate after meals, which may reduce the risk of stomach upset. Your doctor may also consider prescribing other medication to help treat symptoms like nausea and vomiting.
Use a lower dose. According to the Hospital for Special Surgery, many MTX side effects can be resolved by lowering the dose. However, you should never lower the dose or stop taking methotrexate without the guidance of your doctor.
Take MTX close to the weekend. For patients who report fatigue to be an important side effect, taking the medication, which is often given weekly, on a Friday or Saturday can allow you to rest and recover over the weekend.
Consider the side effect profile of other medication you take. Many other drugs used to treat RA or PsA can also cause similar side effects. For example, some patients who use non-steroidal anti-inflammatory pain medication (NSAIDs) report gastrointestinal (GI) upset as a symptom. Make sure your doctor knows all of your medications and supplements, both over the counter and prescription, so they can help you minimize side effects and interactions.
Found This Study Interesting? Get Involved
If you are diagnosed with arthritis or another musculoskeletal condition, we encourage you to participate in future studies by joining CreakyJoints' patient research registry, ArthritisPower. ArthritisPower is the first-ever patient-led, patient-centered research registry for joint, bone, and inflammatory skin conditions. Learn more and sign up here.
This study was supported by Amgen, which is a corporate sponsor of the Global Healthy Living Foundation.
Guidelines to Help Reduce the Side-Effects of Methotrexate. Hospital for Special Surgery. https://www.hss.edu/conditions_guidelines-reduce-side-effects-methotrexate.asp.
Nowell WB, et al. Changes in Patient-Reported Outcome (PRO) Scores for Nausea and Fatigue Following Weekly Methotrexate Dose in a Real-World Sample of RA and PsA Patients in the ArthritisPower Registry. Annals of the Rheumatic Diseases. Volume 79, Supplement 1. 2020.