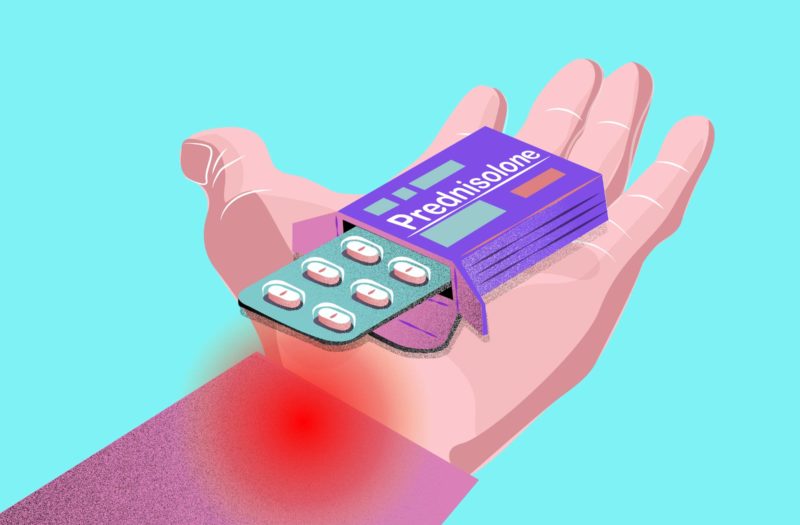 Corticosteroids such as prednisone and prednisolone are used for a wide variety of problems related to excess inflammation. While some people take these drugs on a regular basis, a far larger group is prescribed a short course — often to combat an arthritis flare-up, upper respiratory tract infection, allergy flare-up, or skin rash.
Although steroids are known to have serious side effects when used for an extended period, limited attention has been paid to the risks of using these medications for only a few days or weeks.
Now a new study, published in the journal Annals of Internal Medicine, suggests that even short-term steroid use might be risky.
To conduct the study, Taiwanese researchers examined a health insurance database that contained information on nearly 16 million medical claims that were recorded between 2013 and 2015. They determined that people who were prescribed oral corticosteroids were significantly more likely to experience GI bleeding, sepsis, and heart failure within a month of getting the prescription.
Although these findings do not prove that steroids directly cause these problems, it's worth taking them seriously.
"We are now learning that bursts as short as three days may increase risk for serious [adverse events], even in young and healthy people," the authors told MedPage Today. "As providers, we must reflect on how and why we prescribe corticosteroids to develop strategies that prevent avoidable harms."
In an accompanying editorial, the researchers explained that giving a short course of steroids to relatively healthy people has been largely considered "innocuous," and that providers are quick to prescribe these drugs even when there isn't solid evidence that they will be helpful.
This is not the first research to suggest that short-term use of steroids might be dangerous. One 2017 study, for instance, found that incidence of dangerous blood clots, bone fractures, and sepsis went up shortly after patients were given a short course of steroids.
What This Research Means for Arthritis Patients
Vinicius Domingues, MD, a rheumatologist in Daytona Beach, Florida, said the new study doesn't change much for patients with rheumatic disease who occasionally need steroids to manage a flare. In those instances, the benefits clearly outweigh the risks, and long-term use is still significantly more likely than short-term use to cause serious side effects.
"Steroids are still a powerful tool in the short term for rheumatic diseases," he says. "We just need to be extra vigilant and proactive about minimizing long-term steroid therapy."
Be a More Proactive Patient with ArthritisPower
Join CreakyJoints' patient-centered research registry to track your symptoms, disease activity, and medications — and share with your doctor. Learn more and sign up here.