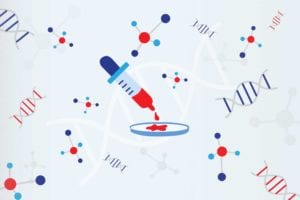 If you have rheumatoid arthritis (RA), you may have been told that you're "seronegative" or "seropositive." Seronegative RA patients — who do not have antibodies for rheumatoid factor and/or anti-CCP in their blood — tend to have less severe symptoms and a better prognosis, but that's not always the case. Some seronegative patients are able to use disease-modifying antirheumatic drugs (DMARDs) for a period of time, stop them, and remain in remission. Others aren't as lucky.
Could a test designed to measure disease activity — the Vectra MBDA (multi-biomarker disease activity) test — also be used to predict which seronegative patients will stay in remission despite stopping treatment? It seems likely, according to a new study published in the journal Arthritis Research & Therapy.
The study followed nearly 300 Dutch rheumatoid arthritis patients who were part of the Leiden Early Arthritis Clinic Cohort between 2010 and 2015. Blood samples were taken before any treatment began and the Vectra MBDA, manufactured by Crescendo Bioscience, was administered. The test checks for 12 different biomarkers and generates a composite score that factors them all in. Researchers then used that score to divide the study participants into low, moderate, and high score groups. A high Vectra score means worse disease activity.
All of the study participants started treatment with methotrexate, but those who didn't fare well enough began taking other traditional DMARDs or biologic drugs. As expected, seropositive patients were more apt to need biologics than seronegative patients.
In accordance with official treatment guidelines, patients whose disease activity improved sufficiently (disease activity score, or DAS, was less than 2.4) tapered off of DMARDs. About four years later, 7 percent of seropositive patients and 34 percent of seronegative patients who had stopped DMARDs were still in remission.
For the small group of seropositive patients who achieved and stayed in remission without drugs, the results of the Vectra MBDA test didn't seem to matter.
But among seronegative patients, there was a clear pattern: "Moderate or high MBDA scores were strongly associated with achieving DMARD-free remission," the authors wrote. In contrast, sustained drug-free remission "was almost absent in the [seronegative] group with low MBDA scores."
In general, a higher MBDA score is worse because it means you have high levels of disease activity. So why would seronegative patients with higher scores be more apt to stay in remission after stopping treatment?
"One important note is that we measured the MBDA score only at disease presentation, and not during the disease course," says lead study author Debbie Boeters, MD. "We think that the subgroup of [seronegative] patients who are able to achieve remission have an acute onset, with high inflammation, but for some reason we don't understand yet have a better prognosis. The pathogenesis of this subgroup of patients might be really different from other RA patients."
Crescendo is a corporate sponsor of GHLF.
Use Our ArthritisPower App to Track Your Disease Activity
Join CreakyJoints' patient-centered research registry to track your symptoms, disease activity, and medications — and share with your doctor. Learn more and sign up here.
Keep Reading