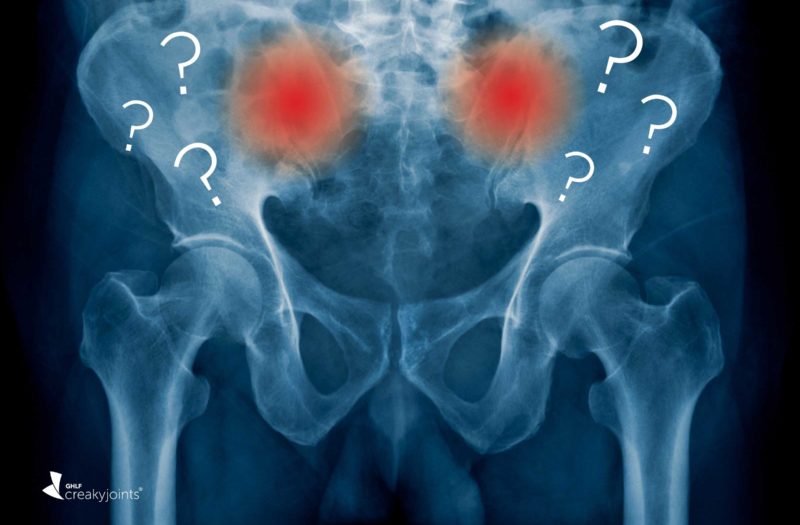 It takes people an average of seven years to be diagnosed with non-radiographic axial spondyloarthritis (nr-axSpA), a type of chronic inflammatory arthritis that primarily affects the "axial" joints — the spine, chest, and hip bones. That's because, while the disease causes tell-tale symptoms like chronic back pain, there's no visible damage to the joints on X-rays. Hence the term "non-radiographic."
This differs from ankylosing spondylitis (AS), which — like nr-axSpA — is a form of the umbrella condition axial spondyloarthritis (axSpA). In people with AS, definitive structural damage of the vertebrae (the bones of the spine) or sacroiliac (SI) joints (those that connect the lower spine to the pelvis) shows on X-rays. Inflammation of the SI joints is known as sacroiliitis.
Just because nr-axSpA can't be seen on X-rays, however, does not mean it is a milder form of disease, says Hillary Norton, MD, a rheumatologist in private practice in Sante Fe, New Mexico, who herself has AS.
"The burden of disease is similar, in that the pain, fatigue, stiffness, and the impact they have on a person's life is similar," she says. "The difference really lies in whether damage incurred by the inflammation shows on X-rays."
It can take up to 10 years for X-rays to show damage from such inflammation, so doctors can also use MRIs to help make the nr-axSpA diagnosis earlier. Early diagnosis is important, says Dr. Norton, since besides minimizing symptoms so you can maintain function, it is believed that early treatment of nr-axSpA may prevent many of the complications of the disease, as well as its progression.
Non-Radiographic Axial Spondyloarthritis: Not Just Early-Stage AS
While there is debate as to whether nr-axSpA and AS are two different diseases — since all people with AS go through a stage where X-rays of their joints didn't show definitive damage — the prevailing theory is that nr-axSpA and AS are on the same disease spectrum.
However, nr-axSpA is not always a precursor that evolves into AS. Not every patient with non-radiographic axial spondyloarthritis will progress to AS — different studies have found progression rates from nr-axSpA to AS of 5 percent to 30 percent over as many as 30 years.
When the disease does progress, it doesn't do so predictably. "The disease is not staged, so there's no predictable pattern of progression in all patients," says Dr. Norton. "We know it's getting worse by symptoms and complications."
For instance, some patients may develop worsening inflammatory back pain, or develop other symptoms like enthesitis (inflammation of the sites where tendons or ligaments attach to the bone), uveitis (inflammation of the eye), or inflammatory bowel disease (IBD). Some patients may go through periods of remission and relapse. Doctors will monitor for pain, functionality in daily activities, and the presence of other symptoms.
"Symptoms usually occur because there's inflammation in tendons or joints," says rheumatologist Paul Bird, an associate professor of the St. George & Sutherland Clinical School in Sydney, Australia. "That inflammation can lead to an apparent worsening of symptoms, but it may not lead to permanent symptoms that occur due to damage that can be seen on X-ray or MRI."
Risk Factors for Progression to AS
Precisely why some people go on to develop damage that shows up on X-rays is a "hot topic of research," but not yet fully understood, says Dr. Bird. "There are some risk factors, such as a strong family history, male gender, and high inflammatory markers [when you're diagnosed] that may predict damage," he says. These include C-reactive protein (CRP), a blood test marker for inflammation in the body.
From a treatment perspective, there's no real need to differentiate between the two diseases — patients should be treated the same way. In fact, according to Dr. Bird, "the nomenclature is likely to change in the next few years so that patients will be categorized as having axial spondyloarthritis without reference to non-radiographic or radiographic. This will make this less confusing for patients and doctors alike. The present, however, sees us using this terminology, as it's still helpful as researchers attempt to unravel the differences between these groups."
Indeed, though the two conditions are similar and cause very similar symptoms, "there are certainly differences between them that suggest that the diseases will have different courses," says Dr. Bird. Generally, the news is good for people with nr-axSpA.
"The course in non-radiographic patients tends include less damage and fewer extra-articular features occurring over time." Extra-articular features refer to other symptoms that may develop along with the tell-tale symptom of back pain, such as enthesitis (which occurs in up to 44 percent of patients), uveitis (up to 12 percent), or IBD (up to 6 percent).
Can Treatment for Non-Radiographic Axial Spondyloarthritis Prevent Disease Progression?
The short answer is that more research is needed, but some preliminary research suggests yes. One 2018 study published in the journal Annals of the Rheumatic Diseases found that patients with axSpA (the group included both AS and non-radiographic) who were treated for four years with the TNF blocker certolizumab (Cimzia) had a low spinal progression over that time.
But much of the available research has focused on whether treatment prevents disease progression in people with ankylosing spondylitis; more data is needed on non-radiographic patients specifically. We need to better understand a) how do nr-axSpA patients respond to treatment in terms of symptom management and quality of life, and b) whether treatment prevents nr-axSpA from progressing or causing radiographic damage.
Even though treatment for non-radiographic axial spondyloarthritis and ankylosing spondylitis should be similar, people with nr-axSpA may respond differently — generally, less predictably — to treatment with biologics, such as TNF inhibitors, than those with AS.
A group of biologic medications that work by modulating the immune response and reducing inflammation, TNF inhibitors are prescribed when nonsteroidal anti-inflammatory drugs (NSAIDs) — the first-line therapy for nr-axSpA — no longer provide enough relief. The disease-modifying antirheumatic drug (DMARD) sulfasalazine may also be used to lower inflammation if joints outside the spine are also affected (known as peripheral arthritis).
The FDA approved the first TNF inhibitor for nr-axSpA, certolizumab (Cimzia), in March 2019, and according to Dr. Bird, 40 to 50 percent of patients will note improvement when taking the drug, which appears to be most effective in patients with raised CRP and/or sacroiliitis that shows up on an MRI.
Other types of biologics that target other immune system molecules, such as IL-17, are currently FDA-approved for treating ankylosing spondylitis and may also soon be approved for non-radiographic axial spondyloarthritis. These include secukinumab (Cosentyx) and ixekizumab (Taltz).
Whatever treatment you're prescribed, it's crucial to be compliant. "The aim of therapy is to stop disease progression and hold the disease in its tracks, so the person can proceed to a normal lifestyle," says Dr. Bird. "If the symptoms are under excellent control, the risk of progression is extremely low."
Progression may lead to the development of syndesmophytes (bone spurs) that cause the spinal joints to fuse together, leading to permanent disability and lack of function. "This isn't very common, but it's very important that patients understand the need to continue therapy to prevent this from occurring," says Dr. Bird.
Lifestyle Changes May Help Halt Progression of Non-Radiographic Axial Spondyloarthritis
Drug therapy isn't the only way to help keep nr-axSpA in check. Weight control is an important factor, so strive to achieve your ideal BMI (body mass index). Not only are obese patients more likely to have worse symptoms, less physical function, and lower quality of life, but research shows that obesity is associated with significantly lower response rates to treatment with TNF inhibitors.
Other strategies include:
Exercise regularly
"This can take the form of stretching exercises when the patient has significant symptoms, but generally we move on then to encouraging patients to undertake regular exercise that they enjoy," says Dr. Bird.
Eat right
"Diet is controversial," says Dr. Bird. While there is some evidence that certain foods are anti-inflammatory, his general advice is for patients to eat a balanced, low-fat diet. "A Mediterranean-style diet with [anti-inflammatory] omega-3 fatty acids is ideal."
Butt out
If you smoke, try to quit. Smoking is associated with a higher degree of disease activity and radiographic progression, possibly as a result of elevated CRP levels.
This educational resource was made possible with support from UCB, a global biopharmaceutical company focused on neurology and immunology.
Track Your Arthritis Disease Activity
Join CreakyJoints' patient-centered research registry to track your symptoms, disease activity, and medications — and share with your doctor. Learn more and sign up here.
Keep Reading
Clinical manifestations of axial spondyloarthritis (ankylosing spondylitis and non-radiographic axial spondyloarthritis) in adults. UpToDate. https://www.uptodate.com/contents/clinical-manifestations-of-axial-spondyloarthritis-ankylosing-spondylitis-and-nonradiographic-axial-spondyloarthritis-in-adults.
Ghosh N, et al. Nonradiographic axial spondyloarthritis: clinical and therapeutic relevance. Arthritis Research & Therapy. December 2017. doi: http://dx.doi.org/10.1186/s13075-017-1493-8.
Interview with Hilary Norton, MD, Santa Fe Rheumatology
Interview with Paul Bird, BMed, FRACP, PhD, Grad Dip MRI, Rheumatology Specialist Care
Key Questions in nr-axSpA: Understanding, Recognizing, and Managing Patients With nr-axSpA. Healio Rheumatology Education Lab. https://www.healio.com/rheumatology/education-lab/2019/08_august/key-questions-in-nr-axspa.
 Micheroli R, et al. Impact of obesity on the response to tumor necrosis factor inhibitors in axial spondyloarthritis. Arthritis Research & Therapy. July 2017. doi: https://doi.org/10.1186/s13075-017-1372-3.
Spondyloarthritis. American College of Rheumatology. https://www.rheumatology.org/I-Am-A/Patient-Caregiver/Diseases-Conditions/Spondyloarthritis.
 Treatment of axial spondyloarthritis (ankylosing spondylitis and non-radiographic axial spondyloarthritis) in adults. UpToDate. https://www.uptodate.com/contents/treatment-of-axial-spondyloarthritis-ankylosing-spondylitis-and-nonradiographic-axial-spondyloarthritis-in-adults
van der Heijde D, et al. Limited radiographic progression and sustained reductions in MRI inflammation in patients with axial spondyloarthritis: 4-year imaging outcomes from the RAPID-axSpA phase III randomised trial. Annals of the Rheumatic Diseases. May 2018. doi: http://dx.doi.org/10.1136/annrheumdis-2017-212377.
Wang R, et al. Progression of Nonradiographic Axial Spondyloarthritis to Ankylosing Spondylitis: A Population-Based Cohort Study. Arthritis & Rheumatology. June 2016. doi: http://dx.doi.org/10.1002/art.39542.