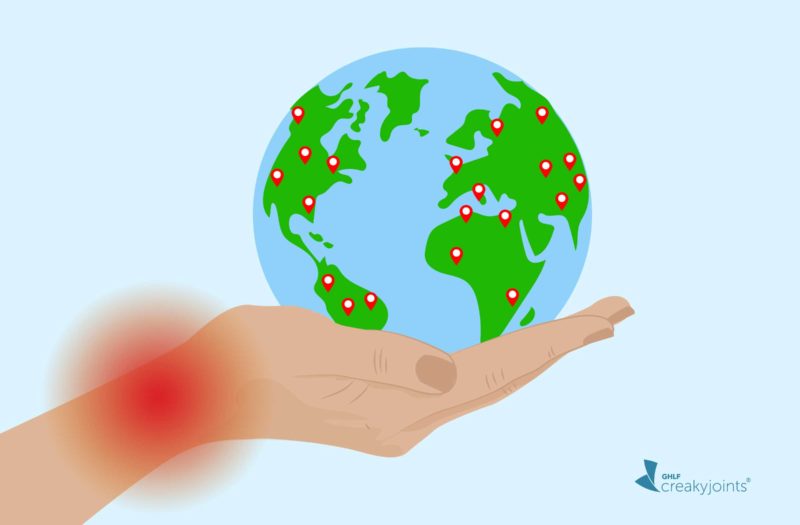 A leading cause of death in those living with autoimmune diseases like rheumatoid arthritis (RA) — which I was diagnosed with five years ago — is respiratory disease. According to an Italian study from 2017, "the lung has been reported among the most frequent sites of infection in patients with rheumatic disease" and "patients with rheumatic disease show a peculiar vulnerability to infectious complications."
It's only natural that COVID-19 has me — and millions of others with compromised immune systems across the world — on high alert as the spread of the virus increases.
I'm not writing this to cause mass hysteria or scare anyone, but rather to educate them about the risks that many people like me are facing right now.
When Coronavirus Hits Close to home
For the past few months I have been watching — feeling fearful yet telling myself to keep calm — as those tiny red dots on the world map of cases began to rapidly multiply, getting bigger and covering more ground.
Those reds dot now cover the main two cities I live and spend time in, Burnaby and Vancouver, British Columbia, which is known for a large Asian community and direct flights from China. We host a large cruise ship port, which hosted nearly 300 cruise ship visits in 2019. The virus has easy access to my province and anyone I pass by – of course I have concerns.
Also, my father is elderly and splits his time living between China and Thailand. Also, he has a girlfriend who's battling cancer in an area where coronavirus cases are increasing. It's frustrating knowing that because of my weakened immune system from RA I can't be there for my father at a time I really want to. I am on high alert just to hear from him to know he and his girlfriend are OK. And I miss him. I know this is something many other families are experiencing.
While Canadian cases of coronavirus are lower compared to such hotspots as China, Italy or South Korea, this outbreak still hits close to home — too close to home. There are currently 32 confirmed cases all in my province, including Canada's first death.
I May 'Look Healthy,' But…
Some might think I am being overly dramatic because I look like a healthy 34-year-old woman. I may be "young" but I'm not considered healthy. RA compromises my immune system, as do the disease-modifying medications I take to manage my symptoms. I need to be on high alert for serious lung infections, but I can't do it alone.
I can take the precautions public health officials are advising. I listen to what health care providers are saying about how to avoid exposure to COVID-19. But I can't always avoid other people's stupidity, complete disregard for others, or lack of proper hygiene.
Not Having to Worry Is a Luxury
It's a luxury to not have to worry about the seriousness of the flu or a virus named after a beer. It's especially a luxury amid the latest news over this past week: when the first death in Canada was announced — less than an hour from my home; when Italy announced an unprecedented nationwide lockdown; and when the U.S. Centers for Disease Control and Prevention recommended that the elderly and people with underlying health issues stock up on goods and stay home as much as possible. What's next?
A few weeks ago, I attended the Canadian Arthritis Research Annual Scientific Meeting in Victoria, British Columbia, where I could overhear some of the worlds' leading rheumatology researchers and doctors discuss the ineffectiveness of face masks, the importance of washing your hands and not touching your face, and debating about whether to postpone upcoming travel. It was an early and telling clue to the chilling reality of all this.
Long-Term Effects on Our Health
Even if we don't contract the coronavirus, we are likely going to feel ripple effects on our health because of its impact on the health care system and the economy.
I rely a lot on the health care system.
I can't just ignore my health condition. I still have to go to pharmacies, exercise at the gym regularly, go to hospitals and doctor offices (and take public transportation to many of these appointments). Every time I use my hands — and with RA, you often need your hands to help with balance — I can't turn off that tiny little bit a fear lurking in my mind of what I just touched.
Fatigue and pain from rheumatoid arthritis usually make me question what I am able to do every day. Now fears of coronavirus exposure are starting to lead that race. What physical precautions am I going to have to start to make? It is a lot harder for people with physical disabilities to take precautions in order to stay safe. I am on a fixed income. I can't afford to doomsday shop. Do I have to hope, wish, or pray that when I muster up the energy to go to the store I can get what I need without the cost being jacked up? Will medical professionals have the supplies to treat me? My concerns are never-ending and all that stress has an impact on my health.
At the same time, I'm a single mother to my 7-year-old son who also has needs. But my story is just one of millions with similar concerns and needs.
A Plea for Those More Vulnerable Among Us
I am following the news for updates. But I find myself angry at the news because they seem to focus only on the risk for the elderly (with the occasional mention of those with underlying health conditions). Individuals with those conditions need more people to be aware of this.
I'm starting to mentally prepare for if they advise not to go out at all. Could it get to the point where we get to local or national lockdowns? My heart goes out to people in those situations, who may not be able access the care they need or be with their loved ones. I can't stop thinking about those who are losing their lives to this virus. Too many lives have been lost already.
When the SARS outbreak happened a few years ago, I was not yet diagnosed with a disease that compromises my immune system or taking medications that make it harder to fight off infection. I didn't need to use sometimes extreme precautions to avoid other peoples' germs nor did I really understand the risks. This time I really have to be smart and alert — for myself and my son.
The life-changing diagnosis of a immunosuppressing chronic illness will really put some things into perspective and certainly educate you about how vulnerable the human body is.
So, here's a plea from me and others in my same boat. Please wash your hands. Stay home if you're sick. Get your news from reliable sources. Oh — and continue to do this even when this outbreak slows or stops. Can this be a lesson for all of us to be safer and more understanding of those living with a suppressed immune system's fears? Let it be a time where we unite together to fight this and promote a healthier future — for everyone.
Get Free Coronavirus Support for Chronic Illness Patients

Join the Global Healthy Living Foundation's free COVID-19 Support Program for chronic illness patients and their families. We will be providing updated information, community support, and other resources tailored specifically to your health and safety. Join now.