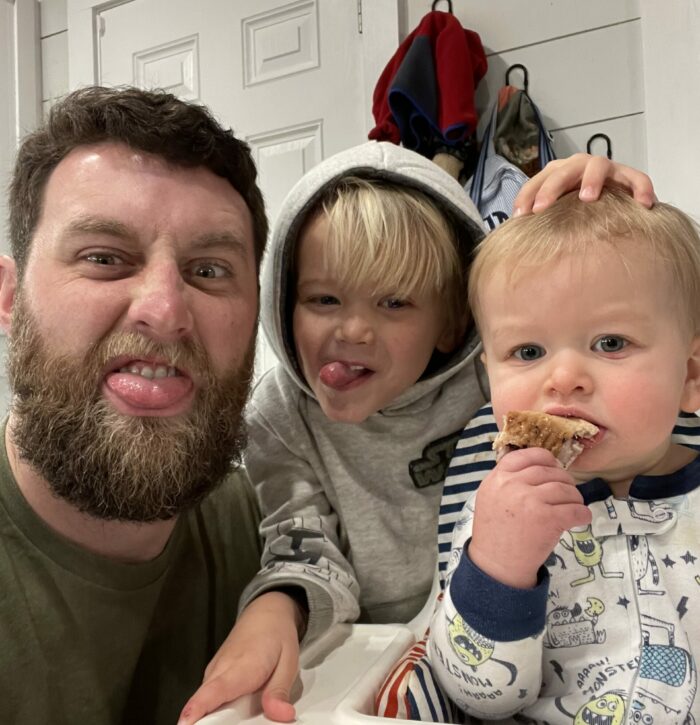 "Whenever anybody asked me what I wanted to do with my life, I didn't necessarily know what I wanted to do with my career, but I always knew I wanted to be a kick-ass dad," says 34-year-old Andy Pendergrass, a financial planner living in Minden, LA, with wife Polly and sons Cal, 5, and Freddy, 1. So when at age 23, he learned that the burning pain in his feet wasn't due to plantar fasciitis or flat feet (as one rheumatologist claimed, despite Andy's "huge arches") but rheumatoid arthritis (RA), "it felt damning," he says.  
"It really rattled what that future was going to look like," says Andy, who was engaged to Polly at the time. "My vision was to be an active dad, taking my kids to do things outdoors — hiking, camping, whatever they wanted to do — and being their first choice of who to throw a ball with. It shattered that image I had created." 
It didn't help that RA — an autoimmune disease in which the body attacks the joints, causing painful flares and potentially leading to permanent damage — hit him with a vengeance. "I remember Polly wanted to get some new clothes at the mall, and the night before I was struggling to walk," recalls Andy, who had always been physically active. "I laid awake all night asking myself how I was going to navigate that shopping trip. I was thinking about elderly men who could walk better than me at 23 years old. My identity was ripped away." 
"Treatment Turned Everything Around!"
Andy admits that "he went to the darkest of places," feeling helpless, depressed, overcome by anxiety and doubt…. And then, a turning point: His treatment — a combination of medication, healthy eating and, most important, says Andy, soaking in the hot tub — started to take effect.  
As the pain subsided and he started regaining his abilities, he discovered new ways to stay fit — Peloton (workout guaranteed, rain or shine) and CrossFit (a great way to ensure core strength). "I realized I was able to do things physically I thought I wasn't going to be able to do," says Andy. "The picture of the future became less bleak." 
So by the time Polly became pregnant with Cal six years after his diagnosis, Andy's outlook was upbeat: "I went from feeling helpless to feeling very motivated and empowered. I had the realization and the confidence that my diagnosis wasn't going to dictate my ability to be a great dad." 
"My Mom Inspired Me, Too"
Andy was also emboldened by another key factor: His own mom has RA, and when he was a child, she spent many weekends bedridden because of severe pain. "But I never thought my mom was weak," says Andy. "I thought my mom was strong because I knew she had to overcome something physical to do physical things. I started to look at my RA as an opportunity to teach my children that people with diseases aren't weak. They're the strong ones. I believe that one of the biggest things I can teach my kids is how to overcome something that's hard, and I want to be an example for them like my mom was for me."  
Taking Fatherhood to "Another Level"
Now, five years into fatherhood, Andy deals with occasional flares in his hands, feet, and hips despite treatment with a biologic, but it doesn't stop him from being the kick-ass dad he'd always envisioned. Here, he shares some of the parenting-with-RA strategies that fill him with gratitude and confidence each and every day: 
Be on the program
"Take your medicine on the right schedule. Do the extra lifestyle things like eating well and getting whatever exercise you can," says Andy. That ensures you'll be able to make the most of your time with your kids "because you never know when a flare is gonna take you down." 
Build your strength
One of the reasons Andy swears by CrossFit, a type of high-intensity interval training based on movements used in everyday life (like squatting, pulling, lifting, pushing, etc.), is that it builds muscle. And muscles support the joints. When you have RA, "your joints are going to betray you, but you're still going to have to pick up your kids" says Andy. "So the more you can endure just with your core, the better!" 
Let them show their love
"Cal knows that when I'm hurting I like to get in an Epsom salt bath. He loves to ask if he can go get me anything like a glass of water," says Andy. "So when I have the opportunity to let him help, I let him, even if he's going spill half the glass of water on the way back to the bedroom. It teaches him so much about caring for others and considering how they are feeling and not just himself." 
Convey that the "off-limits time" is temporary
It's important to Andy that Cal and Freddy feel safe and secure in the knowledge that even if Daddy is flaring, it's just a phase. "I'll say, 'Hey, Daddy's toes hurt right now.' I do my best to put that temporary stamp on it," says Andy.  
Sweeten a switcheroo
As a dad with RA, Andy finds there are times when a plan falls through because he's just not up to it.  So instead of soccer day, it might have to be movie night. The catch? "When you switch it up, you have to make it 'the Oscars,'" says Andy, laughing. "It's not just throwing Shrek on — it's an event. We're going to make a fort with the blankets, and we're going to do popcorn and ice cream. You gotta take it to another level — really amp it up."  
Focus on the now
After having his abilities ripped away and then restored, Andy's perspective changed: "My focus shifted from 'Oh my gosh, what's the future going to look like?' to 'How can we make the most of what we've got because what we've got can be ripped away?' So I want now to be amazing. I want to enjoy this season."  
Be a More Proactive Patient with ArthritisPower
ArthritisPower is a patient-led, patient-centered research registry for joint, bone, and inflammatory skin conditions. You can participate in voluntary research studies about your health conditions and use the app to track your symptoms, disease activity, and medications — and share with your doctor. Learn more and sign up here. 
If you're interested in being a patient advocate with ArthritisPower and helping our efforts to engage more diverse patient groups in research, check out our Patient Engagement Advisor Program.