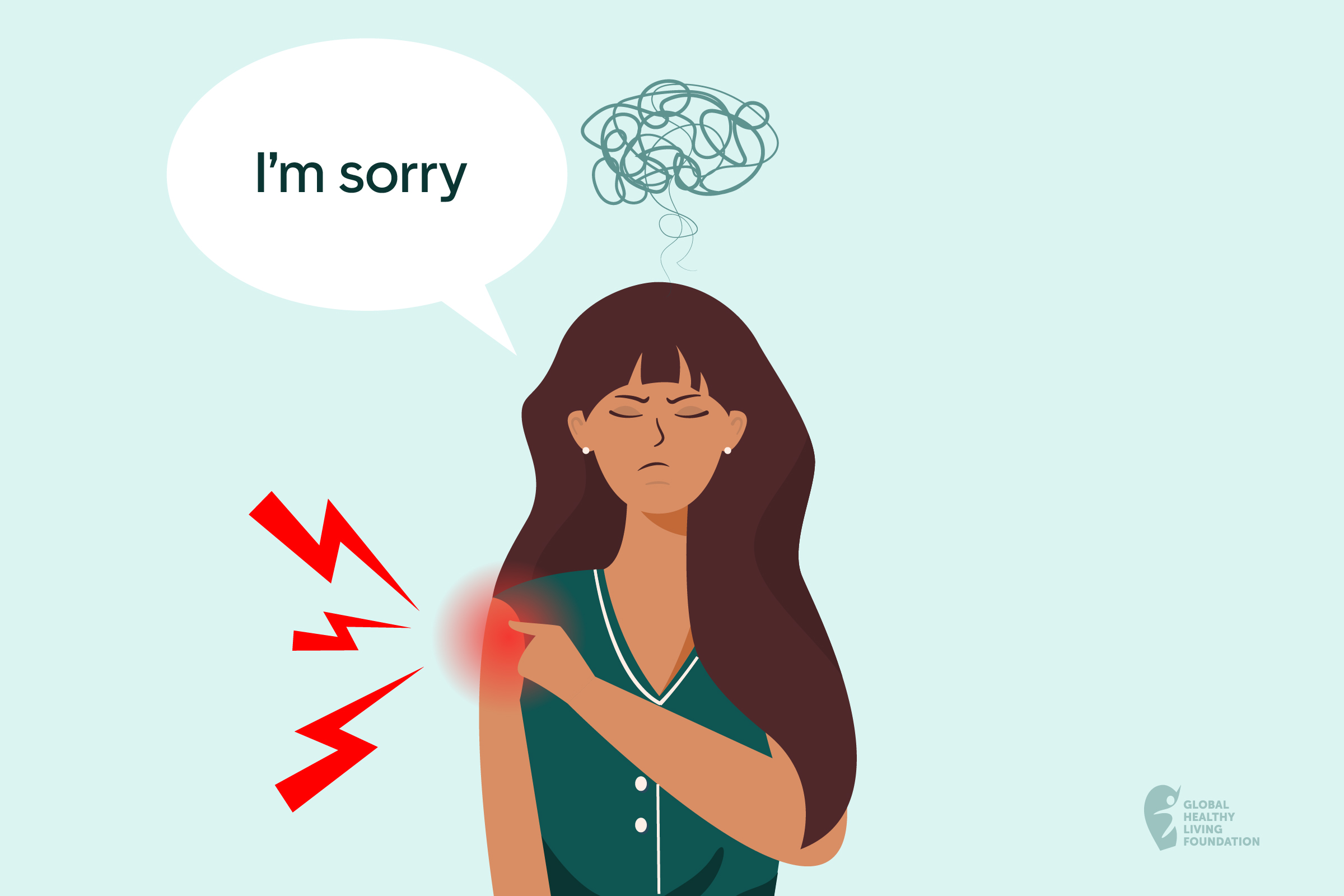 Frequently having to cancel plans due to severe pain days often comes with an abundance of apologies — perhaps even self-deprecating remarks. "I don't mean to be such a flake, I'm so sorry," might be a phrase you find yourself saying regularly. 
These frequent apologies can start to weigh on your mental health, as you continually accept blame for a situation beyond your control. 
"We're conditioned to apologize for ourselves," explains Kim Gorgens, PhD, a Clinical Professor and Director of Continuing Education at the Graduate School of Professional Psychology at the University of Denver. "It's likely the most persistent and harmful way we undermine our mental health, but its recognition can be incredibly powerful." 
Many of us have a reflexive tendency to apologize for things outside our control, due to social conditioning. From a standpoint of social etiquette, we tend to believe that apologizing can soften the blow of disappointment. 
"However, it really just diminishes our own authority over our lives and gradually wears down our sense of self," remarks Dr. Gorgens. 
The habit of frequently saying "I'm sorry" can sometimes have a negative impact on your relationships. When used while intentionally turning someone down, like canceling plans or ending a relationship, an apology can actually make the other person feel worse, per a 2017 study in the journal Frontiers of Psychology. 
"Repeatedly apologizing for experiencing an illness can actually minimize the health issue, imply that you're doing something wrong when taking care of yourself, and create a rift in relationships," says Silva Depanian, MA, LMFA, a licensed marriage and family therapist. 
Here's a challenge for you: In a journal, jot down every time you say or write "sorry" to someone — then really think about how you're using the word. You might be surprised by how frequently you use it, often as a filler, even when it's not sincerely meant. 
Alternatives for "I'm Sorry"
As a solution, use these five phrases instead.  
1. I can't make it, but I hope to see you soon.
"Remember, you don't owe anyone an explanation," says Dr. Gorgens. "It's a hard habit to break to not lead with an apologetic stance that diminishes your selfhood, but you don't have to be sorry for anything."   
Your foremost responsibility in life is to maintain your own selfhood and health. There's no need for apology when making a decision that doesn't align with someone else's expectations. 
Also, be aware that you are certainly not alone if you've ever had to cancel plans due to chronic pain. In 2021, it was estimated that 20.9 percent of U.S. adults, or approximately 51.6 million people, experienced chronic pain, and 6.9 percent (about 17.1 million) dealt with high-impact chronic pain, which significantly restricts daily activities. These statistics come from a 2023 study in the U.S. Centers for Disease Control and Prevention's Morbidity and Mortality Weekly Report. 
The study also showed a higher prevalence of chronic pain among non-Hispanic American Indian or Alaska Native adults, adults identifying as bisexual, and adults who were divorced or separated. 
 2. I'm really disappointed I can't come.
Remember, you can share in your friend or family member's disappointment authentically without apologizing. 
"You may find yourself in a situation in which you genuinely do feel disappointed," says Dr. Gorgens. "Saying 'I'm disappointed to miss the chance to attend your bridal shower' communicates your feelings more accurately than 'I'm sorry to miss your special night.'" 
The bottom line: Express that you're bummed out without blaming yourself for it.    
3. I can't go to the museum, but I'll stop by for brunch.
Just because a full lineup of activities isn't feasible for you, it doesn't mean you can't join your loved ones for part of the day (if you feel up to it).  
"Far too often, patients have an all-or-none response when it comes to social activities," says Elisha Peterson, MD, an anesthesiologist and pain physician. "Instead, we want to encourage and celebrate participating in those activities you are comfortable doing. This way, you are still keeping up those rich social connections without isolation." 
 4. What if we try yoga instead of a HIIT class?
Rather than suggesting something new, opt for an activity that you know you can already do. This might be a gentler form of the exercise your friend wanted to do — or an at-home version of the movie night that was planned (rather than a theater outing).  
And while you don't need to give an explanation, you may find that it's a chance to educate a loved one about your condition, if you want to do so.  
"Give a story to the reason that you cannot attend as a way to educate your friend about chronic pain," says Stephanie Carter Kelley, PhD, PT, a board-certified orthopedic clinical specialist who lives with chronic pain. "So many people don't understand chronic pain, so you can use your cancellation as an opportunity." 
5. I'm not feeling well today, but I'd still love to be with you in spirit. Please send me pictures or FaceTime me when you're out so we can enjoy together.
You can still enjoy your loved one's adventures and participate in their lives, even if you're not physically able to join.  
"Foster a sense of understanding and unity in relationships by providing responses that involve alternative options for plans and opportunities to regroup," says Depanian.  
You can also try these phrases that offer other options:  
It looks like my body won't let me join today, but I'd love to try later this week. When else would you be free?

 

I won't be able to physically go out today, but we can do a video hangout.

Thank you for understanding, and I wish I could be there. I'm not sure when I'll be feeling better, but I promise to update you by the end of the week.

 
Effectively communicating your feelings and limitations without resorting to constant apologies not only preserves your selfhood, but it also keeps you connected to your social circle in a healthy way. Remember, your well-being is your priority, and you don't need to apologize for taking care of yourself. 
Be a More Proactive Patient with ArthritisPower
ArthritisPower is a patient-led, patient-centered research registry for joint, bone, and inflammatory skin conditions. You can participate in voluntary research studies about your health conditions and use the app to track your symptoms, disease activity, and medications — and share with your doctor. Learn more and sign up here.
Interview with Elisha Peterson, MD, an anesthesiologist and pain physician. 
Interview with Kim Gorgens, PhD, clinical professor and director of continuing education at the Graduate School of Professional Psychology at the University of Denver. 
Interview with Silva Depanian, MA, LMFA, a licensed marriage and family therapist. 
Interview with Stephanie Carter Kelley, PhD, PT, a board-certified orthopedic clinical specialist who lives with chronic pain.  
Freedman G, et al. When Saying Sorry May Not Help: The Impact of Apologies on Social Rejections. August 11, 2017. Frontiers in Psychology. doi: https://doi.org/10.3389/fpsyg.2017.01375.   
Rikard SM, et al. Chronic Pain Among Adults — United States, 2019–2021. Morbidity and Mortality Weekly Report. U.S. Centers for Disease Control and Prevention. April 14, 2023. doi: http://dx.doi.org/10.15585/mmwr.mm7215a1.