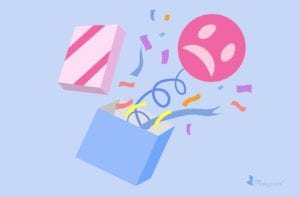 Gift giving can feel fraught under the best of circumstances — and buying a present for someone with a chronic health condition like arthritis often requires some extra considerations. After all, you wouldn't want to give them something that ends up causing more pain than holiday cheer.
To help make the gifting process easier and simpler for you, we asked people with arthritis to share some of gifts they've received over the years that they could not use, that wound up causing problems, or that they just didn't love. Of course, there are no hard-and-fast rules here. Some of these gifts may be perfectly fine for some people. But we put this list together to help make those who are shopping for people with arthritis stop and think before they purchase some typical gift ideas that may not always be the best ideas for patients with chronic illness.
(Note: All the arthritis patients we talked to wanted to make sure that people know they are grateful for any gift they get, and they always appreciate the thought, effort, and expense gift-givers put into it.)
Sugary treats
Cookies! Fudge! Fruitcake! What's the holiday season without treats? Yet, this was the top thing that people with arthritis told us they don't love to get as gifts. Why? First, because it can make their disease worse or even affect flares. Sugar can be inflammatory, which may exacerbate arthritis symptoms and contribute to weight gain, which can affect joint pain, fatigue, the risk of co-occurring conditions like heart disease, and more problems. Second, because treats are so delicious, they're hard to resist. Many people we spoke to admitted to giving in and indulging in gifts of sweets only to deeply regret it later.
"Treats are so, so tempting to me but I know I shouldn't and it becomes this mental fight," says Meghan A., of San Francisco, California, who has rheumatoid arthritis and fibromyalgia. "Don't do that to someone you love!"
Sugar-free treats
Sugar-free candies and cookies were invented to allow people who need to avoid sugar to have their (sugar-free) cake and eat it too. It's the perfect solution for people with arthritis, right? Maybe not. While these products do get rid of problematic sugar, often they contain other problematic ingredients like artificial colors, flavors, and preservatives. Then there's the issue of artificial sweeteners which can cause other … explosive problems.
"Two words: laxative effect," says Jennifer D., of Excelsior, Minnesota, who has psoriatic arthritis. "Never again." That's definitely not something you want your loved one to deal with while opening presents.
An invitation to a big holiday bash
'Tis the season for parties of all types — unfortunately parties can be extra difficult for people with arthritis, especially when symptoms are flaring up. Getting dressed up, getting to the event, socializing, being on your feet for long periods of time, coping with pain and fatigue triggers, and being surrounded by food that you may or may not be able to eat are all concerns for people with chronic illness. Don't leave your friends with arthritis out of your holiday plans but be aware of their limitations when you extend invitations. You could offer to pick them up, make sure a comfortable area is available to them, plan a more intimate get-together at a later date, or even bring the party to them.
"One of the things people don't talk about is how lonely and isolating arthritis can be. My friends would always invite me to stuff but I could almost never go and if I did I would have to bring my own food and leave early," says Amanda T., of Aurora, Colorado, who has rheumatoid arthritis and diabetes. "One of the best gifts I ever got was when they brought the annual ugly sweater Christmas party to my house. They set it up and cleaned it up and my husband made sure there was food I could eat."
Savory snacks
Forget sugar; there are still plenty of holiday foods that make fun gifts, right? Unfortunately, it's common for people with inflammatory arthritis to have food allergies, sensitivities, or other dietary restrictions. Traditional edible gifts like cheese, popcorn, nuts, breads, and processed meats are very common food sensitivities, so even treats that you may think are "healthy" may not work for someone who is trying to follow a certain eating plan. It's best to avoid giving food as a gift altogether unless it's something your loved one specifically asked for.
"Food gifts are the worst for me because dealing with my chronic illnesses requires a lot of dietary restrictions," says April O., of Phoenix, Arizona, who has inflammatory arthritis and chronic pain. "Giving me this stuff just makes me feel left out and upset."
Potted plants
A beautiful poinsettia or a bouquet of winter flowers are a lovely way to show someone you're thinking about them. But before you give a live plant or flowers, consider the needs of the gift recipient. If it's a potted plant, will they be able to water and care for it? If it's flowers, will they have a vase available and will they be able to fill it and arrange the flowers without pain?
This doesn't mean you should never give plants or flowers, but rather that you need to be very thoughtful in the way you give them. For instance, give a very low-maintenance plant, like bamboo or a cactus, or bring flowers that are already arranged in a vase with water.
"Flowers bring me some color and I like houseplants but I can't seem to keep them alive. Then I get so down when they die and wilt," says Kaid G., of Arvada, Colorado, who has osteoarthritis.
A pet
Giving an animal as a surprise gift isn't a smart idea under any circumstances, but it's a particularly bad idea for people with arthritis. Being a pet parent requires a lot of time, energy, and expense — things that many people with arthritis are already low on. Even a fish can feel high maintenance.
"One year my [now] ex-boyfriend gave me a six-week-old puppy because he thought it would lift my spirits but I couldn't keep up with a puppy and every time I looked at it, I just felt waves of guilt all the time," says Melanie S., of Arborville, California, who has lupus. "I ended up having to rehome the puppy which broke my heart because she was the sweetest little thing."
Cheap massagers
Massage is a great way to relieve pain from arthritis so giving someone a home massager is a great gift idea. Make sure to pick out the right kind. Many cheaper massagers work by vibrating, which doesn't provide any real benefit and can feel irritating to sensitive skin. Instead, look for a massager that can provide actual heat and pressure.
"One of my least favorite gifts was a hand-held vibrating massager, it just didn't do anything and was such a disappointment," says April C., of Lake Forest, California, who has rheumatoid arthritis, fibromyalgia, and erythromelalgia.
Canes or walkers
An assistive walking device can be a good gift for someone struggling with impaired mobility due to arthritis, but the wrong type can be more hurtful than helpful. For instance, a cane without a padded handle or a walker with slippery wheels can actually lead to pain or injury. If your loved one needs one of these, talk with them and their doctor or occupational therapist about the best kind for them.
"I once got a cane but without a padded handle. It was pretty, but it was unusable for me," April C. says.
Self-help books
It can be so hard watching a loved one struggle with a chronic illness and not be able to help them feel better. Chronic pain can be physically and mentally debilitating and it's common to experience depression and anxiety as a result. But self-help or motivational books probably aren't the answer, unless it's a specific book they asked for.
"My husband gave me The Happiness Project by Gretchen Rubin because he thought it would get me out of my funk, but it just made me feel worse. It's not a bad book, but it's not written for someone with chronic fatigue syndrome and Crohn's disease, on top of arthritis. I couldn't do most of the things and it made me feel like even more of a failure," says Amy P., of Boston, Massachusetts, who also has rheumatoid and osteoarthritis. You could consider one of these inspiring books that may be especially helpful for people living with chronic illness.
Hand-held video games
Games that are small or have tiny pieces can be really difficult for people with hand arthritis to manipulate. Even if arthritis doesn't affect their hands, holding something with a small screen can cause back or neck pain or muscle spasms around elbows, wrists, and shoulders.
"My brother got me a Nintendo Switch so we could play together, which was such a nice idea, but I can't hold it for more than 10 minutes at a time without pain," says Asher J., of New Jersey, who has juvenile idiopathic arthritis.
Fragile ornaments or figurines
Glass ornaments or porcelain nativities may be beautiful but they can break easily, especially when given to someone who already struggles with grip strength, balance, or mobility. Not only do they require special handling but if they do break, it is even harder to clean up. Crawling on hands and knees trying to pick up tiny glass shards isn't fun for anyone but especially not for a loved one with arthritis. This doesn't mean you can't give pretty ornaments, figurines, or dishes as gifts — just stick with plastic, metal, or cloth.
"Each year my mom gives all of us a matching ornament to symbolize that year. And I've never even taken mine out of their boxes because they're so small and fragile and I'd be devastated if I broke one," says Shireen M., of Sandy, Utah, who has osteoarthritis.
Trendy clothing
Gifting clothing can be a dicey proposition even in the best of circumstances — you have to know the person's size and style preferences — but for people with arthritis it's even trickier. You need to take into account factors like comfort, the ease of putting it on or taking it off, and details like zippers or buttons. If you really want to give someone clothing, a gift card and an offer to take them shopping may be the most thoughtful option.
"Last year my husband got me a pair of Spanx. I wasn't mad that he gave me shapewear — I'd been complaining about my 'mummy tummy' for months — but rather that I couldn't put it on. I couldn't hold it tight enough or pull hard enough. The fabric kept slipping out of my fingers," says Elizabeth S., of London, England, who has rheumatoid arthritis.
Unsolicited fitness gear
It's true that exercise can be one of the best ways to manage arthritis symptoms. But the type and intensity of exercise needed will vary from person to person. Additionally, they'll want to run it past their doctor or physical therapist before beginning. Signing up a loved one for a fitness program or giving them a set of workout DVDs or exercise equipment they haven't specifically requested or expressed interest in probably won't be helpful and may even hurt them.
"One Christmas my husband got me P90X. He said it was to help me get stronger but I couldn't even do the warm-up, much less the workout. And with my back problems I definitely shouldn't be attempting things like clapping push-ups. Let's be honest: It was for him. He got a gift for himself," says Peter W., of Tacoma, Washington, who has ankylosing spondylitis.
A surprise trip
A weekend getaway or a sunny beach vacation may be just what the doctor ordered to help your loved one escape the stress and truly enjoy the holidays. Just make sure it isn't a surprise and you let them help you plan it. Travel can be very stressful and they may need special accommodations, like a particular seat on a plane, an early prescription refill for their medications, or a ground-floor hotel room, all of which should be planned for in advance.
"My wife surprised me with a trip to Puerto Rico one Christmas. While I was very touched I ended up not being able to go because my doctor said my immune system was too fragile from my medications. Thankfully we were able to reschedule it for a later date, but that was one disappointing Christmas morning," says Claudio G., of Mesa, Arizona, who has psoriatic arthritis.
So, What Do You Buy a Loved One with Arthritis?
Start with our holiday gift list. It's full of presents that have been vetted and recommended by people with arthritis. Still not sure what to get? Just ask your loved one. It may be better to "ruin" the surprise than to give them something that hurts more than helps.
Keep Reading