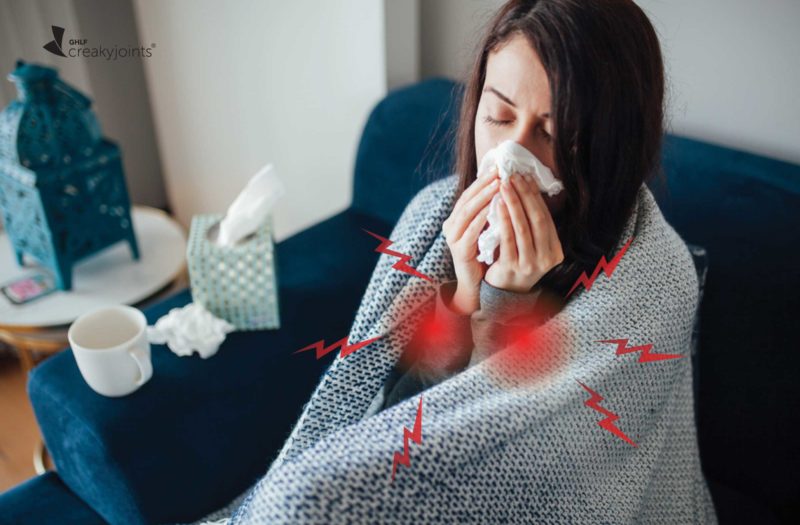 Flu season is already in full swing, so if you haven't already gotten your flu shot health experts recommend rolling up your sleeve ASAP. While that's a good move for almost everyone, people with rheumatoid arthritis (RA) ought to be especially vigilant about protecting themselves because they're more apt to contract the flu and develop flu complications like pneumonia.
While the standard vaccine certainly offers protection, a new study suggests that RA patients may want to ask their providers about the high-dose version: According to the study, which was published in The Lancet Rheumatology, RA patients who received the high-dose shot were more likely to develop flu antibodies (which protect against the virus) within 28 days of vaccination.
Researchers took 279 adults with seropositive RA and randomly assigned them to receive either the standard quadrivalent flu vaccine or the high-dose trivalent flu vaccine. Both vaccines contain inactivated (killed) pieces of flu viruses, but the high-dose one contains more of three specific strains. (The standard one contains lower doses of four specific strains.)
The rate of adverse events (including muscle aches, headaches, and fatigue) was similar in both groups, and RA patients who got the high-dose vaccine were not any more likely to have an increase in their RA disease activity. According to an accompanying commentary, "the possibility that vaccines could worsen underlying autoimmune conditions because of immune stimulation has been a persistent worry for physicians and patients."
In the United States, the high-dose flu vaccine (Fluzone) is widely recommended for adults age 65 and up because immune response to vaccines tends to weaken with age.
"These results in patients with seropositive rheumatoid arthritis are consistent with previous studies suggesting benefit of the high-dose vaccine in individuals with varying degrees of immune compromise including older people, oncology patients receiving chemotherapy, kidney and liver transplant recipients, and those living with HIV," the authors wrote.
Use Our ArthritisPower App to Manage Your Arthritis
Join CreakyJoints' patient-centered research registry to track your symptoms, disease activity, and medications — and share with your doctor. Learn more and sign up here.
Keep Reading