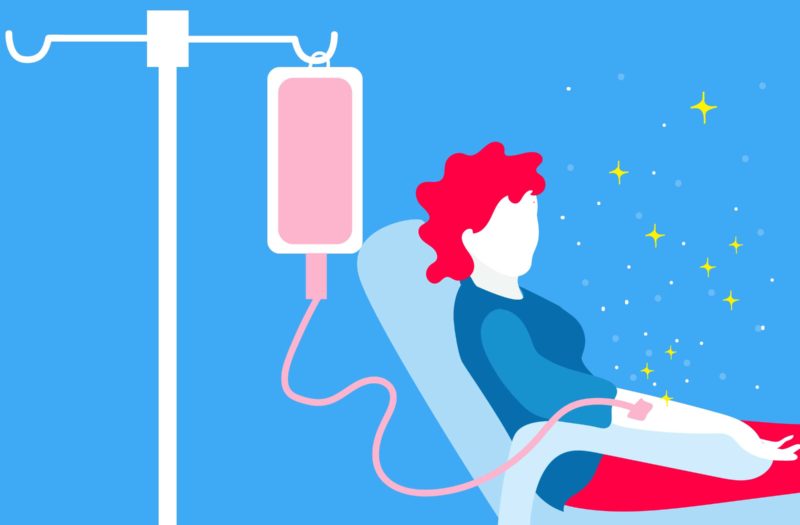 If you have a type of inflammatory arthritis or autoimmune condition that can affects your immune system function, you likely have many questions about the coronavirus pandemic that are unique to your chronic health condition. The Global Healthy Living Foundation and CreakyJoints are committed to helping you find the answers you need.
One common topic we keep hearing about is what to do about upcoming appointments for biologic infusions.
These medications — which include infliximab (Remicade), abatacept (Orencia), ritumximab (Rituxan), tocilizumab (Actemra), and golimumab (Simponi Aria) — are critical for treating inflammatory arthritis, inflammatory bowel disease, psoriasis, and other conditions.
They reduce inflammation, treat symptoms, and prevent long-term damage to joints and organs. They are administered by an intravenous infusion, usually at a doctor's office, outpatient clinic, or hospital. They are given anywhere from once a month to once every six months depending on the medication.
These biologics can be considered immunosuppressing because they work on different immune system pathways to curtail the inflammation that occurs in these chronic conditions.
Although you might assume that medications that modify your immune system could make you more susceptible to infections like coronavirus or complications from it, many questions remain about their impact on COVID-19 specifically. There is not yet definitive evidence whether certain medications could cause worse outcomes for patients, or, on the flip side, even possibly be protective against COVID-19 complications
What is known: When inflammatory arthritis is not well-controlled (not in remission or low disease activity) your immune system tends to focus on attacking your own body rather than outside threats (like the coronavirus).
Arthritis that is flaring means that your immune system may be less able to fight off infection.
Should You Stop Your Next Biologic Infusion If You're Currently Healthy?
The answer is generally no, but you should speak your health care provider about your specific situation.
In guidance recently issued from the American College of Rheumatology (ACR) and published in the journal Arthritis & Rheumatology, if you are otherwise healthy and do not have an infection or coronavirus exposure, biologic infusions may be continued.
Stopping a biologic infusion can lead to flares or your arthritis, inflammatory bowel disease, or psoriasis, which could require you to need to see your health care provider (and right now, you want to try to avoid non-emergency health care appointments) or require you to take corticosteroid medication to manage the flare. These medications further suppress the immune system.
What Doctors' Offices Are Doing to Keep Patients Safe
If you have been staying at home as much as possible, it's natural to worry about going to a health care setting to get an infusion. But it is critical to know that doctors' offices are following a rigorous set of measures to keep patients safe.
If you have concerns, it's a good idea to call your doctor's office ahead of time to ask about what to expect in terms of new procedures. Examples of procedural changes for infusions include:
Screen for coronavirus symptoms among office staff and patients
Ensure social distancing in waiting rooms or eliminate waiting rooms altogether (ask patients to wait outside the facility, such as in their car)
Limit the number of patients and staff in the office at one time
Use thorough disinfecting measures, including cleaning all equipment and high-touch surfaces between each patient use
Use personal protective equipment (PPE)
Situations When You May Need to Stop or Postponing a Biologic Infusion
You're sick with a fever or other possible COVID-19 symptoms when you are scheduled for your infusion
You have a known exposure to COVID-19, such as someone in your household is currently sick
You don't have safe transportation to the clinic where your biologic is administered
The American College of Rheumatology urges that doctors and patients communicate and work together to individualize care for patients' personal situations.
"In light of each patient's unique circumstance and the risks related to potential disease flares and risk of infection, decisions about patient therapies and site of therapy must be individualized and made by the physician and the patient rather than insurance companies or other entities," the ACR shared in a statement called "ACR Infusion Guidance During COVID-19 Crisis."
While maintaining the current infusion schedule is likely the appropriate choice for many patients, the ACR suggests some alternative options if needed. These include:
Temporary interruption of therapy
Increased dosing intervals
Temporarily using a bridge therapy, such as a less potent anti-inflammatory or immune modulating agent
Temporary change to an alternative therapy
The most important message is this: You should not stop your biologic infusion (or any other medications) without first talking to your doctor. Your doctor is there to hear your concerns, answer your questions, and help ensure that your inflammatory condition stays well-managed during these uncertain times.
Get Free Coronavirus Support for Chronic Illness Patients

Join the Global Healthy Living Foundation's free COVID-19 Support Program for chronic illness patients and their families. We will be providing updated information, community support, and other resources tailored specifically to your health and safety. Join now.
A Message from the ACR about Coronavirus Disease 2019 (COVID-19). American College of Rheumatology. https://www.rheumatology.org/announcements.
ACR Infusion Guidance During COVID-19 Crisis. American College of Rheumatology. https://www.rheumatology.org/Portals/0/Files/ACR-Infusion-Guidance-COVID-19.pdf.
Interview with Angus Worthing, MD, a clinical assistant professor of medicine at Georgetown University Medical Center in Washington, D.C.
Interview with Leah Alon, MD, a rheumatologist in New York City
Interview with Lee Simon, MD, a rheumatologist and research scientist who has served as Division Director of Analgesic, Anti-inflammatory, and Ophthalmologic Drug Products at the U.S. Food and Drug Administration (FDA)
Interview with Vinicius Domingues, MD, a rheumatologist in Daytona Beach, Florida
Mikuls TR, et al. American College of Rheumatology Guidance for the Management of Adult Patients with Rheumatic Disease During the COVID-19 Pandemic. April 29, 2020. doi: https://doi.org/10.1002/art.41301.