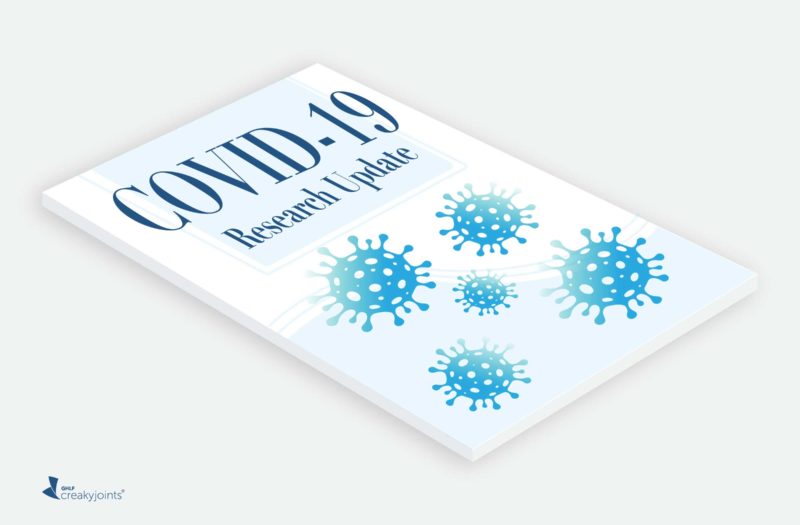 Anyone can develop serious complications of COVID-19, but are people with rheumatic conditions — such as rheumatoid arthritis, ankylosing spondylitis, or lupus — at an even higher risk?
From the start of the coronavirus pandemic, many rheumatic disease patients worried about these issues. The lack of any data about the prevalence and outcomes of COVID-19 risks in this population was not helping doctors to start answering these questions.
Now, about six months after COVID-19 started to spread around the world, we are getting some preliminary answers, thanks to an international research registry that quickly began gathering data on patients with rheumatologic conditions who got coronavirus. When the pandemic broke out, a group of scientists, rheumatologists, and patients created a registry called the COVID-19 Global Rheumatology Alliance for the purpose of learning about how coronavirus impacts people with rheumatic disease.
Newly published research, which appears in the journal Annals of the Rheumatic Diseases, is an analysis of 600 case reports that were sent to this registry between March 24 and April 20, 2020 by physicians from 40 countries.
Most patients in the registry were female (71 percent) and the biggest age group was age 50 to 65 (38 percent). The most common rheumatic conditions represented were rheumatoid arthritis (38 percent), systemic lupus erythematosus (14 percent), and psoriatic arthritis (12 percent). The most common comorbidities were hypertension (33 percent), lung disease (21 percent), diabetes (12 percent), and heart disease (11 percent).
Overall, 46 percent of the 600 patients in the registry wound up being hospitalized with coronavirus complications.
While the rate of hospitalization was higher than in the general population of patients with COVID-19, this likely reflects the way data was collected for this specific registry. All data was entered by rheumatology health care providers. For example, if you're a rheumatology patient presenting to your rheumatologist with COVID-19 symptoms, they may take more precautions with your care and your likelihood of hospitalization may be higher.
This study "should not be interpreted as the true rate of hospitalization among patients with rheumatic disease infected with SARS-CoV-2," the authors note.
However, the data do suggest that certain factors are more associated with needing hospitalization. Here's what this initial analysis shows:
1. Age had a big impact on hospitalization
Most hospitalized patients were over age 65 (43 percent), compared with 16% of non-hospitalized cases.
2. Certain rheumatic conditions were more likely to require hospitalization than others
A higher percent of people who were hospitalized had lupus and vasculitis. Patients with psoriatic arthritis and axial spondylitis were less likely to be hospitalized.
3. Comorbidities increased the likelihood of hospitalization
Guidance from the American College of Rheumatology issued back in April suggested that age and comorbidities seem to be bigger influences on poor outcomes from COVID-19 than having an inflammatory condition alone, and this data seems to support that.
There were more comorbidities among people who were hospitalized, including:
Hypertension (45 percent among patients who were hospitalized vs. 23 percent among those who were not hospitalized)
Lung disease (30 percent among patients who were hospitalized vs. 14 percent among those who were not hospitalized)
Diabetes (17 percent among patients who were hospitalized vs. 7 percent among those who were not hospitalized)
Cardiovascular disease (14 percent among patients who were hospitalized vs. 7 percent among those who were not hospitalized)
Chronic renal insufficiency/end-stage renal disease (12 percent among patients who were hospitalized vs 2 percent among those who were not hospitalized).
4. Glucocorticoids were linked with hospitalization, but other medications were not
While a number of drugs commonly used to treat rheumatic disease do impair immune response to a certain extent, some have a greater impact than others. The newly published research confirms this and points to glucocorticoids as the treatment most linked with COVID-19 complications.
When researchers broke down the data based on treatment use, they found that those taking at least 10 mg of prednisone — a commonly used corticosteroid — per day were by far the most apt to require hospitalization.
"Use of conventional disease-modifying antirheumatic drug (DMARD), alone or in combination with biologics/Janus kinase inhibitors, was not associated with [increased risk of] hospitalization," the authors wrote.
People who used non-steroidal anti-inflammatory drugs (NSAIDs) and antimalarial drugs like hydroxychloroquine were not any more apt to be hospitalized, either.
Patients who were only regularly using a biologic (called monotherapy) — most often an anti-TNF medication (like etanercept or infliximab) — were the least likely to require hospitalization.
Glucocorticoids like prednisone, when taken in moderate to high doses, may lead to serious COVID-19 complications because these drugs can have effects on the entire body.
Biologic medications, in contrast, are targeted to specific molecules related to autoimmune disease, so they don't impair other parts of the immune system in the same manner. Read more here about glucocorticoids and coronavirus.
5. Most patients recovered from COVID-19
Of the 600 patients, about half were hospitalized and 55 patients (9 percent) died. "This study demonstrates that most individuals with rheumatological diseases or on immunosuppressive therapies recover from COVID-19," the authors write. "Results support the guidance issued by the American College of Rheumatology and the European League Against Rheumatism, which suggest continuing rheumatic medications in the absence of COVID-19 infection or SARS-CoV-2 exposure."
Get Free Coronavirus Support for Chronic Illness Patients

Join the Global Healthy Living Foundation's free COVID-19 Support Program for chronic illness patients and their families. We will be providing updated information, community support, and other resources tailored specifically to your health and safety. Join now.
Gianfrancesco M, et al. Characteristics Associated With Hospitalisation for COVID-19 in People With Rheumatic Disease: Data From the COVID-19 Global Rheumatology Alliance Physician-Reported Registry. Annals of the Rheumatic Diseases. May 29, 2020. doi: https://doi.org/10.1136/annrheumdis-2020-217871.