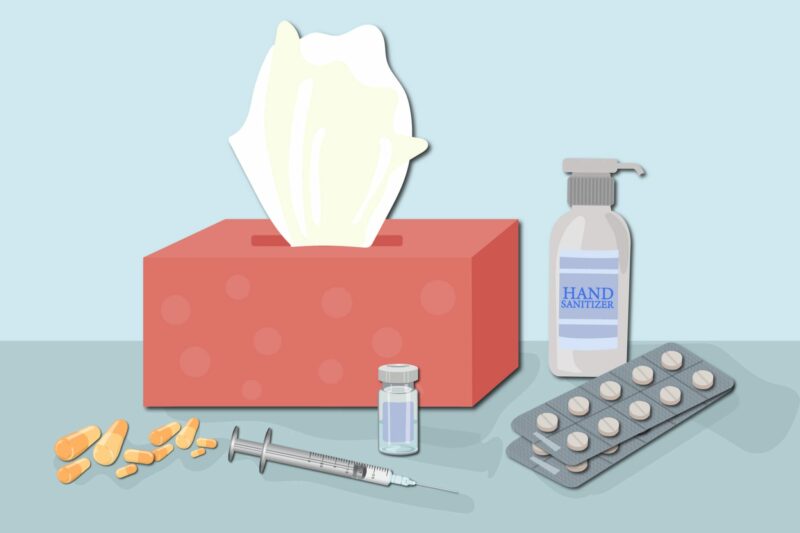 Experts are predicting a surge in flu cases this year, saying there is a strong indication the flu will hit the U.S. hard this winter based on what's happened in the Southern Hemisphere during their winter. And with COVID cases expected to surge in the winter as well, some are even calling it a twindemic.  
All that is to say, while it is always important to stay up to date on vaccines, this year it is especially important. For our community who lives with chronic illness and may be immunocompromised and high-risk, vaccines help provide protection from severe illness and complications. 
In our latest poll, the Global Healthy Living Foundation's COVID-19 Patient Support Program aimed to gain insight into our community's plan for getting the influenza vaccine. 
Of the 1,202 respondents, 93 percent are up to date on all eligible COVID-19 vaccines or have taken pre-exposure prevention medicine (e.g. Evusheld). Overall, the findings were similar to a flu shot poll we conducted this time last year.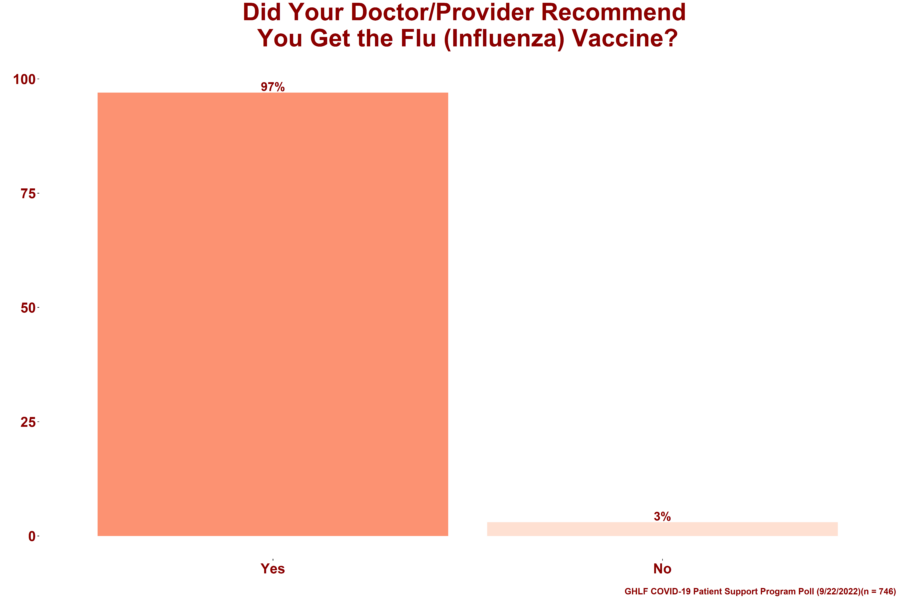 People are talking to their doctor about the flu vaccine
Sixty two percent said they have spoken to their doctor/provider about getting the flu (influenza) vaccine, and of that, 97 percent said their doctor recommended getting the flu shot. 
From the free response section where respondents could elaborate on answers provided in the survey, many people said they had questions about the timing of the vaccine, especially when it comes to timing the vaccine to last for the whole flu season and scheduling it around the COVID booster and Evusheld. 
"

When is the best time to get it?"

"

Always wonder when is the best time to get it. We always get ours mid-September but some say wait till October."

 

"

Are we safe to get the COVID vaccine together with the flu vaccine?"

 

"How far apart should I get the flu shot, next booster, and Evusheld?"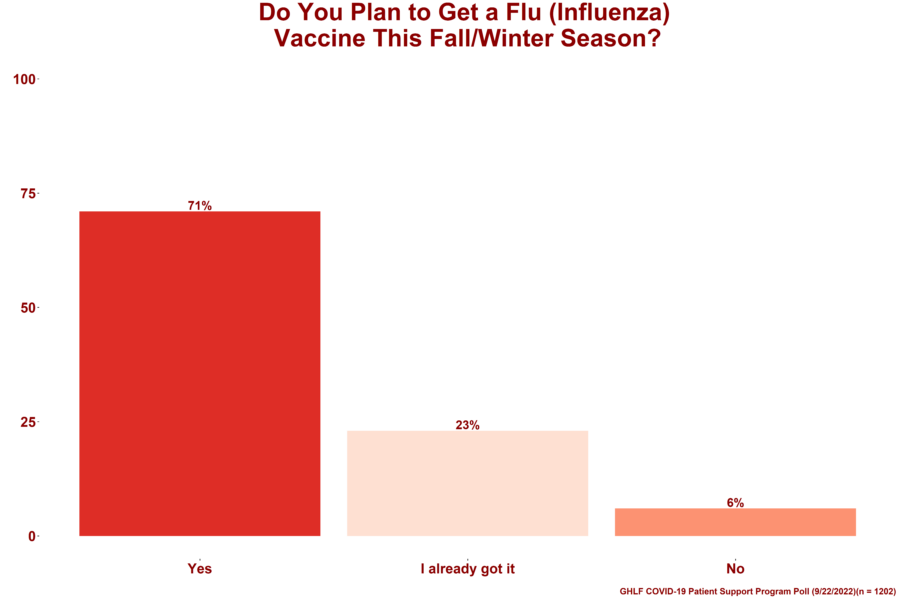 Majority have gotten (or plan to get) their flu vaccine
When asked about plans to get their flu shot, 71 percent said they plan to get it, and 23 percent said they have already received their flu shot. This makes sense, given that 94 percent reported that they usually get the flu shot. From the free response section, we learned that many are getting their flu shot in October, so the protection lasts for the whole season. 
Many wrote that they are getting the flu shot and COVID booster at the same time. You can even check for local deals, as this person wrote: "My local grocery store was offering free flu and COVID-19 boosters for seniors. I got the bivalent COVID booster, and the flu shot and also saved 10 percent on my grocery bill for getting them." 
Be sure to talk to your doctor about timing your vaccines and whether you need to pause your medications. Read more about getting the latest COVID-19 booster and flu shot this fall.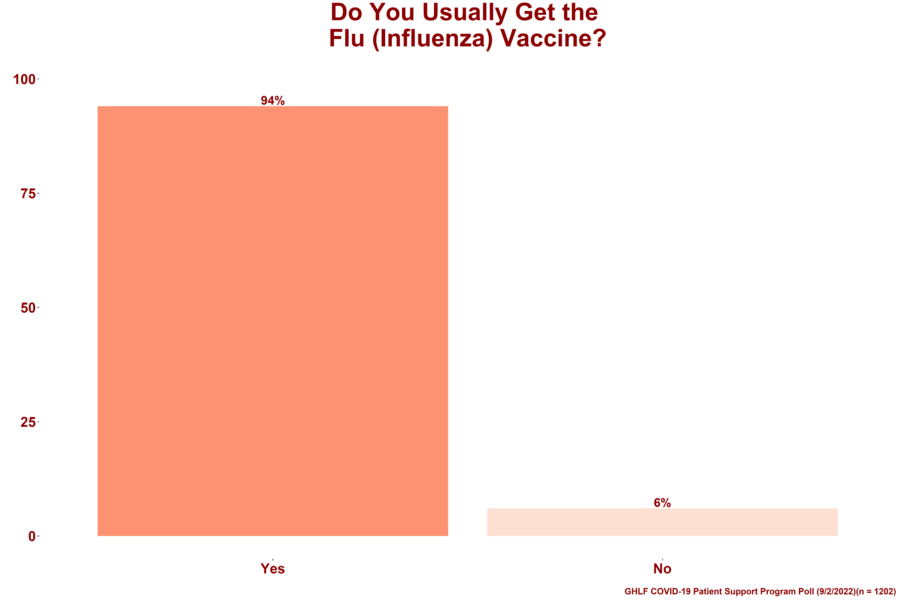 Overall, people continue to see the importance of flu shot
While many in society continue to move on from COVID and safety precautions are dropped, those in our community remain vigilant about a winter surge. Based on our free response section, there is a sense of urgency among our community to get the flu shot: 
"We always get the flu vaccine, and I think it's even more important this year as I expect another surge of COVID. We immunocompromised folks can't take chances."

 

"We are already seeing more flu this year with few people masking. I plan to get mine in October so hopefully it covers me throughout spring time."

 

"This fall seems more important than any other although I always get the vaccine."

 

"The yearly flu shot and COVID booster shots give me a safe sense of security for the season."

 
Get Free Coronavirus Support for Chronic Illness Patients
Join the Global Healthy Living Foundation's free COVID-19 Support Program for chronic illness patients and their families. We will be providing updated information, community support, and other resources tailored specifically to your health and safety.
About the Patient Support Program Quick Poll
Members of our program have underlying health issues — such as inflammatory arthritis and other autoimmune conditions, heart disease, lung disease, diabetes, and more — that may increase their risk for COVID-19 complications. They are interested in understanding the best ways to stay safe during the pandemic and to be part of a community of people with similar concerns, questions, and fears.
We regularly poll members, who live in the U.S. as well as around the globe, about a variety of topics, including how the pandemic is affecting their lifestyle, mental health, chronic disease management, medication adherence, and more.
We use this information to inform the educational resources we provide and to inform other stakeholders — such as public health experts, policymakers, advocacy groups, health care professionals, and pharmaceutical companies — about chronic illness patients' needs and concerns. You can participate in ongoing polls by joining the support program.