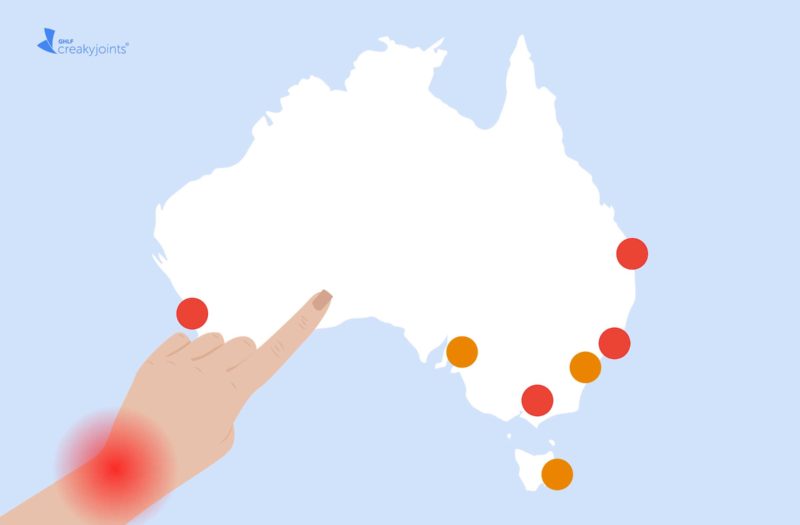 Please note: The views in this piece are my own and do not necessarily represent those of CreakyJoints.
While seeing COVID-19 stories from around the world can be overwhelming, it can also be strangely comforting. It shows us how much we have in common — especially as chronically ill, high-risk patients — no matter where we live or what we do.
There's no doubt that people in poor communities, especially in developing countries, are the most vulnerable in global pandemics. Yet, this novel coronavirus also affects society's most powerful and elite (including prime ministers and royal family members) and some of anxieties surrounding it are universal.
These anxieties include things like:
Losing income or becoming unemployed
Having restricted access to essential food and services
Being isolated from others
Being unable to care for loved ones if they become ill
Losing someone we love to COVID-19 or dying from it ourselves
On the other hand, COVID-19 has also reminded us that there is plenty of good in the world. Across the globe, we've seen acts of inspiration, help, and faith, such as:
Neighbors buying groceries for each other
Organizations pooling resources and sharing information
People singing and dancing together via social media and videoconferencing apps
People slowing down to enjoy the little things in life
What is not always so universal is how our respective governments and health care systems have reacted to this crisis — and how prepared they were to start with.
I would never say that Australia was "lucky" to have gone through our worst summer bushfire season in history just as the coronavirus arrived here, but it did help prepare us for the pandemic in many ways.
Before COVID-19: Reeling from Crisis
When the coronavirus hit our shores in late January 2020, Australia was already in a state of crisis. The country was reeling emotionally and economically from the bushfires that burned for months and the drought that had dragged on in parts of the country for years.
From the first months of our spring (September and October) bushfires were appearing with unusual regularity and ferocity. By New Year's Day, enormous bushfires were burning out of control in most states, particularly down the east coast of the country.
Many communities were demolished by the flames and a thick smoke haze hung like dense pollution over regional centers and capital cities alike (even those hundreds of kilometers away). In some areas, people had started using masks to go outside or were stuck at home while the roads around them were gradually unblocked.
Our conservative federal government was widely criticized for being too slow to respond to the bushfire situation and climate change warnings. They lost a lot of credibility due to the many mistakes they made in the first weeks and months of the crisis.
Coming Together for Good
However, as the fires progressed in January, Australia's government at all levels started to work more closely together to create appropriate disaster management responses.
For example, they quickly established mobile social welfare offices in affected regions and allowed pharmacists to dispense some medications without prescription documents to people whose homes had burned down.
Communities were banding together to share food, shelter, and other resources. Those not immediately impacted were donating their time and money to help those left with nothing.
Each day, Australian news reports covered the physical, emotional, and financial devastation caused by the fires. At the same time, we also started seeing reports of the coronavirus crisis unfolding in China. Even though most Australians were safe from both, our collective angst was high and getting higher.
By February, most of the fires were either out or under control. They are estimated to have burned through over more than 105,000 square miles (170,000 square kilometers, as we put it) across the country. Ironically, some eastern states experienced flooding in places where the fires had been only weeks before.
Meanwhile, coronavirus evacuees began to be flown back to Australia from the Wuhan province — the world's original epicenter — and from the Diamond Princess cruise ship in Japan to be placed in quarantine here.
I believe that, as Australia was still very much in disaster mode when COVID-19 hit, we were in a better position than many other countries to respond and prepare for it.
When COVID-19 Reached Australia
Australia's geographical position has helped us avoid the scale of devastation that COVID-19 has caused so many other countries. We have no land borders for people to flow across each day.
We've got an area of roughly 2.9 million square miles (7.7 million square km) and a population of around 25 million. (By comparison, the U.S. has an area of roughly 3.8 million square miles or 9.8 million square kilometers and a population of around 328 million.) In other words, although the majority of us live in the eastern states, we have a lot more space around us on average. We don't have densely populated areas like those that have become COVID-19 hotspots in other countries.
That didn't stop the coronavirus from getting here, though. We were closely monitoring travelers from Asian countries early on, but we weren't monitoring travelers from Europe or the Americas at that stage. We are also a popular destination for cruise ships crossing the Pacific, Indian, and Southern Oceans.
Passengers from one ship in particular, the Ruby Princess, were somehow allowed to freely disembark in Sydney in mid-March despite there being suspected cases on board. As these passengers dispersed across the country, many brought the virus with them. This situation is currently the subject of intense health and legal investigation.
Like in other countries, many Australians initially dismissed this coronavirus as being "just like a flu" that would "blow over in a few weeks."
Those of us with chronic health issues, though, tended to be concerned and anxious before the rest of the population. I personally live with a host of chronic underlying health conditions, including rheumatoid arthritis, ankylosing spondylitis, fibromyalgia, and type 2 diabetes. I take medications that suppress my immune system and I was worried from day one.
At first, there was a lot of confusion as so many things around us changed rapidly. For example, health experts were urging caution while politicians were still saying it was OK to go to football matches. We didn't know whether to hold events or cancel them.
And, like the rest of the world, we started panic-buying hand sanitizer and toilet paper!
About Australia's Health and Welfare Systems
Australia has a world-class health care system that includes both public and private components. We have a government-run health care service called Medicare that almost all Australians can access. This allows us subsidized access to a wide range of health services, including prescription medications and primary doctor visits. We can choose to pay for private health insurance (if we can afford it) but we can still access most health services without it.
We have a comprehensive social welfare agency called Centrelink, which is also government-run and funded. Over the last year, the separate National Disability Insurance Scheme (NDIS) has also been rolled out to centralize most of the community support services previously run by state and local governments.
While these systems are invaluable to us, they have arguably been severely underfunded by progressive governments over many years and there are many gaps through which vulnerable people have fallen.
The current federal government has always been conservative when it comes to funding health and welfare services. However, dealing with the bushfire disaster followed by the coronavirus crisis has prompted them to pour billions of dollars into these services at an unprecedented rate.
The main spending areas have been the rollout of free or subsidized telehealth services, welfare payments for those suddenly finding themselves unemployed, and subsidies for many affected businesses. Some models show our unemployment rate may double to the highest level in 30 years – more than during the global financial crisis of 2008.
New Problems Created for Vulnerable People
Governments and businesses alike have been forced to reorganize their entire structures within a few weeks. Although implemented with the best of intentions, many have created further problems.
For example, the major supermarket chains set up "community hours" from 7 to 8 AM to help elderly or disabled people access their groceries in less crowded stores. Yet, many of those same people simply can't get to a supermarket on their own, let alone at that time of the morning. That meant that people had to start showing their benefit cards or somehow proving their invisible illnesses to supermarket staff with no training or authority in this area. Online grocery shopping has been re-commenced for isolated or vulnerable people but this is still fractured and not available everywhere.
The federal government made unemployment benefits available to hundreds of thousands of people overnight and doubled the benefit payable for the next six months. They have also set up a wage-subsidy scheme for businesses most affected by the lockdowns so they can retain some or all of their staff. These benefits are very much appreciated by many Australians.
Yet, to date, the government has not increased the regular payments to those the Disability Support Pension or Carer Allowance at all. People on these benefits will receive two one-off lump sums, which is still helpful. However, it means that those on disability benefits will be financially worse off than their counterparts on unemployment benefits at least for the next six months.
This situation is one of the many consequences of the necessary "policy-on-the-run" approach forced on all governments across the world and it is currently a hot topic for advocacy groups.
One problem specifically affecting some people with rheumatoid arthritis and lupus is the sudden loss of access to hydroxychloroquine (Plaquenil). Just like in the U.S. and other countries, the experimental use of hydroxychloroquine as a COVID-19 treatment has led to an excessive demand for it.
In Australia, the government quickly tightened the restrictions on who could prescribe and access hydroxychloroquine. We have now been assured that there is enough supply of the drug in Australia but it may still take weeks for this to filter back to the pharmacies and the people who rely on hydroxychloroquine for treatment.
What Lockdown Looks Like in Australia
The degree of lockdown and social distancing restrictions varies a little between each of the Australian states and territories. As a nation, we've been instructed to self-isolate for at least 14 days if we've been potentially exposed to the virus or are showing symptoms of it. Other measures include:
Banning all international and most interstate travel
Social distancing of at least 1.5 meters (about five feet) between people in all public places
Canceling public events and closing most public venues such as restaurants and sporting clubs
Switching almost all educational services to online/at home programs
We've been encouraged to stay at home as much as we possibly can, only going out to:
Do essential shopping
Exercise outdoors under limited circumstances
Attend medical/allied health appointments if these cannot be done by telehealth
Pick up medications from the pharmacy
Work if it is not possible to do so from home
Many restrictions are enforceable by law and, generally speaking, most Australians are complying with them without the need for the government to implement a complete lockdown (at least for now).
I think we've moved through the initial panic stage and are starting to settle into new daily routines. Naturally, those without a guaranteed regular source of income are very worried for their future, but there are some basic safety nets around to support most people.
We've experienced many of the same supply issues other countries are having, such as accessing personal protective equipment for our health care workers and ventilators for our hospitals, but our health care system has not been overwhelmed and we are starting to manufacture these things here.
At the time of writing (mid-April) Australia has around 6,500 confirmed COVID-19 cases and the rate of infection has slowed significantly. The challenge for us now is to continue to "flatten the curve," to avoid getting too complacent about social distancing and lockdowns, and to ensure that we all get enough social, financial, physical, and mental health support in the months to come.
As the bushfire crisis showed, we are a caring, supportive, and extremely resilient bunch and I believe we will come out of this OK.
Get Free Coronavirus Support for Chronic Illness Patients

Join the Global Healthy Living Foundation's free COVID-19 Support Program for chronic illness patients and their families. We will be providing updated information, community support, and other resources tailored specifically to your health and safety. Join now.