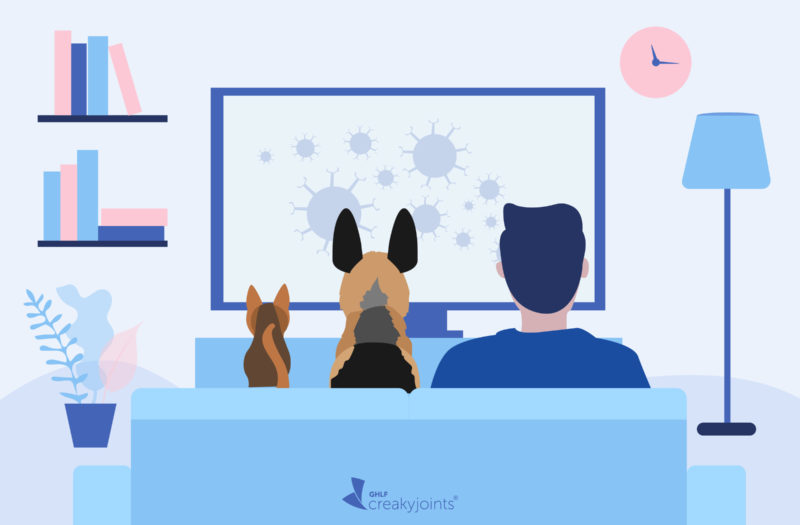 I don't want to brag, but I got a huge crate of toilet paper from Costco three weeks ago. And a 12-pack of Kleenex boxes. And a big bag of paper towels. My ass is good. Literally.
When you've been battling a chronic illness for 10 years — fortunately or unfortunately — you learn to be ahead of the curve. The first time I really paid attention to the coronavirus crisis was when I read that Italy had taken the drastic measure to quarantine several small towns near Venice. It immediately triggered my chronic-illness-Spidey-senses. (A few weeks ago, I cancelled plans for a mid-March trip to Italy that my girlfriend and I had been planning for many months.)
I don't know why, but I knew this was coming over here and I wanted to be prepared.
'Trust Me,' I Told My Mom
So I went to Costco. My mom, who I live with in Palm Springs, thought I was nuts. I didn't care. My immune system was weak from rheumatoid arthritis and the immune-suppressing methotrexate and Remicade infusions I get to manage it. She's 76 and also immunocompromised. We needed to be mindful. And proactive. I'd scored a three-pack of Clorox wipes and vigorously wiped down all of our door handles, fridge doors, light switches, car steering wheels, garage door button, microwave buttons, stove dials, you name it, all of it.
She glared at me with both concern and annoyance. It's not an easy look to pull off unless you're Meryl Streep.
"Trust me," I told her.
"I hate when you say that," she snapped back. It's true I did say that a lot and it was slightly mansplainy. She already thought I was bossy before all of this COVID-19 kookiness. Now she told me I should consider going on anti-anxiety medication (she's a retired shrink).
Flash-forward a week — my mom was still going to her bridge game. To sit in a room with 80 other, let's say "mature," folks, sharing plastic playing cards, baked pastries, and phlegmy coughs for three hours. Now who needed psychiatric care?
"Are you sure you want to go?" I hinted as calmly as possible.
I promptly received an eye roll.
"Okay fine, but let's compromise," I offered. "As soon as you get home, please take your clothes off in the laundry room, put them in the washing machine, and take a shower."
"Fine."
And that's what she did. After she came out of her room, bathed head to toe, sporting a fresh pink housecoat, she announced solemnly, "I'm not going back to bridge."
Phew.
A Fight on the Very First Day
Since that day, a week ago Tuesday, she hasn't left the house. And I haven't either, except to walk the dogs and make one more 5:45 a.m. Albertson's run. We are taking the experts advice dead serious:
If you're elderly or immuno-compromised, STAY THE FUCK HOME. (If you can. I know that I'm lucky that I work from home already. Many people do not have that option yet, and I feel for them.)
As soon as we made the decision to self-quarantine, the very first day, we had a huge fight. Like screaming at the top of our lungs. I worked all day writing, in a sort of super-self-self-quarantine and my mom got really mad. She thought I was avoiding her on purpose.
"You haven't spent any time with me all day!" she cried.
"I'm not doing anything different than I normally do!" I shot back. Yes, I missed our nightly Jeopardy watch but I was on a deadline.
"You are acting like I'm Typhoid Mary!"
"Are you insane? We are about to spend eight weeks trapped in this house together! We will have more than enough time to hang out! We will be together so much we'll be lucky if we don't kill each other!"
Later that night, I found out we weren't alone in our angst. Almost all of my friends who made the decision to quarantine already had fights with their loved ones. One pal up in Silicon Valley told me her partner stormed out of the house. Another FB friend posted: "Seeking recommendations for someone who can build me a panic room from my children." My bff in Jersey was apoplectic when her 86-year-old father snuck out of their house for cigarettes.
My friend in Seattle summed it up best: "Patience wearing thin, only two days down. We've had short fuses. It's trying for the best of us."
A New 'Not-Normal' Normal
All of a sudden, it dawned on all of us that our lives as we knew it were over, indefinitely, and we snapped. Everything we used to do was out the window. We'd be spending inordinate amounts of time together and for a lot of couples and families, that's actually not the norm. We were going to have to adapt and compromise, perhaps more than we ever had, and renegotiate space and time and chores again.
Change is hard. But doable.
Happy to say that my mom and I hashed it out, and we've calmed down into a nice quarantine pace. We wake up and I walk the dogs. She has coffee and does her crossword puzzle, occasionally tossing me a pop culture clue (the answer is always Jay Mohr) while I make us breakfast. Lately it's bacon, egg, and cheese on an English muffin. (But gotta conserve those hard-to-find eggs!)
Then we go our separate ways — her into the den to do a puzzle, me into my makeshift office at the dining room table — until dinner. We make dinner together. We stuff our faces with the delicious dessert we made from scratch. I walk the dogs again. A little TV, then bed.
That's the basic schedule but allows for wiggle room and other activities, alone or together. We've been cooking and baking so much that I started a Facebook group called "The Self-Quarantine 15," a nod to the Freshman 15 I gained in college. I'm definitely on track for a 15-pound weight gain while social distancing.
With a chronic illness like RA, I need to watch my sugar and salt intake. It's going to be a challenge, especially because meat and fish and fresh produce are scarce right now and my freezer is stuffed with processed food. I also need to keep moving because I'm not going to the gym anymore. I'm taking walks around the neighborhood but because of my arthritic right foot, I can't do long ones every day. I just bought a used bike so I can ride around our community. Have to figure out how to get it here though. In the meantime, I'm looking into apps that show you how to work out at home with no equipment.
Managing Anxiety
I'm definitely paranoid about coming into contact with strangers and my anxiety overall has been through the roof, especially at night. It's hard to avoid all of the scary news unless you completely unplug. I want to keep my stress as low as possible because, as all of us with chronic diseases know, stress can trigger a flare. (PS I'm continuing with my meds and will make a decision with my doctor about my next infusion when it gets closer.)
To relax, I've been doing the usual Netflix-and-Chilling. I highly recommend mindless entertainment like the reality show Love is Blind or the calming beauty of the Disney+ documentary on the Grand Canyon. My mom hates board games but I'm forcing her to play Rummikub (or whatever other dusty games are in the hall closet and still have all the pieces). We're learning the card game Spite and Malice. I also started playing Words with Friends again. It keeps my mind occupied plus I like playing a game that's actually connected to real live friends.
I ordered some adult coloring books and did a little online shopping. Okay a lot, but it's helping the economy, right? I have no idea when or where I'll wear these clothes in public again, as my daily uniform now consists of sweatshorts, T-shirts, and flip-flops.
I don't know about you, but I normally sleep like a rock and snore like a freight train. Lately, even I'm having trouble falling asleep. I have panic attacks thinking I have a sore throat. "Welp, here it is," I say to myself every five seconds. So, to help me calm down, I play Katherine Liner's adult lullaby album Lullabies in Motion.
We have lots of house projects planned that we've been putting off, like sprucing up our patio with flowers, plants, and herbs, and cleaning out and reorganizing all of our kitchen cabinets. I will prob keep pushing that last one off. Because to be honest, most of the stuff I'm doing in quarantine are the things that will make me happy and help others. Like making sure our elderly neighbors have what they need (I will gladly give up a roll of TP or two), checking in on those who are home alone (a Zoom movie date perhaps?), or sending a friend who is worried about paying the bills a gift card to Target (he may have to get there at 5:45 am but hopefully it'll still help).
We may be socially isolated but we're all in this together.
Get Free Coronavirus Support for Chronic Illness Patients

Join the Global Healthy Living Foundation's free COVID-19 Support Program for chronic illness patients and their families. We will be providing updated information, community support, and other resources tailored specifically to your health and safety. Join now.