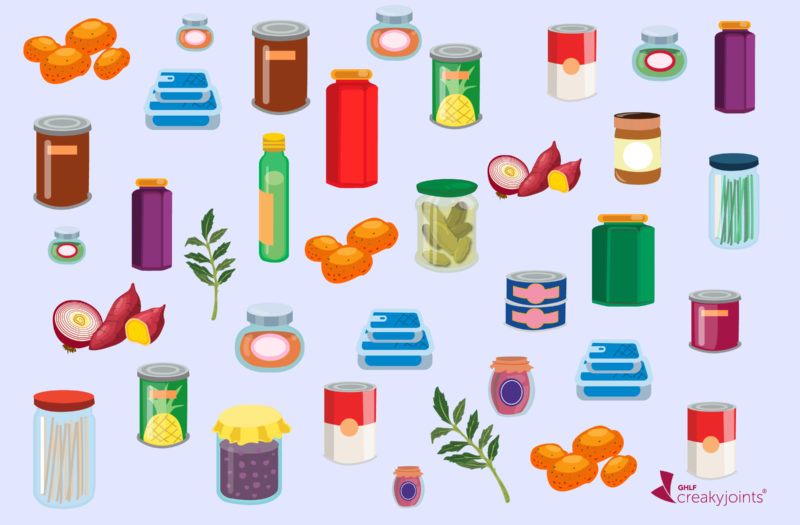 People who are higher risk for coronavirus complications — because they have chronic health problems, are immunocompromised, or are older adults — have many worries on their minds these days. Food-related issues are a big one. It is unsettling to:
Not know how much food to stock up on
Feel like you can't afford to stockpile food
Worry about whether the grocery store will have what you need
Worry about getting exposed during essential errands
Worry about gaining weight from overeating
Worry about eating too many processed foods
Worry about what to make with the hodge-podge of shelf-stable foods piling up the pantry
In a recent poll of CreakyJoints and Global Healthy Living Foundation members, most people are reporting that the circumstances of the coronavirus pandemic have changed their eating habits. About one-third said they are eating a lot more junk food than usual and about another third said they are eating healthier than usual. (The remaining third said their eating habits have not really changed.)
If you are among those who would like to eat nutritious meals but are struggling right now, we developed an anti-inflammatory meal plan based around common pantry foods. It is extra-important for people with such conditions as inflammatory arthritis, heart disease, diabetes, and other chronic conditions to eat wholesome anti-inflammatory foods as part of overall management of their condition (including taking necessary medications).
Even if doesn't seem that way right now, it is possible to eat well — and stick with an anti-inflammatory meal plan — when you can't always run out to pick up fresh ingredients.
Here is a full week's worth of delicious meals and snacks featuring anti-inflammatory foods. Each meal is packed with health-boosting foods including fruits and vegetables, whole grains, beans, nuts and seeds, olive oil, and oily fish, and is made primarily with pantry and freezer foods you can keep readily available.
Day 1
Breakfast
PBJ Oats: Prepare one serving of rolled oats with water. Top with peanut butter and defrosted frozen raspberries or a small spoonful of raspberry fruit spread.
Lunch
Rice and Beans: In a skillet, heat canned diced tomato. Add drained and rinsed black beans and cooked brown rice. Season with cumin and chili powder.
Snack
Nuts and dried fruit (anything you have on hand: Peanuts, almonds, pistachios, raisins, cranberries, figs)
Dinner
Cajun Salmon Burgers: Green onion optional; if no bun is available, serve on top of a shelf-stable whole grain like quinoa or brown rice. Get the recipe.
Day 2
Breakfast
Sweet Potato Pancakes: Use canned sweet potato puree or cooked whole sweet potato, if available. Get the recipe.
Lunch
Tossed Nicoise-ish Salad: In a bowl, mix together drained and rinsed canned French-style string beans, drained and rinsed white cannellini beans, sliced drained and rinsed canned potatoes, drained and flaked canned tuna, drained canned black olives, olive oil, red wine vinegar, and a pinch of dried tarragon.
Snack
No-Bake 3-Ingredient Peanut Butter Bites: Get the recipe.
Dinner
Chickpea Coconut Curry: In a medium saucepan over medium heat, saute ½ onion, chopped, and 1 clove garlic, crushed, in olive oil (omit garlic and onion if unavailable). Add ¼ teaspoon curry powder. Add 1 can drained and rinsed chickpeas and 1 can drained diced tomatoes. Mix well and add ½ cup coconut milk. Bring to a simmer and add salt and pepper to taste.
Day 3
Breakfast
Morning Peach Cobbler: Drain syrup from a can of peaches. In a microwave-safe bowl, heat in microwave. Add ½ cup rolled oats, ¼ cup pecans, nutmeg and cinnamon to taste.
Lunch
Instant Pot Turkey Chili: Omit turkey and onion if unavailable. Get the recipe.
Snack
No-Flour Black Bean Brownies. Get the recipe.
Dinner
Pasta Puttanesca: Prepare a box of spaghetti, according to package instructions. While the pasta is cooking, heat around 2 tablespoons of olive oil a large saute pan over a medium flame. Add 1 can of boneless, skinless sardines, drained and flaked. Cook for around 30 seconds and add 1-2 cups of prepared tomato sauce. Reduce heat to low and add capers, sliced black olives, and crushed red pepper flakes to taste. Add cooked pasta and toss well.
Day 4
Breakfast
Creamy Strawberry Smoothie: In a blender, puree frozen strawberries, frozen cauliflower, a handful of nuts, and enough almond milk to reach desired smoothie consistency. Add a date or honey if it needs more sweetness.
Lunch
Salmon Edamame Salad: In a bowl, toss together canned or pouched salmon, drained and flaked, defrosted frozen edamame, peeled and sliced oranges (if available), sliced fresh onion (if available), sesame oil, and rice wine vinegar. Top with toasted sesame seeds or sliced almonds.
Snack
Canned or jarred black or green olives
Dinner
Black Bean Soup: Omit onions and garlic if not available. Get the recipe.
Day 5
Breakfast
Tropical Island Rice Cakes: Brown rice cakes or corn cakes topped with sunflower seed butter and shredded coconut
Lunch
Roasted Pumpkin Soup: Omit onions and garlic if not available; use canned coconut milk. Get the recipe.
Snack
Frozen edamame, microwaved and topped with a pinch of coarse salt
Dinner
Eggs in Sauce: In a medium saucepan, heat 2 cups of prepared tomato sauce. Bring to a simmer and add 2 eggs per person. Poach eggs in tomato sauce. If eggs are not available, simmer canned chickpeas in tomato sauce. Serve with bread or whole-grain crackers.
Day 6
Breakfast
Cereal Mix-Up: Whole-grain cereal tossed with available nuts or seeds (peanuts, sunflower seeds, pumpkin seeds, etc.) and dried fruit (raisins, dried cranberries, etc). Top with shelf-stable milk.
Lunch
Zesty Tuna: Mix a can of drained, flaked tuna with a bit of mayonnaise and ½ cup jarred salsa. Serve with corn tortilla chips.
Snack
Drained no-sugar-added canned pineapple, mixed with shredded coconut
Dinner
Creamy Pea Risotto: Top with black pepper and parmesan cheese, if available. Get the recipe.
Day 7
Breakfast
Easy Apple Crisp: In a microwave-safe dish, heat 1 cup unsweetened applesauce. Top with rolled oats, ground flaxseeds, and nuts or seeds like walnuts or sunflower seeds.
Lunch
Crunchy Chickpea Burgers: Omit garlic and chives, if unavailable. Get the recipe.
Snack
Popcorn, popped on the stovetop with canola oil and topped with dried herbs like oregano and sage
Dinner
Creamy Cauliflower Soup: In a medium pot, heat 4 cups of water. Add 1 package frozen cauliflower and 1 drained and rinsed can of white cannellini beans. Bring to a boil and reduce heat to simmer. Blend using an immersion or traditional blender. Season with garlic and onion powder, salt and pepper to taste.
Get Free Coronavirus Support for Chronic Illness Patients

Join the Global Healthy Living Foundation's free COVID-19 Support Program for chronic illness patients and their families. We will be providing updated information, community support, and other resources tailored specifically to your health and safety. Join now.