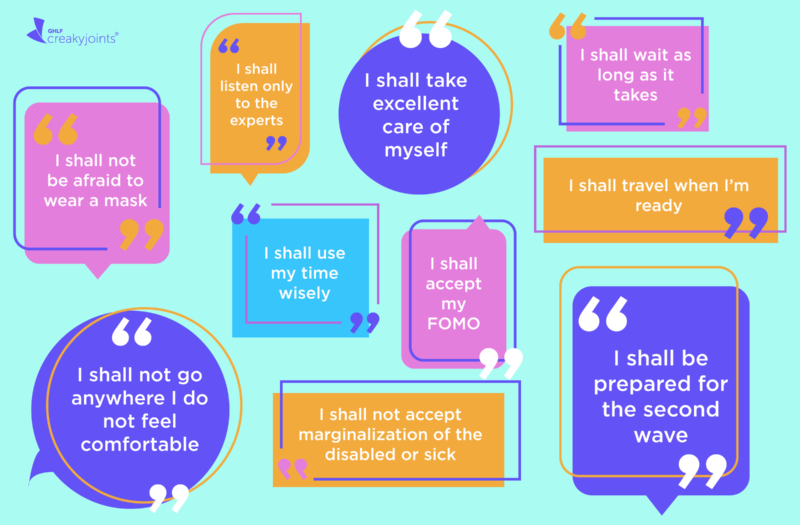 This is an opinion piece from our Patient Voices, which includes writers who are living with various chronic health conditions.
As talk of re-opening the country dominates news cycles, once again, so many of us with a chronic illness or disabilities are put in the position of being the party poopers. Before coronavirus hit, we'd already spent much of our lives since diagnosis defending ourselves from being called lazy, anti-social, and boring because we couldn't keep up with the able-bodied.
Now, here we are again, forced to reason with an unreasonable segment of the population who are demanding shelter-in-place mandates be lifted so they can play golf, go to the beach, and get a haircut. Those of us with chronic health conditions are apparently cramping their style because we don't want to die.
I know people are suffering economically and I want everyone to get back to work ASAP and be able to pay the bills, too. But I also want to do it in the smartest way possible. And I refuse to be bullied by people who know nothing about science, or don't care what the science says because they mistakenly and idiotically think COVID-19 won't affect them personally.
Though a CBS poll shows that 63 percent of the country doesn't want the country to open up too soon, the message from these protestors, pundits, governors — even the mayor of Las Vegas, who said she'd open up her city and let her constituents be a "control group"— is loud and clear. People are disposable, and people with chronic health conditions are sacrificial lambs in Mayor Goodman's vision for Las Vegas. We are on our own.
As much as I try, I can't escape the anti-lockdown, anti-stay-at-home protestors. They're not only on the news, they're in my social media feeds. Steam comes out of my ears reading (former) friends post about how they should be able… to go swimming. I kid you not. One woman went berserk because her local pool was closed and she paid HOA fees and should be able to swim if she wants to because "This is America," she wrote.
I have spent the last week posting angry diatribes and have called far too many people "selfish morons."
So, for my mental health and to stay out of Facebook jail, I decided to stop screaming at others online and write an actual list of my own personal guiding principles going forward.
I can't change stupid — or the laws — but I can control how I move forward during these uncertain times. Btw, if I see one more commercial from like Uber or El Pollo Loco talking about "these uncertain times" I may go loco.
My COVID-19 Pandemic Commandments
1. I shall not be ashamed to wear a mask
Where I live, in Palm Springs, California, I'd say half of the people I encounter are wearing masks, even though it's required here that you can't step out of the house without one on. So, unlike Vice President Mike Pence at the Mayo Clinic, I will wear a mask at all times and I will not go in any place of business that not only requires that I have one on, but also requires all employees to wear them.
I also will not be ashamed to ask anyone who is not complying to get the hell away from me. The other day I was walking my dog and a woman without a mask brought her dog up to mine. I put my hand up and stopped her in her tracks.
"Please do not come any closer, you are not wearing a mask," I said firmly.
"It's so hot, I can't breathe in them."
"I don't care. Do not come any closer."
If she walked away offended and annoyed at me, I could not care less.
2. I shall not go anywhere I do not feel comfortable
Pretty soon, there will be immense peer pressure to go places again. Whether that's the beach, a birthday party, or the movies, we're not obligated to attend anything that will put our health at risk. I don't care if I'm the Debbie Downer party pooper, I'm not going anywhere that doesn't feel right. If that means I'm stuck at home while others are out having fun, so be it.
3. I shall listen only to the experts
If Dr. Anthony Fauci, the nation's top expert on coronavirus, says I can get a pedicure, then and only then will I get a pedicure. (I hope it's soon because I'm starting to scratch my legs in my sleep.)
I'm not listening to Dr. Phil (not an infectious disease or public health expert), the My Pillow inventor (not a doctor, and not even a good pillow maker, in my opinion) or even the guy in the White House who suggested we all inject disinfectant into our bodies. When I see articles online, I will do my due diligence to make sure they are sound medically before sharing them. I will also do my best to speak up when I see misinformation spread on social media. I will also ask groups like CreakyJoints to continue to speak up for me.
4. I shall not accept marginalization of the disabled or sick
We all have a duty to protect the most vulnerable during "these uncertain times." If I hear anyone else talk about "herd immunity," say that the pandemic is "survival of the fittest," or point out that someone who died from COVID-19 was morbidly obese or had an underlying health condition (as if that justifies their death) they are going to get an earful, whether via phone call to a politician's office or angry Tweet. I'm not going to let that stuff slide.
5. I shall use my time wisely
Yeah, I've got a lot of time on my hands. I may not be capable of sewing masks or feel comfortable volunteering at a food bank outside of the home, but surely there is a tangible armchair activity I can do to help someone, somewhere, who is being affected by coronavirus. It's good for the soul and healthier than ranting online all day.
Check out my essays about cancelling my trip to Italy back in early March (thank goodness we made that call), navigating those early days of quarantine, managing anxiety and panic attacks, and IDing different "chronic illness patient personalities," to name a few.
6. I shall take excellent care of myself
Because I have rheumatoid arthritis (RA), I'm going to be proactive about my health. I'll make sure I take my meds properly and on time and show up to my doctor appointments.
I will follow the advice of my rheumatologist when it comes to sticking with my infusion — even when I was anxious about going in person — or other issues related to my RA. I know the last thing I want is to go through a disease flare right now.
Our doctors have our backs. We have to be honest with them about our concerns and work together to make sure we stay on our treatments and get the right care. "Ghosting" your doc or playing ostrich (sticking your head in the sand and just avoiding things) is not the answer.
I will move physically in some way every day and cut down baking sugary treats every two days. (I really need to stop, right after I make this delicious batch of Rice Krispies treats).
As this quarantine goes on, I've noticed I've gotten a little more lax about washing my hands and wiping down our common house surfaces with disinfecting wipes. I need to keep that up and be more vigilant.
7. I shall accept my FOMO
It's going to be very hard watching other people do all the things I'd like to do but can't, like go back to the gym or go hiking in populated places. One of my absolute favorite activities is grocery shopping — I know I'm weird — but I don't feel confident right now that the grocery store is a safe place for someone like me, even with people wearing masks. I don't want to be inside with multiple people and their respiratory droplets.
The good news is, we chronic illness patients are already used to this FOMO (fear of missing out). At least this feeling of envy won't be totally new and unfamiliar. That helps a little. We've had practice.
8. I shall travel when I'm ready
I had two amazing trips planned this year — to Italy and to Yellowstone. Both were sadly canceled but to be honest, I can't see rescheduling them any time soon. I can't see myself flying or driving anywhere, indefinitely.
There are so many places on my bucket list I'm dying to see but I'm not willing to actually die to see them, you know? Machu Picchu has been around for six centuries and the Sphinx for about 4,500 years, so I'm hopeful that both will still be there when this whole nightmare ends.
9. I shall be prepared for the second wave
I've been reading a lot about the Spanish Flu of 1918 and it is not disputed that the second wave of that virus, which hit in the fall and winter of that year, was the deadliest. Every medical expert I trust right now is saying that there will be a second wave of coronavirus in the fall. Life may seem more "normal" by then but, no matter what, I vow to put myself voluntarily back into shelter-in-place mode, even if others may think I'm being silly or alarmist. I cannot worry about what others think of me. It could be a deadly mistake.
10. I shall wait as long as it takes
If that means I am home more often than not, for the next year — or for eternity — so be it. If that means I am still wearing a mask while stuffing myself with turkey at Thanksgiving, so be it. If my clean hands are as soft as a cheese grater, so be it! Until there is a widely available vaccine, I will remain as diligent and safe as humanly possible.
Get Free Coronavirus Support for Chronic Illness Patients

Join the Global Healthy Living Foundation's free COVID-19 Support Program for chronic illness patients and their families. We will be providing updated information, community support, and other resources tailored specifically to your health and safety. Join now.