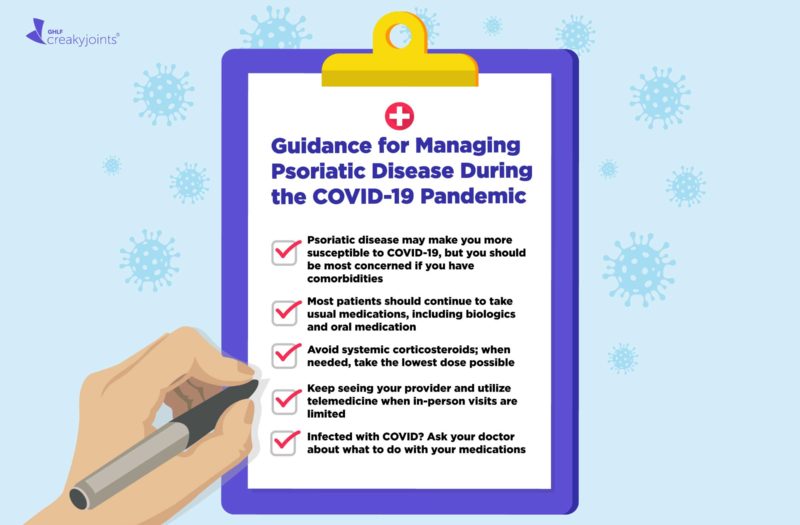 Earlier this year, the American College of Rheumatology (ACR) issued clinical guidance to help health care providers care for patients with a wide variety of rheumatic diseases during the COVID-19 pandemic.
While all rheumatic diseases share some similarities, they are hardly identical to one another. Now there is a separate set of guidance for people with psoriatic disease — psoriasis and psoriatic arthritis — to  specifically address how dermatologists, rheumatologists, and other health care providers should handle psoriasis and psoriatic arthritis during the pandemic.
The new guidance, which was published in the Journal of the American Academy of Dermatology, was developed by a task force of experts led by Joel M. Gelfand, MD, medical director in the Dermatology Clinical Studies Unit and director of the Psoriasis and Phototherapy Treatment Center at the University of Pennsylvania Perelman School of Medicine.
The task force, which was convened by the National Psoriasis Foundation, included physicians with expertise in dermatology, rheumatology, epidemiology, infectious diseases, and critical care. They include 22 "guidance statements," nine of which were backed by the highest level of consensus among task force participants.
Here's a look at some of the most important ones that everyone with psoriasis or psoriatic arthritis should know about:
COVID-19 Risk for People with Psoriatic Disease
1. Having psoriatic disease might make you more susceptible to contracting COVID-19, but you should be most concerned about developing serious complications of the virus if you also have heart disease, lung disease, kidney disease, diabetes, and/or obesity. Older adults are also at greater risk.
2. Continue to practice social distancing/isolation, wear face masks in public, and wash hands frequently.
How to Treat Psoriasis and Psoriatic Arthritis During the Pandemic
3. Most psoriasis/psoriatic arthritis patients should continue taking their regular medications, including biologics and/or oral medication.
"There are hints that some of the biologics, such as tumor necrosis factor (TNF) inhibitors, may actually be helpful and that people tend to have better outcomes [when infected with COVID-19] compared to other therapies," lead author Dr. Gelfand told MedPage Today. "That's been duplicated in many papers now, and there are clinical trials underway. So as more data emerges we may learn that in fact that these therapies actually may have protective effects for people."
4. One important exception: systemic corticosteroids. Although these drugs may be helpful for some critically ill COVID-19 patients, in general they suppress the immune system so you're more likely to develop complications if you're taking them when you contract the virus.
Systemic corticosteroids are taken orally or via injection and circulate through your bloodstream; they do notinclude topical steroid creams.
The guidance says that "chronic systemic corticosteroids should be avoided if possible for the management of psoriatic arthritis. If patients require chronic systemic corticosteroids for management of psoriatic arthritis, the dose should be tapered to the lowest dose necessary to achieve the desired therapeutic effect."
5. Don't ignore your chronic condition because you're worried about going to the doctor. Utilize telemedicine when possible, but if you've been recently diagnosed with psoriatic disease or are experiencing a flare it may be important to see your provider in person.
The guidance states that these types of patients should be considered for in-person care if pandemic conditions allow (i.e., the doctor's office is open):
New patients (in order to establish care)
Patients at risk for melanoma and nonmelanoma skin cancer (at a frequency consistent with standard of care for a full skin examination)
Patients experiencing unstable psoriatic disease/flares.
Patients requiring a thorough skin/or joint examination and a full physical examination for rheumatology patients
What to Do If You Contract COVID-19 and Have Psoriatic Disease
6. If you become infected with COVID-19 contact the doctor managing your psoriatic disease (whether that's a dermatologist, rheumatologist, or someone else) right away and ask if you should make any changes to your medication regimen.
7. Unless your doctor has advised you otherwise, keep taking all of your usual medications (including systemic corticosteroids if you're using any).
8. Tell your doctor if your psoriatic disease symptoms worsen; some people have experienced flares linked to COVID-19 infection.
9. If your doctor has advised you to stop any of your medications while you're fighting the virus, you can probably restart them as soon as you feel better. Your doctor should advise you about when it is safe to restart your medication. When in doubt, ask. Good communication and shared decision-making is key.
Get Free Coronavirus Support for Chronic Illness Patients

Join the Global Healthy Living Foundation's free COVID-19 Support Program for chronic illness patients and their families. We will be providing updated information, community support, and other resources tailored specifically to your health and safety. Join now.