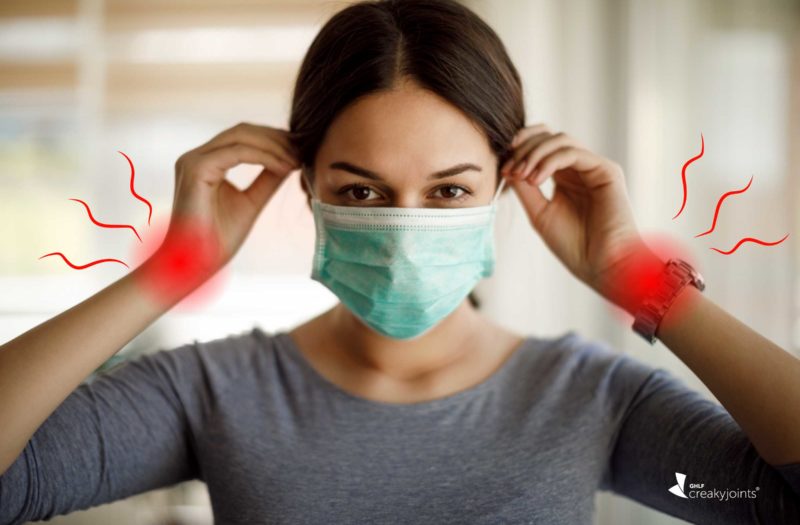 Key Takeaways
COVID-19 pandemic has adversely affected pain severity, physical function, and quality of life in those with chronic musculoskeletal pain. 

 

High percentage of patients reported reduced treatment accessibility during the pandemic,

high

dependence on others, and low ability to self-manage pain.

 

Check in with your doctor to make sure you're doing all you can to manage your chronic illness and its impact on your daily life during the pandemic.

 
If you live with chronic musculoskeletal pain and have felt worsening symptoms over the pandemic, you likely already knew what a new study has confirmed: COVID-19 has had "significant negative impacts" on pain, function, and treatment accessibility for those with musculoskeletal pain, per new research presented at the 2022 Osteoarthritis Research Society International World Congress.  
Researchers reviewed MEDLINE and Cochrane databases for articles on osteoarthritis, fibromyalgia, rheumatoid arthritis, and other musculoskeletal conditions from December 2019 to May 2021. They included studies of any design that investigated the impact of COVID-19 pandemic on the management of patients with chronic musculoskeletal pain — ultimately examining eight published studies from eight different countries (with data on 1,724 patients overall). 
They found that 59 to 100 percent of patients reported reduced treatment accessibility during the pandemic. Two prospective cohort studies on osteoarthritis reported significant increases in pain and loss of function, while higher pain intensity was similarly reported among fibromyalgia and chronic lower back pain patients.  
Rheumatoid arthritis patients also reported increased pain scores and lower quality of life since the pandemic onset.   
Two studies in miscellaneous chronic back pain yielded conflicting results when it came to pain and function. For instance, while one study found an 8 percent average pain severity increase and a 6 percent average pain interference increase, the other one reported decreases in both average pain severity and pain interference. (Pain interference is often used as a way to help measure physical function.)  
As you might expect, the research showed that vulnerable patients reported high dependence on others, low ability to self-manage pain, and restricted access to health care. In fact, the study with the highest treatment accessibility reported some improvements in pain, depression, and sleep quality.  
But overall, the results of this study show that the COVID-19 pandemic has adversely affected pain severity, physical function, and the quality of life in patients who have chronic musculoskeletal pain.  
"Despite the small number of studies available, our review suggests the pandemic had negative impacts on these patients and lowered treatment accessibility," note the researchers. "Further consideration on patient well-being and health care accessibility for chronic pain management during the pandemic is recommended." 
If you're feeling a sense of being "left behind" as the rest of the world returns to normal activities at this stage of the pandemic, learn more about how the immunocompromised community can support each other. 
Get Free Coronavirus Support for Chronic Illness Patients

Join the Global Healthy Living Foundation's free COVID-19 Support Program for chronic illness patients and their families. We will be providing updated information, community support, and other resources tailored specifically to your health and safety. Join now.