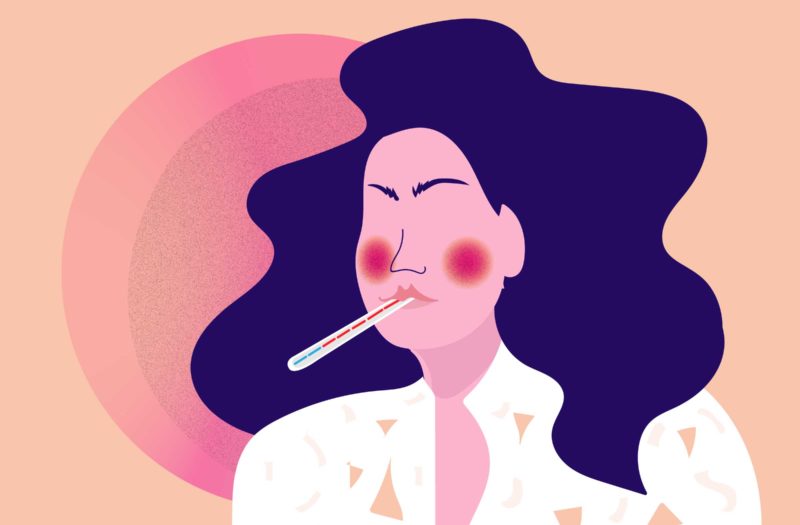 You've already heard the growing list of symptoms associated with COVID-19: fever, cough, shortness of breath, fatigue, loss of taste or smell, sore throat, diarrhea, and more. Now, experts are finding that these symptoms can prevail for long periods of time, particularly in those with chronic illness.
Nearly 300 patients in several states who tested positive for the virus (but did not require hospitalization) between March 31 and June 4 were surveyed two to three weeks after their tests, per a new report from the U.S. Centers for Disease Control and Prevention (CDC).
In total, 35 percent of respondents reported that they had not yet returned to their usual state of health.
The survey showed that lingering symptoms affected:
26 percent of adults aged 18 to 34
32 percent of adults aged 35 to 49 years
47 percent of adults aged 50 or older
Patients with chronic illnesses were more likely to have unresolved symptoms — and those with more underlying illnesses had the greatest likelihood.
In particular, lingering symptoms affected:
28 percent of adults with no or one chronic medical condition
46 percent of adults with two chronic medical conditions
57 percent of adults with three or more chronic conditions
To put that into perspective, more than 90 percent of outpatients (people who are not hospitalized) with influenza recover within about two weeks of a positive test result.
The most commonly reported lingering COVID-19 symptoms were fatigue and cough. However, fever and chills resolved in 97 percent and 96 percent of respondents, respectively.
"Older age and presence of multiple chronic medical conditions have previously been associated with illness severity among adults hospitalized with COVID-19," note the researchers. "In this study, both were also associated with prolonged illness in an outpatient population."
The researchers add that due to the severe and prolonged nature of the disease, preventative measures like social distancing, frequent handwashing, and consistent and correct use of face coverings in public are important for slowing the spread of SARS-CoV-2, the virus that causes COVID-19.
This hasn't been the only survey to report on the lingering effects of the virus: In a July 2020 Indiana University School of Medicine survey of about 1,500 self-reported "COVID-19 long-haulers," those who have been diagnosed with COVID-19 and have lingering symptoms, patients reported nearly 100 different symptoms attributed to their diagnosis. They ranged from commonly known symptoms like muscle aches and headaches to more unusual ones like dry eyes, calf cramps, and tremors.
It's especially important for people at increased risk of severe illness from COVID-19 to protect themselves and avoid getting infected, per the CDC.
The best way to do this is to limit your interactions with others outside of your household as much as possible, and to take proper precautions, such as wearing a face covering and practicing social distancing, when you do go out.
Talk to your doctor to determine if you are in a high-risk group for COVID-19 complications and be sure to continue taking your medications as usual unless otherwise directed by your health care provider. You may also be able to request an extra supply of prescription medicines from your doctor or pharmacist to limit unnecessary trips to the pharmacy.
If you start to feel sick and suspect you might have COVID-19, contact your health care provider within 24 hours.
Get Free Coronavirus Support for Chronic Illness Patients

Join the Global Healthy Living Foundation's free COVID-19 Support Program for chronic illness patients and their families. We will be providing updated information, community support, and other resources tailored specifically to your health and safety. Join now.