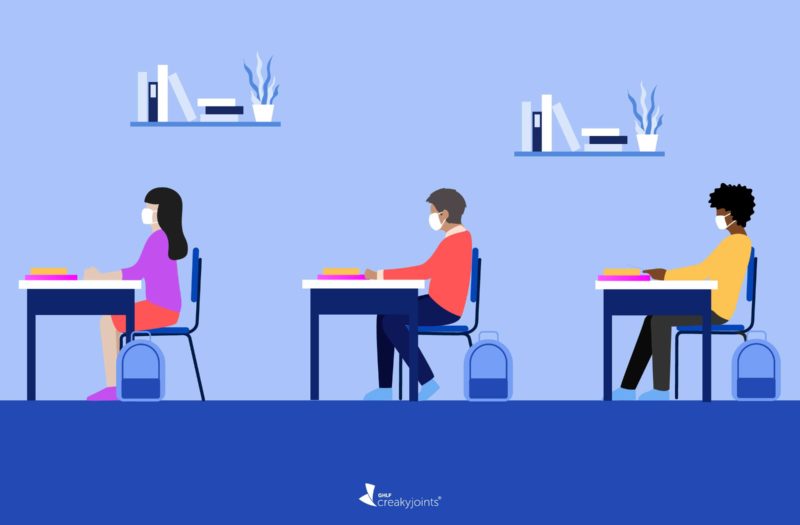 Whether or not kids should physically go back to school this fall has been debated for months now. Some schools have even delayed start dates as they search for a solution.
While some school districts have already decided to go completely virtual — due to high or rising rates of COVID-19 cases and community spread — many teachers and students across the country are returning for either a hybrid model of learning (spending some days at school and some days at home) or full-time learning in person.
This might leave you feeling anxious not only as the parent or grandparent of a child who may potentially be exposed to the virus, but especially as someone living with chronic illness who may be in a high-risk group for COVID-19 complications.
Here's what to consider if your family is choosing between virtual and in-person learning, and how to stay safe if your child does go back to school in person.
What School Might Look Like During COVID-19
The level of risk in your child returning to school for in-person learning will depend on several factors, including the rate of COVID-19 spread in your community and the school's guidelines for keeping students safe.
"When children go into the community, get exposed, and come back home, there's always a risk that a person with a chronic medical condition might be exposed to COVID-19 and get the disease," says Ashlesha Kaushik, MD, medical director of pediatric infectious diseases at UnityPoint Health in Sioux City and board member for the Iowa American Academy of Pediatrics (IA AAP). "So far, we know that many people may be asymptomatic spreaders of the disease."
That means if your child or grandchild contracts COVID-19 at school, you may spend several days next to them at the dinner table, kissing them goodnight, or even sharing items with them before they show any coronavirus symptoms — if they show any symptoms at all.
The virus that causes COVID-19 spreads when an infected person coughs, sneezes, or talks, and the resulting respiratory droplets infect those nearby, per the U.S. Centers for Disease Control (CDC). Because those who are in close contact for a prolonged period are at higher risk of spreading the virus, schools that don't practice social distancing may be particularly prone to virus contagion.
It may be possible that COVID-19 can spread when someone touches a surface or object that has the virus on it, then touches their mouth, nose, or eyes, but it's not thought to be the main method of transmission.
Children ages 10 to 19 were shown to spread the virus at least as efficiently as adults in a July 2020 study of nearly 65,000 people in South Korea. Meanwhile, children younger than age 10 were about half as likely as adults to spread the virus to others. That may be because they socialize outside of school less than older kids, exhale air closer to the ground, or exhale less air in general, but the exact reason is still uncertain.
However, the ability for younger children to spread COVID-19 may have also been initially underestimated due to how quickly schools and daycares closed during the onset of the pandemic, per another recent study published in the journal JAMA Pediatrics.
Researchers found that children under 5 with COVID-19 actually had higher viral load —  measured by the levels of genetic material for the virus found in the nose — compared to older children and adults. This, combined with the behavioral habits of young children, raises public health concerns as schools and daycares reopen.
What Schools Are Doing to Protect Students
The CDC has recommended many guidelines for schools to prevent high-risk situations, such as children being in close contact with each other or in large groups, sharing items and food, or touching surfaces that might be infected.
Some of the CDC recommendations for the safe reopening of schools include:
Implementing multiple SARS-CoV-2 mitigation strategies including social distancing, cloth face coverings, and hand hygiene
Maintaining healthy environments by cleaning and disinfecting frequently touched surfaces
Developing a proactive plan for when a student or staff member tests positive for COVID-19 (including case tracing)
Considering "pods" in which a group of students stay together throughout the school day to minimize exposure for students, teachers, and staff
However, compliance may vary by school. For example, one Georgia school went viral when a photo emerged of students (many without masks) flooding into a crowded hallway in early August.
Stay informed as to what your school is doing to prevent the spread of COVID-19, and if at all possible for your family, consider alternative options to in-person learning.
For instance, many schools are offering parents the choice of virtual or in-person school for their child this year. It's not possible or the right choice for every family, but it may be worth thinking about if you or other family members are in a high-risk group for COVID-19 complications.
"Virtual learning is something that should be considered very strongly for high-risk families," says Dr. Kaushik. "We still haven't seen the effect of the recommended guidelines, and we don't know what the results of schools reopening will be. We should be playing it safe."
Precautions You Should Take If Your Child Goes Back to School
If virtual learning isn't an option for your family, make sure your child is following all guidelines to stay safe at school and to prevent bringing the virus home.
"There needs to be a balance between not scaring your child, but also educating your child about the importance of wearing masks and why they have to social distance," says Lynn Ludmer, MD, medical director of rheumatology at Mercy Medical Center in Baltimore. "Have that conversation with your child and practice at home."
Social Distancing, Masks, and Hygiene at School
For instance, you may need to make sure your child is comfortable wearing a properly fitted mask (and has one they won't be tempted to take off throughout the day), and knows how to wear it correctly.
Masks should be worn over the nose and mouth, and not billow out on the sides. Get into the habit of practicing social distancing and proper handwashing when you're together so that it becomes a habit for your child. Let your child know when they're getting too close to other children and model this behavior with others yourself.
Better Hygiene at Home
When you're living with a chronic illness that puts you in a high-risk group for COVID-19, you should also be extra conscious of how you interact with your family members at home.
You may have never thought twice about your child drinking out of your glass or accidentally using your toothbrush, but this is the time to modify everyday routines to prevent potential exposure.
"It is important to avoid spreading germs unnecessarily," says Dr. Ludmer. "We need to consider changing behavior to avoid sharing food, not drinking straight out of the milk container, or other things that we might have taken for granted under normal circumstances."
As a parent, it's impossible (and of course, unthinkable) to cut out all physical exposure to your child. After all, hugs and bedtime kisses are a special part of family life. However, that's why virtual learning may be a good option for some families.
"Close contact like hugging and kissing is very difficult for a parent not to do, and that's why the CDC specifically notes that parents or family members who have chronic medical conditions should seriously consider doing distance learning for their children," says Dr. Kaushik. "Nobody can predict how much you're exposing yourself when the child goes back to school."
In-person learning — as with any other social activity — will inevitably pose some risk of COVID-19 transmission, which is particularly important to keep in mind if you have an underlying condition or if you live in an area where rates of coronavirus community spread are high.
This CDC guide can help you decide whether or not to send your child back to school if you have the option.
The Importance of Contact Tracing
If your child is heading back to class in person, ask the school's administrators if a contact tracing plan is in place should a student or staff member be infected with COVID-19.
Contact tracing involves notifying every person who had close contact with an infected individual, which the CDC considers being within six feet for at least 15 minutes — starting from two days before illness onset until the time the patient is isolated.
"It's extremely important to make sure that whoever the person got in contact with is tested and quarantined if needed," says Dr. Kaushik. "This may also have benefits in terms of not having to close the entire school if one person has tested positive. Maybe parts of the school are quarantined or closed rather than the entire building."
When done successfully, contact tracing helps to catch and control new outbreaks before they grow, per UT Health Austin.
South Korea, for instance, used a technologically advanced contact tracing system as part of its strategy to lower the number of new COVID-19 infections dramatically between March and April.
What About Playdates or Carpooling?
Even if your child does go to school, it doesn't mean other usual social activities are safe. Experts still advise against carpooling and playdates (particularly indoor playdates) at this time.
"Hanging out and socializing is being discouraged [in many places] at this point because we are seeing such high surges of this virus," says Dr. Kaushik. That may mean passing on birthday parties and other gatherings as well.
Although carpooling is a necessity for some families (especially if your chronic illness makes it difficult to commute), it's best to avoid it if possible at this time since you can't practice social distancing in a shared vehicle.
In fact, sending your child to school on a bus with proper social distancing in place and windows open for ventilation might be a better option than carpooling with other kids in a personal vehicle right now.
Get Free Coronavirus Support for Chronic Illness Patients

Join the Global Healthy Living Foundation's free COVID-19 Support Program for chronic illness patients and their families. We will be providing updated information, community support, and other resources tailored specifically to your health and safety. Join now.
Contact Tracing for COVID-19. The U.S. Centers for Disease Control and Prevention. Coronavirus Disease 2019 (COVID-19). July 22, 2020. https://www.cdc.gov/coronavirus/2019-ncov/php/contact-tracing/contact-tracing-plan/contact-tracing.html.
Heald-Sargent T, et al. Age-Related Differences in Nasopharyngeal Severe Acute Respiratory Syndrome Coronavirus 2 (SARS-CoV-2) Levels in Patients With Mild to Moderate Coronavirus Disease 2019 (COVID-19). JAMA Pediatrics. July 30, 2020. doi: https://doi.org/10.1001/jamapediatrics.2020.3651.
How COVID-19 Spreads. The U.S. Centers for Disease Control and Prevention. Coronavirus Disease 2019 (COVID-19). June 16, 2020. https://www.cdc.gov/coronavirus/2019-ncov/prevent-getting-sick/how-covid-spreads.html.
Interview with Ashlesha Kaushik, MD, medical director of pediatric infectious diseases at UnityPoint Health in Sioux City and Iowa American Academy of Pediatrics (AAP) board member
Interview with Lynn Ludmer, MD, medical director of rheumatology at Mercy Medical Center in Baltimore
Park YJ, et al. Contact Tracing during Coronavirus Disease Outbreak, South Korea, 2020. Emerging Infectious Diseases. July 16, 2020. doi: https://doi.org/10.3201/eid2610.201315.
Preparing K-12 School Administrators for a Safe Return to School in Fall 2020. The U.S. Centers for Disease Control and Prevention. Coronavirus Disease 2019 (COVID-19). August 1, 2020. https://www.cdc.gov/coronavirus/2019-ncov/community/schools-childcare/prepare-safe-return.html.
School Decision-Making Tool for Parents, Caregivers, and Guardians. The U.S. Centers for Disease Control and Prevention. Coronavirus Disease 2019 (COVID-19). July 23, 2020. https://www.cdc.gov/coronavirus/2019-ncov/community/schools-childcare/decision-tool.html.
The Ever-Growing Importance of Contact Tracing. UT Health Austin. August 6, 2020. https://uthealthaustin.org/blog/the-importance-of-contact-tracing.