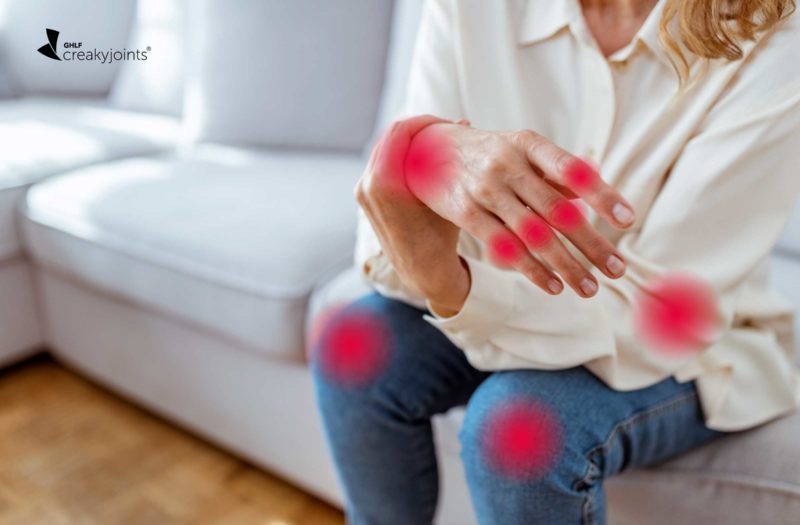 Living with fibromyalgia means coping with a number of symptoms: widespread muscle pain (myalgia), extreme tenderness in many areas of the body, sleep disturbances, fatigue, headaches, and mood issues like depression and anxiety. But how does having fibromyalgia impact your risk of COVID-19 and ability to manage these symptoms while staying at home?
Here's what experts want fibromyalgia patients to know as they continue to navigate the coronavirus pandemic.
Does Fibromyalgia Make You at a Higher Risk for Coronavirus?
The answer depends on whether you have primary or secondary fibromyalgia, says Petros Efithimiou, MD, FACR, a rheumatologist who practices in New York City.
Primary fibromyalgia, which is the most common form, is a chronic pain syndrome in which the body and brain process pain and stimuli differently, explains Dr. Efithimiou. Importantly: "There is no immunosuppression."
Since fibromyalgia doesn't compromise your immune system, there is "no increased risk for acquiring COVID-19 nor increased risk for mortality from that disease," says Frederick Wolfe, MD, a rheumatologist and fibromyalgia expert in Wichita, Kansas.
"People with a diagnosis of fibromyalgia should follow the suggestions of medical authorities for ordinary citizens," he says, including proper handwashing, practicing social distancing, wearing cloth face masks in public, and avoiding close contact with other people if you need to go to work or run an essential errand.
Secondary fibromyalgia, on the other hand, often occurs in patients with conditions that can affect the immune system, such as lupus, rheumatoid arthritis, or axial spondyloarthritis. In this case, your immune system may be suppressed and you could be considered at a higher risk for COVID-19, especially if you have additional co-occurring health conditions, such as heart disease, lung disease, or diabetes.
Knowing the difference is important.
"People might think that fibromyalgia is an autoimmune disease since they are often referred to and treated by rheumatologists, and some of their symptoms may mimic those of lupus or other rheumatology patients," says Nilanjana Bose, MD, MBA, a rheumatologist at the Rheumatology Center of Houston in Pearland, Texas.
But fibromyalgia is not an autoimmune disease, which occurs when the body's immune system mistakenly attacks your own cells and tissues.
Do Fibromyalgia Medications Affect the Immune System?
There is not necessarily a straightforward or universal way to treat fibromyalgia. Your medication options will depend on your most concerning symptoms as well as if you have any co-occurring conditions. Drugs used to treat primary fibromyalgia may include antidepressants, anti-seizure drugs, and non-steroidal anti-inflammatory drugs (NSAIDs):
Tricyclic antidepressants: amitriptyline (Elavil), nortriptyline (Pamelor), cyclobenzaprine (Flexeril)
Serotonin-norepinephrine reuptake inhibitors (SNRIs): duloxetine (Cymbalta) or milnacipran (Savella)
Selective serotine-reuptake inhibitors (SSRIs): fluoxetine (Prozac) or paroxetine (Paxil, Pexeva)
Anti-seizure drugs: gabapentin (Neurontin), pregabalin (Lyrica)
Non-steroidal anti-inflammatory drugs (NSAIDs): Advil or naproxen
If you develop COVID-19 symptoms, it's probably best to avoid NSAIDs like ibuprofen (Advil) or naproxen (Aleve); you're better off taking acetaminophen (Tylenol). According to a well-publicized article in British Medical Journal, "prolonged illness or the complications of respiratory illness or the complications of respiratory infections may be more common when NSAIDs are used — both respiratory or septic [blood infection] complications and cardiovascular complications," said Paul Little, MD, professor of primary care research at the University of Southhampton in the UK.
"The medication patients take for pain and fibromyalgia, such as gabapentin (Neurontin) and pregabalin (Lyrica) do not decrease the ability of the immune system," says Dr. Efithimiou.
Additionally, antidepressants do not affect the immune system, says Dr. Bose, and "you should continue these medications to avoid flares."
You should not stop taking any medications or adjust your dose of any medications without first talking to your doctor.
Read tips on making your next telehealth visit as successful and helpful as possible.
Distinguishing Fibromyalgia Symptoms from Coronavirus Symptoms
Many of the symptoms you may experience with fibromyalgia — including chest pain, body aches, fatigue, and malaise — can also be symptoms of COVID-19. But experts say you should be able to tell the difference.
"We tell our patients, if you feel any drastic changes — such as feeling out of breath or sharp pains in your chest — or feel different than your baseline, you need to tell us," says Dr. Efithimiou. "We ask them to evaluate the intensity and character of symptoms. People are quite anxious, but they should stay away from the hospital."
Anxiety and depression can cause physical symptoms, including body aches, fatigue, and chest pain. "The best way to tell the difference between potential COVID-19 symptoms and those of your chronic condition is to seek professional medical advice through an office visit or telehealth, which is available at many locations," says Brett Smith, DO, a rheumatologist with Blount Memorial Physicians Group in Alcoa, Tennessee.
Read more here about the 9 coronavirus symptoms that should be on your radar.
Managing Symptoms of Fibromyalgia Under Quarantine
Fibromyalgia symptoms such as pain and stiffness, fatigue, disrupted sleep, anxiety, and depression may feel intensified right now. "It's a two-way street," says Dr. Efithimiou. "The more you can control anxiety, the better your fibromyalgia symptoms are going to be."
We asked rheumatologists and psychologist John S. Fry, PhD, a former member of the National Fibromyalgia Association, what you can do to manage these symptoms during the COVID-19 pandemic.
Exercise
Many people find that exercise helps ease their fibromyalgia symptoms and quality of life. The coronavirus shouldn't stop you from moving. Go for a walk, walk your dog, try online yoga, tai chi, or strength-training classes. Pace yourself and give yourself plenty of rest between sessions.
Practice relaxation techniques
It's important for people with chronic pain and fatigue to learn how to relax their bodies by meditating, doing yoga, or practicing deep breathing or progressive muscle relaxation. While there are apps available to walk you through these strategies, telemental health can help you hone these and other pain management skills, says Dr. Fry, who is licensed to practice in California.
Check out these mental health resources from clinical psychologist Laurie Ferguson, PhD.
Lean on loved ones
Dr. Fry believes it should be called "spatial distancing" not "social distancing," especially since it's so important for people living with chronic illness to have social support from friends and loved ones right now. Make sure to carve out time to connect with others, whether that's calling a friend, FaceTiming or Skyping, or arranging a Zoom meeting with family and friends, says Dr. Fry. And take advantage of those loved ones who are around you 24/7; don't hesitate to ask for a gentle massage or help with household chores, he adds.
"Many fibro patients may have underlying depression and/or anxiety or a history of past trauma. It is important to broaden your safety net during the pandemic," says Lenore Brancato, MD, clinical assistant professor in the division of rheumatology at NYU Langone Health in New York City. "With constant solemn news in the media and necessary isolation from family and friends, it can stoke anxiety for everyone, especially patients with fibro."
Read more here about why you need to start 'intermittent media fasting' to cope with coronavirus.
Create a schedule
Whether you plan out a detailed schedule of your day or jot down a To-Do list every morning, creating a routine for yourself will help alleviate feelings of isolation and create some normalcy as you follow shelter-in-place orders. As you complete your tasks, "take a few seconds to savor the fact that you got it done," Dr. Fry says.
Shift your self-talk
Self-talk can make a huge difference in how you manage your anxiety, which is likely causing you to catastrophize and think in black and white, explains Dr. Fry. Instead of saying to yourself something like: "Coronavirus is everywhere. I'm trying to protect myself. I'm scared. I'm going to get it — and if I do no one will be there for me," say to yourself something like:  "I might get the coronavirus, but I might not if I'm careful."
Remind yourself that you're not alone. You likely have friends and family members and reaching out to them does not make you a burden. Think about the last time a friend called you for emotional support. After you hung up the phone, did you think it was a burden? Helping others is a behavior that's been proven through research to make people happy, says Dr. Fry.
Read these 20 journal prompts to help chronic illness patients.
Find a healthy distraction
As you stay at home as much as possible, home in on hobbies and activities to help exacerbate feelings of anxiety and social isolation. Whether you paint, garden, color, scrapbook, or catchup on a Netflix series, it's important to get into things that give you pleasure.
Prioritize sleep
When you live with fibromyalgia, getting quality sleep is a struggle. Unrelenting pain can disrupt sleep, which can lead to increased achiness and fatigue, creating a vicious cycle. Anxiety over the coronavirus can make it even harder to fall asleep or stay asleep all night. Now's the time to make an extra effort to shut off those worries before shut-eye and change your perspective. "Before bed, write down three good things that happened, even if it's been a horrible day," says Dr. Fry. "Even if they're little things: my dog licked my hand, I saw a pretty hummingbird, a friend called me today. This too shall pass."
"Facilitating restorative sleep, which can be difficult during the best of times for fibro patients, requires attention," says Dr. Brancato. "Sleep hygiene and  sleep rituals, such as legs up the wall or simple inversions and meditation practice may be helpful. Daily exercises (even seated biceps curls or leg lifts)can help reduce pain and relieve stress. Exercise can also foster improved sleep."
Read more here about managing painsomnia during the age of COVID-19.
Get Free Coronavirus Support for Chronic Illness Patients

Join the Global Healthy Living Foundation's free COVID-19 Support Program for chronic illness patients and their families. We will be providing updated information, community support, and other resources tailored specifically to your health and safety. Join now.
Interview with Brett Smith, DO, rheumatologist with Blount Memorial Physicians Group in Alcoa, Tennessee
Interview with Frederick Wolfe, MD, a rheumatologist and fibromyalgia expert in Wichita, Kansas
Interview with John S. Fry, PhD, psychologist and former member of the National Fibromyalgia Association
Interview with Lenore Brancato, MD, clinical assistant professor in the division of rheumatology at NYU Langone Health in New York City
Interview with Nilanjana Bose, MD, MBA, rheumatologist at the Rheumatology Center of Houston in Pearland, Texas
Interview with Petros Efithimiou, MD, rheumatologist who practices in New York City