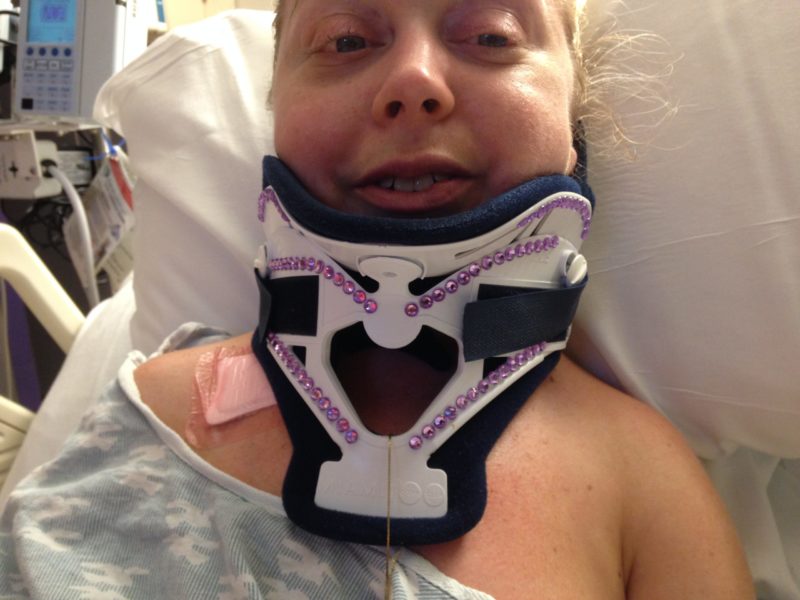 After having severe rheumatoid arthritis for over 37 years — since I was a toddler — I am used to fighting for everything from medical supplies to equality as a disability patient advocate. But I actually broke down and cried recently after another battle with the company that provides — or should I say does not adequately provide — my prescription drug coverage.
Without any advanced notice, my pharmacy told me the medicine I wanted to refill was no longer covered. This happens to be a medication I take every morning because I had a serious gastrointestinal (GI) bleed a few years ago that landed me in the ICU for several weeks. Fortunately, I called in the refill before I was out of my medication and figured I would be able to resolve this before it was gone.
But after five days and numerous phone calls to the prescription drug company, I was still being denied the medication. The tears began to flow when an unsympathetic representative from the prescription drug company told me I needed to appeal the decision and include a letter of authorization from my doctor. From an email they sent me earlier in the day, I knew that it would take anywhere from 72 hours (in emergent cases!) to 10 days for a decision to be made.
With the number of COVID-19 cases on the rise, I have taken a number of measures to stay healthy and have been diligent about staying at home. I am immunocompromised and at high risk for complications — the life-threatening kind — should I get infected.
Because there were no good treatments for juvenile rheumatoid arthritis when I was diagnosed in the early eighties, I have a lot of permanent joint damage. I used a wheelchair and a walker in elementary school and I still use a wheelchair today. Getting out and about on a good, non-pandemic-health-crisis-threatening-the-world day is more challenging for me than the average person, let alone right now. I did not want to risk my health, or frankly, my life, for insurance paperwork.
I told the representative I would not leave my home to go to my doctor's office to get a letter since other patients could potentially have the coronavirus and put me in jeopardy.
When I told the representative that I could die if I got the virus and if I didn't get my medication, she responded by saying the medication isn't lifesaving. I was taken aback since she has no knowledge of my treatment plan — nor was she in the ICU with me when I had the GI bleed and needed 10 bags of blood to survive. Growing more upset, I asked her if she'd be the one to tell my parents that when I ended up in the hospital.
Not surprisingly, she transferred my call to a line belonging to another department that repeatedly played a message about long wait times due to being understaffed. After waiting and waiting, I eventually hung up and that's when I began to sob.

I'm Used to Overcoming Big Health Challenges
When I get this upset, I tend to reflect on some of the many challenges I have had due to my severe inflammatory arthritis over the years (it's not a great rabbit hole to go down). It got me to thinking about another time when I was in the ICU after having a spine fusion surgery and had to be on a ventilator. Even though I was only on the ventilator for a couple days, it seemed like a lifetime.
The memory is still vivid more than five years later.
Being on a ventilator is not something I ever want to be put through again, and I worry daily now that the coronavirus is quickly spreading and many high-risk people who get it are relying on ventilators to survive.
With the ever-increasing number of COVID-19 cases, there is a great demand for ventilators and a short supply. And while ventilators can be lifesaving, it seems as if the general public does not realize how serious it is to be on one, especially those who ignore orders to stay inside.
Even if the vast majority of people with coronavirus will have a bad respiratory infection to battle out at home, some portion of people who are seemingly healthy will require hospitalization. Some will need help breathing.
Trust me when I tell you that you should not take this potential chance lightly. You don't want it to happen to you. You don't want it to happen to someone you love.
I'm Still Traumatized from Being on a Ventilator
Personally speaking, I would say being on a ventilator ranks as one of the worst experiences of my life. The thought of having to rely on one again has definitely deterred me from leaving my home.
To give you an idea of the process, patients are intubated before being placed on a ventilator. Patients may or may not be asleep during this process, which involves "having an endotracheal tube placed in the mouth or nose and threaded down into the airway. This tube has a small inflatable gasket which is inflated to hold the tube in place. The ventilator is attached to the tube and the ventilator provides "breaths" to the patient," according to Verywell Health.
Although patients are typically sedated after being put on a ventilator to help keep them calm and comfortable, it doesn't always work because they may feel the tube and the air being pushed into their lungs.
I remember everything about the process even though the anesthesiologist tried to pretend I wouldn't remember it. Lauren Agoratus, from the Statewide Parents Advocacy Network in New Jersey, told me that being on a ventilator is something her daughter Stephanie will never forget either.
When Stephanie had complications from a kidney transplant, she was put on a ventilator. "They said she would be in a twilight state and unaware. Not true," Agoratus says, recalling that Stephanie cried and used American Sign Language to express her extreme thirst.
"I asked Stephanie if she remembered it and how she felt, which I knew she did because every time we go to the hospital she says 'no breathing tube,'" Agoratus said. "She said 'it was terrifying that she needed it.'"
Jessica Rogers, who is a quadriplegic and has been on a ventilator several times, agrees. "It was very uncomfortable, and it's scary because it breathes for you," Rogers says. "Sometimes you feel like you're ready to take another breath, but [the machine] doesn't do it yet. You know what I mean?"
Yes, I know exactly what she means. At times, it felt like I couldn't breathe at all. I remember trying to write that on a piece of paper so my husband could call for help when I experienced it. In fact, I had to write down everything I wanted to say because I couldn't talk. I circled words for emphasis.
There is no way to call for help and you have to hope you can reach your call button and that somebody answers it. Obviously, you can't eat or get up. And if you are lucky to get off the ventilator, that process is awful too.
Agoratus and her daughter agree. "When they extubated her, she went into respiratory distress, coded, and they had to reintubate her [while she was] awake. I heard the code blue and just knew it was her and sure enough all the doctors piled into her room. Her regular doctors had just come upstairs and asked me how she was. I lost it [for the] first time in 15 hospitalizations — even though she had been resuscitated on several occasions. I replied, 'Her new kidney is failing and she just coded.' One doctor stayed with me and the other ran to her room. They had to keep her on the ventilator two more days and gradually weaned her off."
When Agoratus asked Stephanie about when they put the tube back in, she said, "It was scary. I wanted my mom."
Stephanie also said the tube hurt because it felt like it was puncturing her. "She was fighting them because she was awake, and they had to force it in, causing throat and mouth abrasions."
Please Take COVID-19 and Social Distancing Seriously
Fortunately, I was successfully weaned off my ventilator. I don't think I could have endured what Stephanie went through.
To avoid getting COVID-19 and possibly needing to be hospitalized and on a ventilator, I am taking extreme precautions, even for me.
Fortunately, I am able to work from home right now, which I am so thankful for, because my job as the Disabilities and Access and Functional Needs Planner for the New Jersey Office of Emergency Management is critically important at the moment. I'm remaining inside my home as much as possible.
While I need outside caregivers to assist me with my daily routine, we're being very careful. My personal care attendants wear gloves and masks, but I do worry about their health. One has already taken leave because she also cares for her 103-year-old aunt and can't leave the house, so I have to rely on my mother to fill her shift. We're constantly washing our hands and disinfecting surfaces.
Who knows that the future will bring — for any of us — but no matter what happens, I'll know that I tried to protect myself and my loved ones as much as possible from the ugliness and fears that the complications of this virus can cause. No one can afford to dismiss these risks. No one should have to experience what I've been through.
By some miracle, that same day I was told to get a letter of appeal from my doctor, the pharmacy informed me my medication was ready to be picked up. (My father did so safely, of course, following social distancing rules so he was not exposed.) Now we just have to hope for another miracle that COVID-19 can be stopped in its tracks — and stay safe in the meantime.
Get Free Coronavirus Support for Chronic Illness Patients

Join the Global Healthy Living Foundation's free COVID-19 Support Program for chronic illness patients and their families. We will be providing updated information, community support, and other resources tailored specifically to your health and safety. Join now.