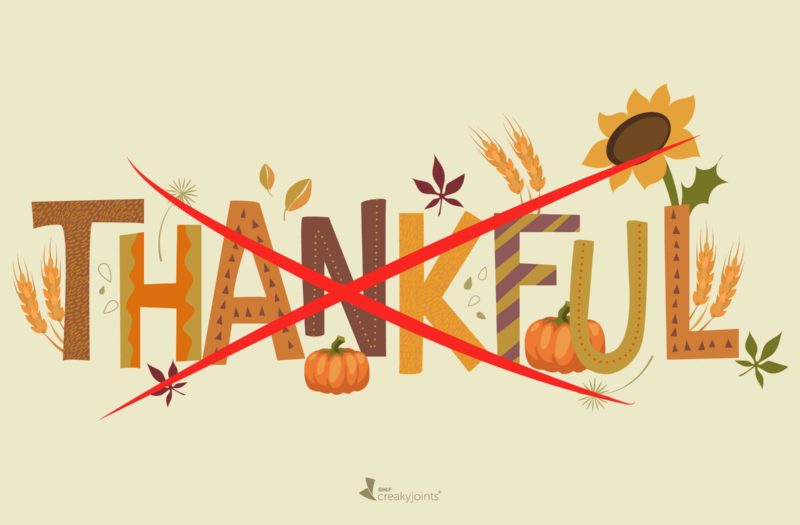 "But I don't feel grateful…"
This Thanksgiving is unlike any in our memory. As individuals we may have had some difficult or challenging holiday seasons, but there has not been a time when everyone is collectively facing the same set of losses, frustrations, and fears about living through the COVID-19 pandemic.
And following public health guidance and not gathering with your usual set of friends and family for a festive meal only makes these sacrifices and worries all the more obvious.
Some of my clients are quietly confessing that they "don't feel grateful."
They don't feel like cooking — even for a smaller group.
They are tired of it all and don't want to pretend or "create a new tradition." It just all feels like too much.
And … that's because it is.
It is too much. It is exhausting, and even sad, for many of us. Conjuring up and planning an alternative kind of day is just one more chore on the long unending list of things we have to get used to.
So, it's okay. You don't have to feel grateful.
You don't have to create a new version of Thanksgiving.
If your family is "expecting" something and you are not up to it, enlist them to plan. Sit back. Don't force yourself to pretend or invent or make do.
"But I can't do that!" one of my clients cried. "My kids/in-laws/friends need me to make this a good time."
Really?
Here's the upside to this time. There are no rules — except the public health ones (face masks, social distancing, avoiding gathering with people outside of your immediate household for the holidays).
You don't have to use china, serve turkey, watch football, or eat pie. You don't have to have people over. You don't even have to feel grateful.
The fantasy story of the first Thanksgiving did not occur when people were in the midst of hardship. It is told that when the Pilgrims survived the long hard season, they gave thanks. We are still very much in the midst of that season of hardship.
Think about what you would most like to do, in this season of difficult challenges.
It's perfectly okay to tell your kids/parents/friends that you aren't going to be responsible for a festive day this year. You are going to do what feels best — order takeout, stay in your PJs, maybe cook if you feel like it, or call someone to chat if you feel like it.
No expectations. You have permission to feel whatever you feel.
And later, you can give thanks that you got through the holiday on your own terms.
Get Free Coronavirus Support for Chronic Illness Patients

Join the Global Healthy Living Foundation's free COVID-19 Support Program for chronic illness patients and their families. We will be providing updated information, community support, and other resources tailored specifically to your health and safety. Join now.