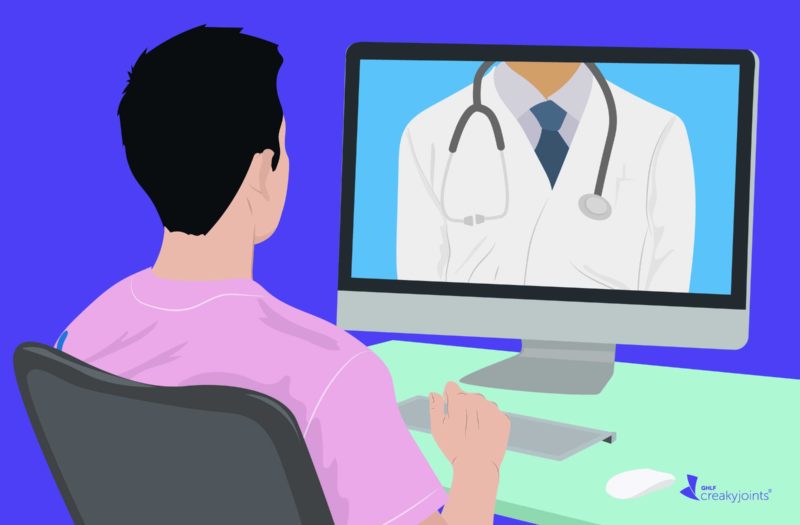 Rheumatologists across the country have been turning to telehealth, also called telemedicine, to provide care from a distance during the COVID-19 pandemic.
As part of the President's emergency declaration, the U.S. Centers for Medicare & Medicaid Services (CMS) loosened HIPAA health privacy laws for telehealth, which has made it easier for practices to start using it. It is no longer considered a HIPAA violation for health care professionals to diagnose and treat patients via telephone, email, video/audio services like FaceTime, Zoom, or Skype, or a specific mobile health app (like MDLIVE, Amwell, Doctor on Demand, or Talk Space).
While telehealth is far from new, few patients and rheumatologists used it regularly (and may have even resisted it) prior to the coronavirus pandemic. However, after a few months in, many physicians and patients are beginning to see some silver linings.
For CreakyJoints member Sarah W., telehealth is a huge timesaver: "It saves me almost five hours of driving," she shared on Facebook.
CreakyJoints member Gina R. has been pleasantly surprised by her telehealth experience. "I received a much longer appointment and more informed personal attention. Instead of staring at his laptop, [my doctor] actively engaged in my case."
Many rheumatologists have likened this new way of treating patients to old-school house calls of a bygone era.
"[Telehealth] is not just providing regular routine care but significant emotional and psychological support," says Howard Blumstein, MD, a rheumatologist at Rheumatology Associates of Long Island in New York. "It is therapeutic for all parties."
Telehealth visits allow doctors to see patients in perhaps a more authentic setting that can provide clues about how people are feeling and where they may need help.
"I get to see where [patients] live and get a flavor of how they're doing — if they're out of bed or if anyone else is around to help," says rheumatologist Douglas Roberts, MD, assistant clinical professor of medicine at the University of California Davis Medical School and founder of PainSpot.org. "And I get to meet a lot of cats and dogs."
The Importance of Staying Connected to Your Rheumatologist
 As anyone living with a rheumatologic condition knows, chronic illnesses such as inflammatory arthritis require regular visits — either in person or virtual — with your rheumatologist.
In a survey from earlier this year (pre-COVID-19 pandemic) of more than 500 CreakyJoints members, 79 percent of people said they saw a rheumatologist for the treatment of their main health condition; half said that they go to the doctor every two to three months.
While these uncertain times may cause you to question whether it is safe to see your doctor in person or whether it is worth the hassle to "deal" with a telehealth visit, the bottom line is that you can't afford not to stay in touch with your doctor right now.
It is important for you and your rheumatologist to make sure your arthritis or related condition is well-managed. Staying on top of your health now can help prevent complications or worse problems down the line. These routine visits are critical to assess:
Arthritis symptoms and how you feel day to day
How well you're able to do activities of daily living
Results of bloodwork and imaging to measure disease activity and progression
Current medications and address any side effects
New questions or concerns about managing your condition
Whether you see your doctor via telehealth or in person as the coronavirus pandemic continues will depend on a number factors, including the severity of your chronic conditions, your practice's recommendations, whether any in-person testing or procedures are needed, and whether you're able to get to and from the office safely.
While some parts of routine care are not possible to do over telehealth, your rheumatologist can assess how you're doing in other ways (more on this below). You can discuss as a team whether telehealth or in-person visits are best for your specific situation.
If you need to see your doctor in person, you can trust that your doctor's office is taking many precautions to keep patients safe. These include:
Screening for coronavirus symptoms among office staff and patients
Ensuring social distancing in waiting rooms or eliminating waiting rooms altogether (ask patients to wait outside the facility, such as in their car)
Limiting the number of patients and staff in the office at one time
Using thorough disinfecting measures, including cleaning all equipment and high-touch surfaces between each patient use
Using personal protective equipment (PPE)
Making the Most of Telehealth Visits
While remote visits are a safe and effective way to manage many aspects of rheumatic disease — and a much better alternative than delaying care — there are limitations along with a learning curve for those not used to using the technology.
Here's how experts say you can best overcome common hurdles and make the most of your virtual visits.
1. Get tech ready
Many doctor offices will call patients prior to the appointment to prep for the technology portion of the visit. This ensures that patients know exactly what modality the office is using — iPhone (FaceTime), other video conferencing, mobile health app — and that you have something compatible at home.
If you're not technologically savvy, do not worry. Most systems should be more or less "one click and then you're in," says rheumatologist Grace C. Wright, MD, PhD, founder and president of the Association of Women in Rheumatology (AWIR). If you can't figure it out, ask a friend or family member to help set up your virtual visit — you can still observe social distancing to do this.
If all else fails, a simple phone call with your doctor can work. Most rheumatologists prefer using video, too, so they can have a face-to-face encounter and see your range of motion, swollen joints, and any skin issues. But in a pinch or for those in remote areas with limited internet access, a phone call may be the only option.
2. Give it a test run
Don't wait until your appointment to test out the platform. "Get ready for the appointment 15 minutes ahead of time," says Dr. Roberts. Check the audio, locate and adjust the camera, and make sure that your device is adequately charged.
3. Gather supplies
In addition to your equipment, there are a few things you should have on hand to ensure an efficient and productive visit.
The office phone number (in case you get disconnected for any reason)
A pen and pad to write down any follow-up questions as well as next steps to take after the virtual visit, like bloodwork or future appointments
Monitoring supplies, such as a thermometer, scale, or blood pressure cuff if you have hypertension
A back-up phone for any glitches
There could be an issue, say, where you can see and hear your doctor but they can't hear you, or vice versa. "If patients have a landline, I'll call them and do both the televisit where I can see them and then use the phone to communicate," notes Dr. Blumstein.
A bag or baskets of all of your medications, vitamins, and supplements
Dr. Wright asks her patients to hold medications up to the camera so she can see the labels or take a quick screenshot.
"I need to review your meds and check for any contraindications," adds rheumatologist Alvin F. Wells, MD, PhD, director of the Rheumatology and Immunotherapy Center in Franklin, Wisconsin. He suggests calling your pharmacies ahead of time for a print-out of all of your medications.
4. Get in the right mindset
Although it may be fun to see your doctor's new beard or introduce them to your pets or family members, it is important to remember that this is not primarily a social visit.
"We want this to be a professional encounter. I really need to get medical information during this time," says Dr. Wright. "I want you as the patient to approach it with a level of gravitas. As much as it's a socially reassuring encounter, it's your health that I'm here to manage."
5. Don't go it alone
If you typically feel more at ease when a partner accompanies you to the doctor, ask a family member to sit next to you during your telehealth visit. It can be challenging to listen to the doctor, write things down, keep track of all your questions, and troubleshoot any technology issues. Having another pair of ears and hands can help, says Dr. Wells, who has been helping to pioneer telemedicine for rheumatology clinics for many years.
A family member can adjust the camera or screen while you focus your attention on the doctor and later provide an objective perspective on what happened during the appointment.
6. Prepare questions ahead of time — and check them off as you go
"Organization is key," say Dr. Wells. Write down at least one or two questions or topics that you'd like to cover during your visit to ensure you stay on track. Be realistic: Your doctor likely will not have time to address a list of a dozen questions, so prioritize the most important ones. You can always schedule follow-up visits for anything you didn't get to cover.
In turn, these are some of the questions your doctor might ask you during a telehealth visit:
For how long are you stiff or in pain in the morning?
How are you compared to your last visit?
Have any new issues arisen?
How are you feeling on your medication?
Are you running low on any medications?
Have you gotten your labs done?
As more states' economies begin to reopen, Dr. Blumstein also recommends asking your doctor: How is the practice going to deal with appointments in three months?
7. Know that an in-person visit is possible
Especially as restrictions continue to loosen, virtual visits may act as more of a triage tool to determine whether you need to go for a blood test or X-ray; come into the office for a physical exam; or head to the emergency room.
"As we're gradually opening up, we're asking our most high-risk patients — including those over age 65 — to do telehealth," says Dr. Roberts. "For those under 65, we're giving them the option to do telehealth or to come in."
Each doctor's office may have its own guidance about which patients should stick with telehealth vs. come in person, so be sure to discuss this with your own physician.
When Telehealth Works — and When to Head to the Office
The role that telehealth plays in your overall treatment plan will continue to take shape as states continue to open up and as cases of COVID-19 hopefully begin to decrease throughout the country. The in-office experience may also likely change.
Dr. Wells says he can't imagine offices ever going back to days when patients wait three or four months for an appointment to then sit for 40 minutes to an hour in over-crowded waiting rooms. He envisions that in the "new normal" after the coronavirus pandemic wanes, he will see his patients more frequently via telehealth than he did in the past.
 Telehealth Visits Work Best For:
Routine care and follow-up appointments
CreakyJoints member Gretchen D. just had her three-month checkup. "[My doctor] asked all of the same questions as usual and then was able to refill scripts," she says. "The difference was that I took what vitals I could at home."
You may be surprised by what doctors can assess from afar. Dr. Blumstein says he can observe joints for their range of motion; inspect joints for swelling; ask patients to self-palpate (self-check) a joint; or have patients squeeze across certain knuckles to get an indication of how that patient is doing.
RAPID3 questionnaires
This is a disease activity measurement (for rheumatoid arthritis specifically) that can inform the doctor about how your condition is doing without the need for blood tests to check inflammation levels.
Medication adjustments
This can involve tweaking dosages to better manage symptoms, adding or removing medications to your regimen, or switching from one medication to another to better control symptoms and side effects. Read the latest on managing medications for inflammatory conditions during the coronavirus.   
In-Person Visits Work Best For:
Ongoing pain
"I can't assess tenderness virtually," says Dr. Wright. "Even if I ask you to poke something on your body, the fact that you are touching yourself is very different than me touching you; the reflexes are different."
An urgent medical need 
Depending on your issue, your doctor might recommend an in-person visit or trip to the emergency room.
Possible fluid in your lungs
"I can assess whether your breathing is compromised but I can't tell if you're filling up with fluid or just wheezing," says Dr. Wright. "I can't hear your lungs."
Medications and procedures such as infusions or in-office injections
Read more about how to protect yourself during an infusion.
The most important thing to remember about telehealth, says Dr. Blumstein, is that "there is true benefit. While everyone is focused appropriately on preventing COVID-19, you have other health conditions going on and want to be able to continue to manage all of your conditions optimally and not just put [your health] on hold for who knows how long."
Get Free Coronavirus Support for Chronic Illness Patients

Join the Global Healthy Living Foundation's free COVID-19 Support Program for chronic illness patients and their families. We will be providing updated information, community support, and other resources tailored specifically to your health and safety. Join now.
ACR Infusion Guidance During COVID-19 Crisis. American College of Rheumatology. https://www.rheumatology.org/Portals/0/Files/ACR-Infusion-Guidance-COVID-19.pdf.
ACR Telehealth Provider Fact Sheet. American College of Rheumatology. May 7, 2020. https://www.rheumatology.org/Portals/0/Files/ACR-Telemedicine-Fact-Sheet-2020.pdf.
Interview with Alvin F. Wells, MD, PhD, rheumatologist and director of the Rheumatology and Immunotherapy Center in Franklin, Wisconsin
Interview with Douglas Roberts, MD, assistant clinical professor of medicine at the University of California Davis Medical School and founder of PainSpot.org
Interview with Grace C. Wright, MD, PhD, rheumatologist and founder and president of the Association of Women in Rheumatology (AWIR)
Interview with Howard Blumstein, MD, rheumatologist at Rheumatology Associates of Long Island in New York
Mikuls TR, et al. American College of Rheumatology Guidance for the Management of Adult Patients with Rheumatic Disease During the COVID-19 Pandemic. April 29, 2020. doi: https://doi.org/10.1002/art.41301.
Notification of Enforcement Discretion for Telehealth Remote Communications During the COVID-19 Nationwide Public Health Emergency. U.S. Department of Health & Human Services. March 23, 2020. https://www.hhs.gov/hipaa/for-professionals/special-topics/emergency-preparedness/notification-enforcement-discretion-telehealth/index.html.
Timmons J. The Best Telemedicine Apps of 2019. May 22, 2019. https://www.healthline.com/health/best-telemedicine-iphone-android-apps.