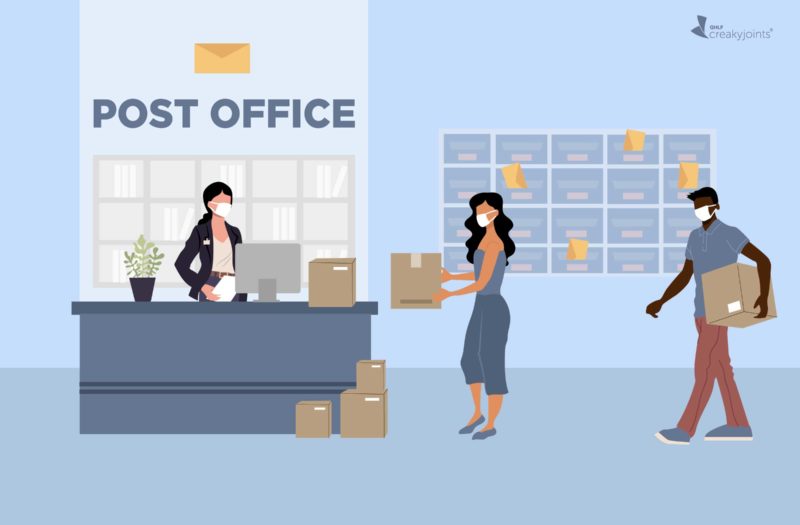 During the COVID-19 pandemic, it's common to feel isolated from loved ones, especially if you're in a high-risk group for complications. Mailing packages to family and friends is one small way to stay connected beyond phone calls or video chats, and often feels more personal than ordering something online and having it shipped directly to their address. You might need to ship mail and packages for your job or return items you've purchased while shopping online.
However, any errands or public outings carry some degree of risk for COVID-19 transmission. If you live with underlying medical conditions or take medication that can affect your immune system, you're likely well aware of the risks you need to balance when deciding what to do and where to go during the COVID-19 pandemic. The general guidance to follow is simple, yet not always easy to adhere to:
Maintain a social distance of six feet or more from people outside of your household whenever possible.
Wear face coverings when out in public and when you can't be socially distant.
Wash or sanitize your hands frequently and disinfect commonly touched surfaces.
Avoid large groups or situations when it will be hard to be socially distant.
When spending time with others, being outdoors is safer than indoors.
Shipping packages at a post office or shipping center can tricky because it's not contactless: You often need to wait indoors with other customers, hand the package to a sales associate, and possibly use pens or tape that other customers have used. Some shipping centers may be small or poorly ventilated, which could present additional risk, especially if proper social distancing is not enforced.
"In general, it's very important that patients with rheumatic conditions adhere to general principles," says says Elana Oberstein, MD, an internist with a subspecialty in arthritis and autoimmune disease at The Lennar Foundation Medical Center in Coral Gables, Florida. "You want to incorporate those principles into any interaction, whether it's going to the post office or something else."
However, if reaching your loved ones by mail is particularly important to you right now or you need to send packages for work, here are the risk factors and safety precautions to take into consideration.
Shipping Center Risks During COVID-19
Your level of risk in shipping packages will depend partly on how widespread COVID-19 transmission is in your city or region.
"If you have an underlying condition and live in a COVID hotspot, you should really still be sheltering in place," says Dr. Oberstein. "If you are in an area that has very few cases, I think you can maintain standard safety protocols and be a little more free to mobilize." 
Experts believe that COVID-19 is spread mostly from person to person, particularly those who are within about six feet of each other, per the U.S. Centers for Disease Control and Prevention. When an infected person coughs, sneezes, or talks, respiratory droplets are produced and can land in the mouths or noses of those nearby or even be inhaled into the lungs.
The virus that causes COVID-19 spreads very easily and sustainably – and even more efficiently than influenza. The more closely you interact with someone, and the longer that interaction lasts, the higher the risk of COVID-19 spread.
That means waiting next to others in a crowded shipping center could pose a higher risk for transmission, especially if people aren't following standard protocols for reducing the spread of coronavirus.
"If it's your neighborhood shipping center and there's only ever one or two people in it, it's probably not that big a deal as long as you're properly socially distancing, wearing a mask, and using good hand sanitation," says Christopher Lupfer, PhD, assistant professor of immunology and pathogenic microbiology at Missouri State University in Springfield. "But if there are 15 people waiting in line in a small space, that does become more of an issue."
Respiratory droplets, which have been shown to contain viral particles that can remain infectious in aerosols (tiny droplets suspended in the air) for three hours, are airborne for a far shorter period of time in better ventilated spaces, per a May 2020 study published in The Lancet Respiratory Medicine. Poorly ventilated and populated spaces have been reported as sites of viral transmission even when preventive physical distancing is put into place.
Keep this in mind as you plan when to ship packages. For instance, it may be riskier to ship packages in person during the busy fall holiday season than on a regular weekday morning.
The virus may also be spread when a person touches a surface or object that has the virus on it, then touches their mouth, nose, or possibly their eyes, per the CDC. Of course, shipping a package involves touching several shared surfaces, especially if you don't bring your own supplies. You might come in contact with door handles, shipping counters, shared pens, stacks of shipping labels, package scales, and payment machines.
Although you know to use hand sanitizer or wash your hands after visiting public spaces like the post office or a shipping center, it's easy to touch your face without realizing it when you're inside a business for a period of time.
"Shipping a package isn't that different from going to the grocery store or anything else; it's just a matter of making sure that you're following the guidelines," says Dr. Lupfer. "The thing that concerns me most is that most people go through the motions, but they're not conscientious about what they're doing. They might wear a face mask but still touch their face."
Practicing good sanitary behaviors (like resisting scratching your cheek or pulling back your hair when your hands haven't been sanitized) takes practice, but if you do so every day, it'll soon become a habit that will protect you in public spaces like a shipping center.
Signs a Shipping Center Is Following Guidelines
Due to the vast number and different types of of shipping centers and post offices across the country, adherence to safety protocols will vary by location. But, for example, the United States Postal Service (USPS) has stated that it is taking safety precautions such as:
Ensuring face coverings, gloves, and cleaning and sanitizing products are available to more than 30,000 locations daily
Requiring that non-public facing Postal Service employees wear face coverings while at work when proper social distancing cannot be achieved
Requiring that public-facing Postal Service employees use face coverings in the local and state jurisdictions where there is an ordinance for the mandatory use of face coverings
Implementing measures like signage, floor tape, and "cough/sneeze" barriers to ensure appropriate social distancing
Updating cleaning policies to ensure all cleaning occurs in a manner consistent with CDC guidance
However, some postal workers have voiced concern that not enough is being done to protect them at work and that guidelines have not been followed at their branches. Others reported not being told when colleagues tested positive for COVID-19.
One way to learn more about if a shipping center is following guidelines is to call ahead, read online reviews, or ask your friends or family who have already visited a given center.
"If you don't want to be face to face with a salesperson, you could call a few different businesses ahead of time and see which ones have installed plexiglass barriers," says Dr. Oberstein. You might also ask what contactless options are available for shipping packages.
How to Stay Safe at a Shipping Center Right Now
In addition to following the standard COVID-19 prevention protocols of social distancing, wearing a face mask, and practicing proper hand hygiene, there are steps you can take to make your visit to a shipping center safer.
However, it may be worth considering if you really need to go in person at all.
"Any time you can avoid interactions with others outside of your household, you should," says Amanda Valyko, MPH, director of Infection Prevention & Epidemiology at Michigan Medicine. "You might also consider arranging for a porch pick-up of your package if you're able to."
Arrange contactless shipping
If your local shipping center offers a self-service option in which you can print your label ahead of time and simply drop your package off, that may be a better option to reduce contact with others. The USPS also provides Stamps.com, a website in which you can calculate your exact postage, purchase it, and print it all at home.
"For work-from-home situations where you have to do large-volume mailing, you could open a Stamps.com account and leverage your own printer at home," says Dr. Oberstein.
Patronize less-crowded shipping centers
When you do need to go to a shipping center in person, remember that your main risk will be standing close to others or interacting with them.
"The major risk is exposure to others while you are out," says Valyko. "Wearing a mask, keeping at least six feet away from others, and sanitizing your hands after touching things are all measures that greatly reduce your risk."
It's also a good idea to search for your local shipping center online. Look at its peak popular times (this information is often provided by search engines) so you can avoid going when it may be busier than usual. If you live close to several shipping centers, it might be worth driving an extra five to 10 minutes to a particular one if it typically has fewer patrons.
"As a patient with an inflammatory arthritis or an underlying rheumatic condition, you feel better when you arm yourself with knowledge," says Dr. Oberstein. "You know what you're walking into, and there are no surprises."
Use your own supplies
You can also prepare by bringing your own supplies, adds Dr. Oberstein. Keep a resealable plastic bag stocked with labels, pens, tape, scissors, and anything else you might need to ship a package so you don't have to use shared supplies at the shipping center.
Once you leave the center, use hand sanitizer or wash your hands as soon as possible.
Do You Need to Sanitize Packages You Receive in the Mail?
You may be tempted to sanitize a package before you bring it inside your home, and it may not be a bad idea. The virus that causes COVID-19 can survive for up to 24 hours on cardboard, per an April 2020 study published in The New England Journal of Medicine.
"If the package was just dropped off, it's conceivable that there could be something on the package and you might want to wipe it off," says Lupfner. That said, COVID-19 is unlikely to be spread from domestic or international mail, products, or packaging, per the CDC.
Better yet, be sure to wash your hands thoroughly with water and soap for at least 20 seconds after handling packages and mail.
Get Free Coronavirus Support for Chronic Illness Patients

Join the Global Healthy Living Foundation's free COVID-19 Support Program for chronic illness patients and their families. We will be providing updated information, community support, and other resources tailored specifically to your health and safety. Join now.
Frequently Asked Questions. Coronavirus Disease 2019 (COVID-19). U.S. Centers for Disease Control and Prevention. August 4, 2020. https://www.cdc.gov/coronavirus/2019-ncov/faq.html.
How COVID-19 Spreads. Coronavirus Disease 2019 (COVID-19). U.S. Centers for Disease Control and Prevention. June 16, 2020. https://www.cdc.gov/coronavirus/2019-ncov/prevent-getting-sick/how-covid-spreads.html.
Interview with Amanda Valyko, MPH, director of Infection Prevention & Epidemiology at Michigan Medicine 
Interview with Christopher Lupfer, PhD, assistant professor of immunology and pathogenic microbiology at Missouri State University in Springfield
Interview with Elana Oberstein, MD, an internist with a subspecialty in arthritis and autoimmune disease at The Lennar Foundation Medical Center and senior medical director of musculoskeletal at Modernizing Medicine
Media Statement – COVID-19. United States Postal Service. April 30, 2020. https://about.usps.com/newsroom/statements/usps-statement-on-coronavirus.htm.
Postal Workers Say USPS Isn't Telling Them When Colleagues Test Positive for COVID-19, Despite Promising To. ProPublica. April 14, 2020. https://www.propublica.org/article/postal-workers-say-usps-isnt-telling-them-when-colleagues-test-positive-for-covid-19-despite-promising-to.
Somsen GA, et al. Small droplet aerosols in poorly ventilated spaces and SARS-CoV-2 transmission. The Lancet Respiratory Medicine. May 27, 2020. doi: https://doi.org/10.1016/S2213-2600(20)30245-9.
USPS workers concerned agency isn't doing enough to protect essential workers from COVID-19. ABC 7 Chicago. August 14, 2020. https://abc7chicago.com/usps-covid-illinois-postal-service/6360074/.
van Doremalen, N, et al. Aerosol and Surface Stability of SARS-CoV-2 as Compared with SARS-CoV-1. The New England Journal of Medicine. April 16, 2020. doi: https://doi.org/10.1056/NEJMc2004973.