Learn more about our FREE COVID-19 Patient Support Program for chronic illness patients and their loved ones.
Cooking healthy, delicious meals at home for months on end is exhausting for anyone, but it can be especially tiring — or feel downright impossible — for people with arthritis and related conditions. Chronic pain, especially in the hands and feet, can make it challenging to chop, dice, slice, and stir, as well as stand in the kitchen for long periods and handle clean-up and dishwasher duty. Fatigue adds yet another layer of frustration.
But we know CreakyJoints and Global Healthy Living Foundation members want to eat healthfully during the coronavirus pandemic because diet can have a big impact on arthritis flares, energy levels, weight, and control of other underlying health issues like heart disease and diabetes.
Enter the beauty of the Instant Pot. This kitchen gadget has grown in popularity in recent years because of its versatility and ability to cook foods quickly (say, compared with a slow cooker).
We spoke with Jeffrey Eisner, author of the new bestselling cookbook The Step-by-Step Instant Pot Cookbook and creator of the Pressure Luck site and YouTube channel, for some advice about how people with chronic illness can use an Instant Pot to eat healthy on a budget and with limited cooking time. Jeffrey, who happens to be a childhood friend of mine, also shared four delicious, healthy, and easy soup recipes from his new cookbook.
Q: How did you start using an Instant Pot and what inspired you to develop your own recipes and make a cookbook?
A: I'm obsessed with the latest kitchen gadgets and appliances, so when Instant Pot fell on my radar in the holidays of 2016, I knew I had to have one. Little did I know it would change my life. When it arrived, I quickly taught myself how to use it, uploaded a How-To video to YouTube and shared it with the world. It quickly caught on and soon people were asking me to make recipes for it — a talent I didn't truly know I possessed until I started experimenting with this new and super easy and convenient way of cooking. I learned how to cook (unofficially) at the Grandma Lil Cooking Academy (that's my grandmother, who passed away a few years ago). I would just add seasoning and spices to proteins and veggies. Then I started writing things down on paper along with visual instructions and I realized I had become a recipe developer, specializing in this new way of cooking.
Q: What are the benefits of using an Instant Pot for people with chronic illness, who struggle with pain and fatigue?
A: With an Instant Pot, the cooking is all done in one pot after pushing a few buttons. That means minimal mess and minimal clean up. It is one of the easiest ways you could cook an absolutely stellar and nutritious meal. The pot is also pretty lightweight, which is important if you have chronic pain.
Q: How can using an Instant Pot promote healthy eating?
A: The Instant Pot can cook so many different things, you almost have the pinch yourself to believe it's all done in the same appliance. From yogurt to seafood to chicken to a rich filling ratatouille stew, the healthy options are limitless. If you find a recipe that's on the indulgent side, you can easily dial down the fat content by subbing the ingredients with healthier alternatives.
Q: How can using an Instant Pot promote eating well on a budget?
A: Many meals can be made using basic cupboard essentials. If you have a bag of beans, any kind of broth, a few cans of tomatoes, ground meat in the freezer, and some basic spices, you can find yourself with the most outrageous chilis you've ever slurped.
Q: How are you finding your Instant Pot most useful during the coronavirus quarantine?
A: The Instant Pot has been a lifesaver during the quarantine. Cooking can quickly become tiresome, but there's something about doing everything in one pot and re-inventing traditional ways of cooking in unconventional ways that keep it exciting, easy, and foolproof. Not to mention, it's a ONE POT CLEAN-UP.
Q: Anything else about your book/work you'd like our community to know about?
A: Above all else, cooking should be fun and therapeutic. Before you begin cooking, make sure you have all your ingredients prepped and ready to go. This will save so much time and unnecessary scrambling once you begin.
Also, if you have curious family members around the house who could help in the kitchen, the Instant Pot is a great way for them to start to learn how to cook. You get a helper in the kitchen and they learn an essential skill that could potentially change their life. It's a win-win. And who knows? In a week or two the kids could be the ones putting the dinner on the table and you'll be taking the trash out instead. Sounds like an even trade to me!
Healthy, Easy Instant Pot Soup Recipes
Basic Bean Soup
Ingredients:
1 pound dried Great Northern or Cannellini bean
6 cups broth of your choice
2 tablespoons (1/4 stick) salted butter OR 2 tablespoons extra virgin olive oil
1 onion, diced
1 tablespoons (3 cloves) garlic, crushed or minced
Any spices in your cupboard that you enjoy
Get step-by-step cooking instructions here.
Ratatouille
Ingredients:
1/4 cup extra virgin olive oil
1 large Vidalia (sweet) onion, thinly sliced
2 Tbsp of crushed garlic
1 large eggplant, skin on and cut into cubes
1 green bell pepper, cut into medium chunks
1 red bell pepper, cut into medium chunks
1 large zucchini (green squash), cut into discs and then quartered
1 medium yellow squash, cut into discs and then quartered
14.5 oz can of diced tomatoes
2 tsp of Italian seasoning
1/2 teaspoon dried thyme
1/2 teaspoon dried basil
1 teaspoon Herbes de Provence
1/2 cup dry red wine or vegetable broth
6 oz can of tomato paste
Grated Parmesan cheese, for topping (optional)
Get step-by-step cooking instructions here.
Minestrone Soup
Ingredients:
3 Tbsp extra-virgin olive oil
1 Spanish onion, diced
2 stalks of celery, sliced
1 large carrot, chopped into quarter wedges
1 small zucchini, chopped into quarter wedges
1 Tbsp of garlic, minced
6 cups of vegetable broth
1 cup of frozen cut green beans
28 oz can of crushed tomatoes
14.5 oz can of diced tomatoes
15.5 oz can of red kidney beans, drained & rinsed
15.5 oz can of cannellini beans, drained & rinsed
1 tsp of dried oregano
1 tsp of dried basil
1/2 tsp of dried thyme
1 tsp of black pepper
2 tsp of seasoned salt
5-6 oz bag of baby spinach
1 cup of Pipette pasta (Ditalini or mini shells works well here too)
Grated Parmesan cheese, for topping
Get step-by-step cooking instructions here.
Egg Lemon Orzo Soup
Ingredients:
6 cups of chicken broth
3/4 cup uncooked orzo
3 eggs
Juice of 2 squeezed lemons
Get step-by-step cooking instructions here.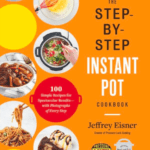 Learn more here and purchase The Step-by-Step Instant Pot Cookbook: 100 Simple Recipes for Spectacular Results.
Get Free Coronavirus Support for Chronic Illness Patients

Join the Global Healthy Living Foundation's free COVID-19 Support Program for chronic illness patients and their families. We will be providing updated information, community support, and other resources tailored specifically to your health and safety. Join now.