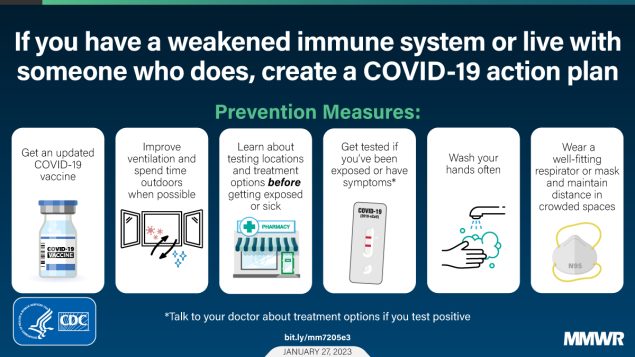 More than 90 percent of circulating SARS-CoV-2 variants in the United States are now unlikely to be susceptible to Evusheld, per the U.S. Centers for Disease Control and Prevention. As a result, the U.S. Food and Drug Administration recently announced that Evusheld is no longer authorized for pre-exposure prevention.
Because of this, it's particularly important for those who are moderately to severely immunocompromised to be cautious and recognize the greater need for additional preventive measures during this time. Overall, this includes exercising most of the same practices that have been recommended since the beginning of the pandemic.
According to the CDC, you should be following these prevention measures if you have a weakened immune system or live with someone who does:
Get an updated COVID-19 vaccine
Improve ventilation and spend time outdoors when possible
Learn about testing locations and treatment options before getting exposed or sick
Get tested if you've been exposed or have symptoms (and talk to your doctor about treatment options if you test positive)
Wash your hands often
Wear a well-fitting respirator or mask and maintain distance in crowded spaces
In its recent report, the CDC underscored the importance of establishing a care plan that includes rapid access to antivirals like Paxlovid if a COVID-19 infection is detected.
And remember, vaccination is still the most effective way to prevent severe illness, hospitalization, and death from COVID-19. Make sure that not only you, but also your household members and close contacts, are up-to-date with the vaccine. That means receiving the updated bivalent boosters when eligible.
Preliminary data shows that the bivalent booster provides additional protection against symptomatic COVID-19 infection among immunocompetent people who previously received two, three, or four vaccine doses. Despite this, only 15 percent of Americans age 5 or older had received a bivalent booster dose as of January 18, 2023, per the CDC.
The takeaway message: With the loss of Evusheld as a treatment option, it's particularly important to be vigilant if you're high-risk for severe COVID.
Based on the minimal changes to the CDC's guidance, the American College of Rheumatology does not have any additional updates or recommendations to its COVID-19 Vaccine Clinical Guidance at this time.
Already had COVID-19? Learn how to avoid reinfection this winter season.
Get Free Coronavirus Support for Chronic Illness Patients

Join the Global Healthy Living Foundation's free COVID-19 Support Program for chronic illness patients and their families. We will be providing updated information, community support, and other resources tailored specifically to your health and safety. Join now.
Patel P, et al. Information for Persons Who Are Immunocompromised Regarding Prevention and Treatment of SARS-CoV-2 Infection in the Context of Currently Circulating Omicron Sublineages — United States, January 2023. Morbidity and Mortality Weekly Report (MMWR). U.S. Centers for Disease Control and Prevention. January 27, 2023. https://www.cdc.gov/mmwr/volumes/72/wr/mm7205e3.htm.