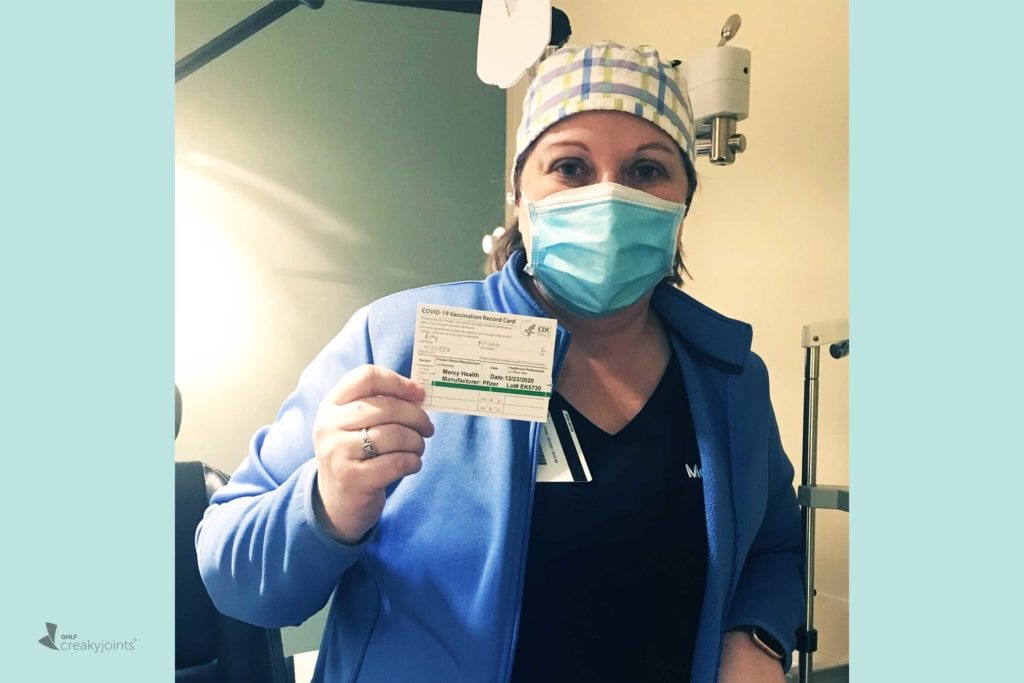 A new study has found that three doses of the Moderna or Pfizer COVID-19 vaccine are highly effective at preventing hospitalization due to COVID-19 in patients who are taking immunosuppressive drugs — providing further reason to get fully vaccinated, even if you're immunocompromised.
The findings, published in The Lancet Rheumatology, were based on data collected from 168,414 electronic health records and immunization data. Three percent of the study population (5,609 people) were taking immunosuppressive medications.
Patients who were taking immunosuppressive DMARDs or glucocorticoids — or who had a history of organ or bone marrow transplantation — had a higher risk of hospitalization due to COVID-19 than the general population. However, the findings show that Pfizer and Moderna vaccines analyzed still remain very effective within this group.
In patients receiving immunosuppressants, three doses of the Pfizer vaccine had an effectiveness of 50 percent in preventing COVID-19 and three doses of the Moderna vaccine had an effectiveness of 60 percent. Notably, three doses of either vaccine had an effectiveness of 87 percent against hospitalization due to COVID-19 in these patients.
This rate of effectiveness for immunosuppressed individuals against hospitalization is similar to the 92 percent effectiveness found in immunocompetent individuals who receive two doses and a booster, note the researchers.
"This might seem surprising given immunogenicity studies showing lower antibody levels after vaccination in immunosuppressed individuals," says lead study author Malcolm Risk, MA. "However, we would note that these individuals also have a weakened immune system at baseline, so antibody levels might not directly reflect change in level of overall immune protection, which is what vaccine effectiveness measures."
In other words, antibody levels are not the only measure of immune protection. (Read more on what you should know about antibody testing if you're immunocompromised, and why experts don't necessarily recommend taking these tests yourself.)
Most of the prescriptions for glucocorticoids in the data were for prednisone (73 percent). Given the limited sample size, the researchers did not assess medications individually.
It's also worth noting that this study reported on the effectiveness of two full doses and the half-dose booster of the Moderna vaccine (the primary doses and booster shots of the Pfizer vaccine, on the other hand, are all full doses). Policy announcement regarding a three-dose primary series for immunocompromised individuals — in this case, three full doses make up the primary series, which is then followed by a booster or fourth shot — came months after most vaccinated people actually received their primary series. Because of that, very few individuals in the study's data followed this course of treatment, but rather received "boosters."
What This Means for You
The study results demonstrate the importance of getting vaccinated and getting subsequent boosters as they become available.
"There have been a lot of concerns about vaccine effectiveness among immunosuppressed individuals, but our results indicate substantial effectiveness, particularly in terms of preventing hospitalizations," says Risk. "Vaccines are particularly important for this group, as they are at much higher risk than immunocompetent individuals prior to vaccination."
Remember, there is a new COVID-19 booster available now designed to help restore protection that may have waned since your last vaccination and to target variants that spread and evade immunity more easily.
Need to get your flu shot, too? Here's how to time your latest COVID-19 booster and annual flu shot. 
Get Free Coronavirus Support for Chronic Illness Patients

Join the Global Healthy Living Foundation's free COVID-19 Support Program for chronic illness patients and their families. We will be providing updated information, community support, and other resources tailored specifically to your health and safety. Join now.
Risk M, et al. COVID-19 vaccine effectiveness against omicron (B.1.1.529) variant infection and hospitalisation in patients taking immunosuppressive medications: a retrospective cohort study. The Lancet Rheumatology. August 16, 2022. doi: https://doi.org/10.1016/S2665-9913(22)00216-8.
Interview with lead study author Malcolm Risk, MA.