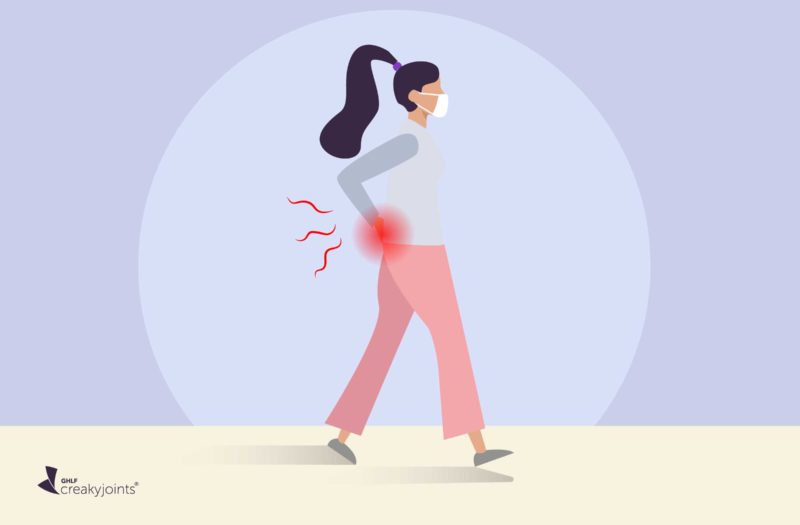 Living with ankylosing spondylitis (AS) or axial spondyloarthritis (axSpA) means coping with chronic pain, flares, and stiffness — whether in your back, hips, buttock, heels, rib cage, or all of the above (and then some).
But how does having AS/axSpA affect your risk of COVID-19 complications and your ability to treat and manage your arthritis symptoms while practicing social distancing or shelter in place?
People with AS or axSpA may be considered in a higher-risk group for potential COVID-19 complications, although there is not yet a large amount of data on this patient population to know how patients fare when infected with coronavirus compared to people without AS or axSpA.
Here is what rheumatology experts want ankylosing spondylitis and axial spondyloarthritis patients to know — based on what is known so far — about staying safe and managing their condition as the coronavirus pandemic continues.
Does AS/axSpA Make You High-Risk for Coronavirus?
Like other types of inflammatory arthritis, ankylosing spondylitis/axial spondyloarthritis causes your immune system to focus on attacking your body (in this case, your spine and the sacroiliac (SI) joints that connect the lower spine to the pelvis) rather than outside threats like the coronavirus.
Many people with AS or axSpA take medications that affect the immune system to manage their symptoms.
"There are a lot of unknowns; we're still learning," says Petros Efithimiou, MD, FACR, a rheumatologist who practices in New York City. Though preliminary, he notes that a recent study from Italy published in the journal Annals of the Rheumatic Diseases found that patients with rheumatic diseases who were taking immunosuppressant medications did not seem to have a higher risk of coronavirus complications.
In guidance recently issued from the American College of Rheumatology (ACR) and published in the journal Arthritis & Rheumatology, the authors state:
"To our knowledge, there is currently no evidence identifying risk factors of poor outcome with COVID-19 that are specific to rheumatic disease … risk factors of poor outcome with COVID-19 include older age and select comorbidity such as chronic lung disease, hypertension, cardiovascular disease (CVD), chronic kidney disease (CKD), obesity and diabetes mellitus, conditions frequently overrepresented in patients with rheumatic disease."
A recent case series published in the New England Journal of Medicine found that compared to the general population, people with autoimmune diseases (psoriasis, rheumatoid arthritis, psoriatic arthritis, and inflammatory bowel disease) had a lower rate of hospitalization. The patients were also more apt to be hospitalized if they had co-occurring high blood pressure, diabetes, or chronic obstructive pulmonary disease (COPD). What's more, the researchers determined that "baseline use of biologics [in people with autoimmune disease] is not associated with worse COVID-19 findings." Read more here about the preliminary research.
New research published in the Annals of the Rheumatic Diseases also yielded mostly good news.
According to the study, which focused on people in the Boston area (with and without rheumatic diseases) who tested positive for COVID-19 in March and early April, the patients with rheumatic diseases were not any more likely to develop severe symptoms that warranted hospitalization than those without a rheumatic condition. They were not any more likely to die from coronavirus, either. But, if hospitalized, they were far more likely to require major interventions. Read more about the study here.
Still, based on what is known right now, age and comorbidities seem to be bigger influences on poor outcomes from COVID-19 than having an inflammatory condition like ankylosing spondylitis alone.
If you have AS or axSpA plus such comorbidities, you may be more susceptible to complications if you were to contract COVID-19. This isn't meant to scare you, but to urge you (and, importantly, those around you) to continue to practice social distancing and maintain hygiene measures, even as economies begin to reopen in many U.S. states.
Rheumatologists and patients are working to find more answers. In fact, it may be reassuring for you to know that an international group of doctors and researchers is currently gathering data on rheumatology patients to understand how their disease, medications, and other factors influence their outcomes with COVID-19. The research registry is called the COVID-19 Rheumatology Alliance. Researchers are tweeting findings and observations as data comes in, so you may want to follow the group on Twitter to stay informed.
AS/axSpA and COVID-19 Symptoms
In some cases, AS/axSpA can cause inflammation or scarring in your lungs as well as inflammation in the sternum and rib joints — called costochondritis — which impacts your ability to take a deep breath, says Rochelle Rosian, MD, a board-certified rheumatologist at the Cleveland Clinic's Department of Rheumatic and Immunologic Diseases and director of Regional Rheumatology.
The coronavirus is a respiratory virus that can cause shallow breathing and shortness of breath. People with AS/axSpA who are already prone to chest pain and breathing issues are more likely to notice this coronavirus symptom and may not be able to compensate as well as those with normal lung function.
Wondering whether any breathing difficulties could be due to ankylosing spondylitis or could be the onset of COVID-19? Here's one important difference: With AS/axSpA you likely won't experience breathing problems at rest, says Dr. Rosian.
Shortness of breath along with a dry cough and fever are hallmark symptoms for a lot of people with COVID-19.
This is why it is crucial to pay attention to what is normal (and what is not) for you and your axSpA. You need to let your rheumatologist know if you suddenly feel different or more tired than usual.
However, more data is needed before rheumatologists can say for sure whether people with ankylosing spondylitis, axial spondyloarthritis, or other forms of inflammatory arthritis have different COVID-19 symptoms than people without inflammatory conditions.
Read more here about what to know specifically about common COVID-19 symptoms such as fever, cough/shortness of breath, and fatigue when you also have inflammatory arthritis.
Do Not Stop Taking Medications on Your Own
One of the most common questions we are fielding from rheumatology patients is about whether to stop taking their disease-modifying medications. But the guidelines here are still generally the same for axSpA patients as they've been since the beginning of the coronavirus pandemic:
If you are otherwise healthy, you should not stop taking your axSpA medications.
"Many medications you're taking [such as biologics] are manipulating the parts of your immune system that are out of control into more normal ranges, so if you're feeling well and you have no known exposure, you need to stay on your baseline medication," says Dr. Rosian. "It's most important that you remain healthy rather than go off your medication and risk getting a flare up of your condition."
Here's a look at the recent clinical guidance from the American College of Rheumatology (ACR) as it pertains to ankylosing spondylitis and axial spondyloarthritis:
If you're taking corticosteroids:
Use the lowest dose possible to control AS/axSpA — and do not abruptly stop these medications, even if you've been exposed to COVID-19 or have the virus.
If you're healthy and have AS/axSpA, the following medications may be continued:
DMARDs such as sulfasalazine (SSZ), methotrexate (MTX), leflunomide (LEF) [these are not typically use for AS/axSpA, but may be prescribed if you also have peripheral arthritis]
Biologics
Janus kinase (JAK) inhibitors
Non-steroidal anti-inflammatory drugs (NSAIDs)
"You should continue taking your prescribed dose of NSAIDs for your chronic underlying conditions," says Dr. Rosian. "You are taking them for inflammation, not fever." If you're treating a fever, however, you should use acetaminophen.
If you have AS/axSpA and a confirmed or suspected COVID-19 infection:
If you do become sick with an infection, then the decision about whether to stop certain immunosuppressing medications should be made with your health care provider — never alone. The ACR guidance generally suggests that if someone with AS/axSpA has a confirmed or suspected COVID-19 infection, then:
Sulfasalazine, methotrexate, leflunomide, immunosuppressants, biologics, and JAK inhibitors should be stopped or held
For patients with severe respiratory symptoms, NSAIDs should be stopped
What to Know About Getting Biologic Infusions
Patients who get biologic infusions may be concerned about continuing to receive these treatments, as they require going into a doctor's office, outpatient clinic, or hospital.
If you have concerns, it's a good idea to call your doctor's office ahead of time to ask about what to expect in terms of new procedures. Examples of procedural changes for infusions include:
Screen for coronavirus symptoms among office staff and patients
Ensure social distancing in waiting rooms or eliminate waiting rooms altogether (ask patients to wait outside the facility, such as in their car)
Limit the number of patients and staff in the office at one time
Use thorough disinfecting measures, including cleaning all equipment and high-touch surfaces between each patient use
Use personal protective equipment (PPE)
Find out more here about navigating biologic infusions during the pandemic.
Read more about sick-day planning for the coronavirus pandemic.
How to Manage Your AS/axSpA Symptoms During the Coronavirus Pandemic
As a patient with ankylosing spondylitis or axial spondyloarthritis, your most important health goals right now are:
Avoid getting COVID-19
Stay on top of your AS/axSpA to avoid flares or complications
It is important to make sure your axSpA is well-controlled. Arthritis that is flaring means that your immune system may be less able to fight off infection.
Here's how rheumatologists are advising axSpA patients to stay healthy (in both mind and body) during the COVID-19 pandemic.
Follow public health guidance
It's important to continue to follow recommendations from the U.S. Centers for Disease Control and Prevention for people who may be at a higher risk of complications, even as economies begin to reopen. This includes:
Stay home as much as possible
Follow social distancing when near others
Wear a face covering in public
Wash hands thoroughly and often
Disinfect frequently touched surfaces
Take advantage of telehealth
Most rheumatologists are offering telehealth visits as an alternative to in-person visits — and they're encouraging patients to reach out with any questions and concerns between visits, too. Not sure how remote care works? The American College of Rheumatology put together some guidance for patients on how to navigate telehealth and you can read more here about how some practices are implementing telehealth.
Get tips on making your next telehealth visit as successful and helpful as possible.
Do not fear in-person doctor visits
If your doctor wants you to come for an in-person visit, know that offices have dramatically changed their environments and systems to ensure safety for patients (as well as for their doctors, nurses, and staff). Ask your doctor in advance about what to expect in terms of new procedures, which should help you feel more reassured.
Lean on loved ones
Although many places have measures in place to limit customers, grocery stores can still be crowded and are best avoided if you are at a higher risk for COVID-19 complications. If possible, ask a family member or close friend to pick up essentials for you, or try to book a grocery delivery service or curbside pick-up.
Get up and move
Physical activity is a critical part of symptom management for AS. Many patients report that being sedentary can contribute to back pain and stiffness. Being quarantined at home can make it more challenging to get enough physical activity. In addition, people who are suddenly working from home in a makeshift office may find that their work station is not ergonomic and could contribute to joint pain.
It is very important to take frequent breaks. "Try not to sit for more than an hour," says Dr. Rosian. At the very least, "take a 15-minute break in the morning, a lunch break, and a 15-minute break in the afternoon."
During this time, do a few exercises to work on your posture and core and get your blood flowing, including:
Shoulder shrugs
Shoulder blade squeezes
Chin tucks
Wall sits
Squats
Stretching
Knee lifts
Hold a plank position
Cow pose
Arm circles
Walking laps around your house or around your block
If it's safe to do so, take a 15- to 30-minute walk outside and get some much-needed fresh air, says Dr. Rosian. "This will help you ground yourself, calm down your head, let your brain process everything that is going on, and keep you moving," she says.
Try a new workout
Many AS/axSpA patients say they are missing physical therapy, gym, and swim classes — both for the pain relief and social connection. While you may not be able to head to PT or the pool, you can do chair yoga or tai chi via Zoom or YouTube.
"It is important for patients with AS/axSpA to maintain mobility of the spine and keep that baseline core strength," says Dr. Efithimiou. Use caution and use common sense: Listen to your body to reduce a chance of injury.
Prioritize sleep
Getting quality sleep — especially during the second half of the night when your inflammatory back pain may worsen — isn't easy for people with ankylosing spondylitis or axial spondyloarthritis. Add the anxiety you're experiencing surrounding the coronavirus pandemic and a restful night's sleep can feel impossible. If you're really struggling to sleep because of coronavirus painsomnia, ask your doctor about your options.
"If you take a muscle relaxer or melatonin on occasion, and you're having trouble sleeping for two to three nights per week, talk to your rheumatologist about taking these [medications/supplement]," says Dr. Rosian.
Here are a few more sleep strategies to try:
Keep your bedroom cool and dark
Stop using your smartphone at least an hour before bed
Stick to a consistent wake-sleep schedule (get up and go to sleep at the same time every day)
Avoid alcohol and caffeine close to bedtime
Stretch before bed
Download a meditation app (such as Headspace, 10 Percent Happier, or Calm)
Stop smoking
There has never been a better time to quit smoking. Not only does smoking contribute to increased joint pain and joint damage (as well as deadly cancer and heart disease), it also increases your risk of transmission of the virus from hand to mouth (as you bring the cigarette to your lips) and also causes lung disease and COPD, which reduces your lung capacity and decreases your body's ability to fight COVID-19 infection.
Make your diet as anti-inflammatory as possible
Aim to eat a Mediterranean diet pattern to possibly help reduce inflammation and boost mood. This means loading up on fruits and vegetables, beans, nuts, white meat, fish, and whole grains, and avoiding red meat and high-sugar, processed food. Of course, this is easier said than done when fresh, healthy food may be hard to come by or too expensive.
It's natural to crave comfort food in times of stress but do your best to resist. Not only can many of these foods increase inflammation in the body but they can lead to weight gain, which can put extra stress on your spine and hips.
Check out these anti-inflammatory meals made with mostly shelf-stable ingredients for inspiration.
Cultivate quarantine hobbies that sap stress
"A lot of people hold stress in their necks and upper backs, which is a hotspot for many people with AS/axSpA," says Dr. Rosian. "Try to step away from things that may be stress-provoking."
In addition to limiting TV and screen time, Dr. Rosian tells her patients to practice mindfulness or deep breathing, cook up a healthful meal, color in an adult coloring book, or do something creative.
Adds Dr. Efithimiou: "Stay connected with loved ones — and remind yourself that this is temporary." For more mental health advice, check out our library of affirmations from clinical psychologist Laurie Ferguson, PhD.
Consider journaling
Not only can journaling help you label your feelings and emotions, but it can enable you to identify the "good" in each day or your "win moment" for the past 24 hours. Check out these journal prompts specifically for people living with chronic illness.
You can also use our ArthritisPower app to track your AS or axSpA symptoms and disease activity and share your results with your doctor.
Get Free Coronavirus Support for Chronic Illness Patients

Join the Global Healthy Living Foundation's free COVID-19 Support Program for chronic illness patients and their families. We will be providing updated information, community support, and other resources tailored specifically to your health and safety. Join now.
ACR Infusion Guidance During COVID-19 Crisis. American College of Rheumatology. https://www.rheumatology.org/Portals/0/Files/ACR-Infusion-Guidance-COVID-19.pdf.
ACR Updates: COVID-19. American College of Rheumatology. https://www.rheumatology.org/announcements.
D'Silva KM, et al. Clinical characteristics and outcomes of patients with coronavirus disease 2019 (COVID-19) and rheumatic disease: a comparative cohort study from a US 'hot spot.' Annals of the Rheumatic Diseases. May 26, 2020. doi: https://doi.org/10.1136/annrheumdis-2020-217888.
Haberman R, et al. Covid-19 in Immune-Mediated Inflammatory Diseases — Case Series from New York. New England Journal of Medicine. April 29, 2020. doi: https://doi.org/10.1056/NEJMc2009567.
Interview with Petros Efithimiou, MD, rheumatologist who practices in New York City
Interview with Rochelle Rosian MD, board-certified rheumatologist at the Cleveland Clinic's Department of Rheumatic and Immunologic Diseases
Mikuls TR, et al. American College of Rheumatology Guidance for the Management of Adult Patients with Rheumatic Disease During the COVID-19 Pandemic. April 29, 2020. doi: https://doi.org/10.1002/art.41301.
Monti S, et al. Clinical course of COVID-19 in a series of patients with chronic arthritis treated with immunosuppressive targeted therapies. Annals of the Rheumatic Diseases. April 15, 2020. http://dx.doi.org/10.1136/annrheumdis-2020-217424.